Download U Dictionary APK to get word definitions and translations. It is available many languages, giving it a global reach. It has more than 100 million users!
Details about U Dictionary
U Dictionary is an educational app offered by Talent Education Inc. It is the ultimate online resource for anyone who wants to improve their understanding of linguistics.
The application is simply designed with a non-cluttered interface. This simplicity makes it very easy to use. The user can type in a word or phrase, and the app returns results from its comprehensive database.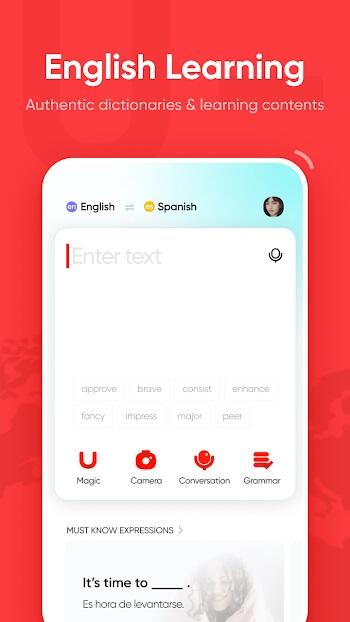 If you need to understand the meaning of a word but don't have access to the internet, U Dictionary also works offline. It stores data on your device so you can use it even when you're not connected to the internet.
Why You Need U Dictionary
U Dictionary is an essential tool for anyone who wants to improve their language skills. It's also perfect for students studying for exams such as the TOEFL, IELTS, or SAT.
If you're a language enthusiast, you'll find that U Dictionary is a valuable resource. It can help you expand your vocabulary and learn about new words and phrases.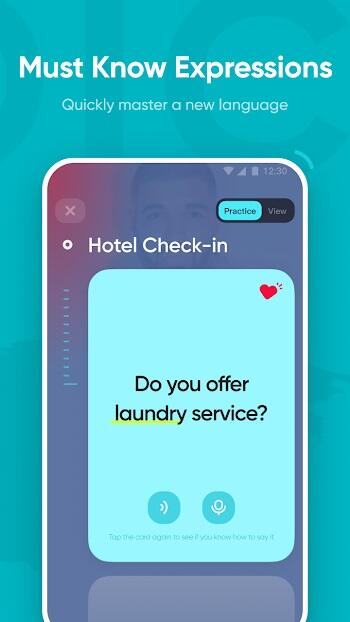 Even better, the app is lightweight and doesn't take up much space on your device. It can work 100% lag-free with Android 5.0 and above devices. This makes it perfect for use on phones and tablets.
Free Dictionary & Translation Platform
What's interesting about U Dictionary is that it's more than just a dictionary. It also provides translations for words and phrases. This makes it an ideal tool for anyone who needs to translate text from one language to another.
The app currently supports more than 108 languages, including English, Spanish, French, German, Russian, and Chinese. It's constantly expanding its language database, so even more people can benefit from its services.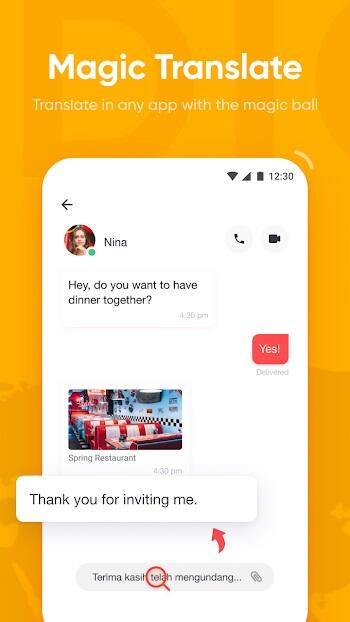 Even better, you can use this application free of charge. However, you may see some ads while using it. If you don't want these inconveniences, you can use in-app purchases to remove them.
Unique Features of U Dictionary
Offline Translation. This application can translate pictures, conversions, and texts without an internet connection. This is particularly important for travelers who may not have access to data or Wi-Fi.
Oxford Dictionary in Different Languages. The U Dictionary app contains the latest version of the Oxford Dictionary. This ensures that you're getting accurate results. It is also available in 12 languages.
Translate on Social Media. This application has a magic translation feature that allows you to quickly translate text from social media platforms. This is ideal for anyone who wants to understand conversations on Facebook, Twitter, and Instagram.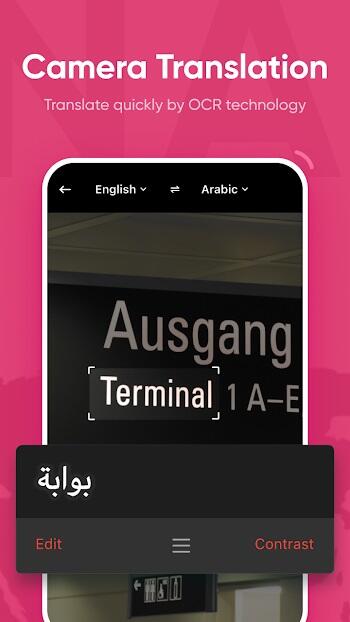 Dynamic Must-Know Expressions. This feature provides you with a list of useful expressions that are updated daily. Anyone who wants to listen to audio and practice speaking different languages can use this option.
Camera Translation. The U Dictionary app can also be used as a camera translator. Just snap a picture of text, and the app will translate it for you. It recognizes up to 93 languages!
Translate Conversations. This application has a voice-to-voice translation feature that allows you to hold conversations with people who speak different languages. This is perfect for travelers, businesspeople, and anyone else who needs to communicate with others. It recognizes 35 languages and 49 accents.
Grammar Checker. The U Dictionary app can also be used as a grammar checker. Just type in a sentence, and the app will tell you if there are any errors. This is awesome for students, writers, and anyone interested in improving their language skills.
Quick Translate. The app allows you to translate any statement within 1 second! You won't even open the U Dictionary.
Show Word Lock Screen. This feature enables you to learn new words while your phone is locked. The app will show you a word and its definition on your lock screen. You can set the interval at which the words are shown, and you can even choose the type of words that you want to learn.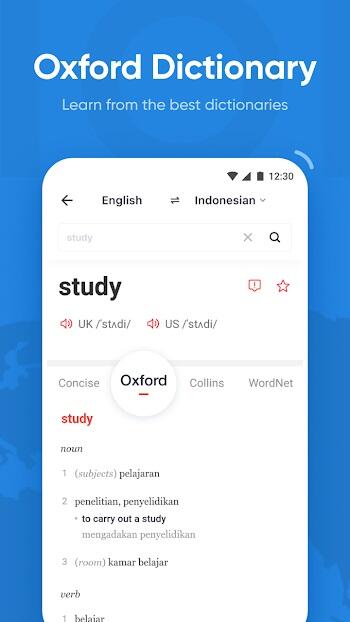 Bookmark Words. The app allows you to bookmark words and phrases that you want to remember. You can even add your notes to these bookmarks, which is helpful for students, language learners, and anyone else who wants to save important information.
Copy to Translate. This feature allows you to quickly translate text that you've copied. Just copy text from anywhere and the app will automatically translate it. However, Android 10+ users may not enjoy this feature.
Customize Your App
The U Dictionary app allows you to customize your experience by choosing the theme, font size, and background color. You can even set the app to Dark Mode if you want to save battery power.
Overall, this application is incredibly useful for anyone who needs to translate text or hold conversations in different languages.
It enables you to choose different accents, for example, UK or US English. This way, you can learn the language the way it is spoken in different parts of the world.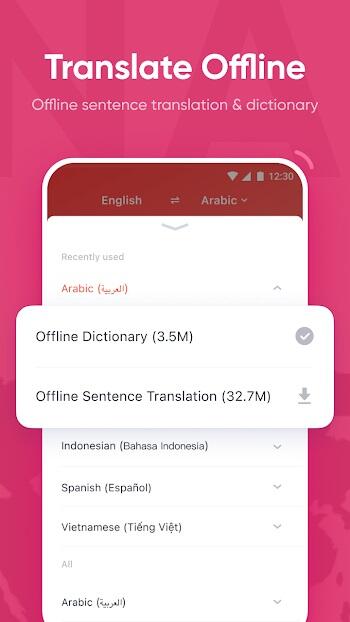 Simple Controls and Intuitive Graphics
The U Dictionary app has a very simple and straightforward design. The controls are easy to use, and the graphics are clear and intuitive. Even if you've never used a translation app before, you'll be able to figure out how to use this one with ease.
Conclusion
Do you want to learn a new language? Are you looking for a way to improve your language skills? If so, you should download the U Dictionary app. It has everything you need to get started, including a magic translation feature, a grammar checker, and a voice-to-voice translation option.
You can customize your experience by modifying the theme and colors. Download the U Dictionary app today and turn your language learning dreams into reality!