Have you been trying to learn a new language but just can't seem to get it right? Download Duolingo APK to make learning new languages easy, fun and accessible.
Duolingo
Duolingo is a free language learning application. It was the very first language learning app to provide results that rivaled expensive language courses and programs. Due to its fun and lively design and interactive method of learning, Duolingo has grown to be the most popular language-learning application. It has both a free version and a paid version, but using just the free version is sufficient to gain a degree of fluency in a language.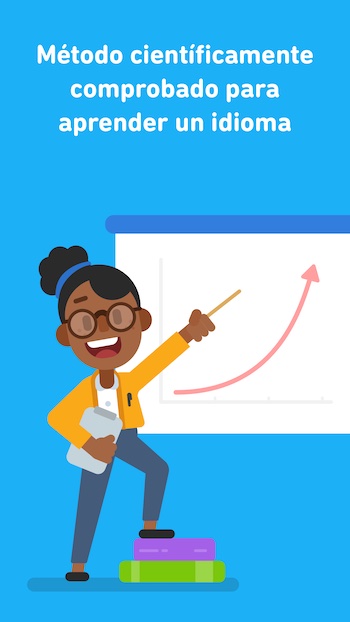 The app was developed as a project at Carnegie Mellon University by Professor Luis Von Ahn and his student, Severin Hacker in 2009. He had a desire to create something that would help the educational sector after selling his company, reCAPTCHA, to Google. With this vision in mind, the two decided to create a language learning app that made people eager to learn and simplified the process of adapting to a new tongue.
Duolingo now has a mobile app for both Android and iOS operating systems as well as a browser version for desktop devices.
App description
Duolingo is most popularly known for its mascot, a green owl named Duo. Duo joins you as you undertake different lessons and activities to learn a new language, going past different difficulty levels the better you get. When you first download Duolingo, you will have to select the language you want to learn and why you want to learn. After this, you will be asked to commit to how much time you can spend on daily learning from casual (five minutes) to intense (twenty minutes).
Duolingo excels because it makes language learning fun and interactive. It does this by turning the lessons and activities into a game format. With Duolingo, learners of new languages get to have fun while learning by treating the language as a challenge. The software uses things like images, listening activities, and flashcards to help users pick up the details of the language they are learning.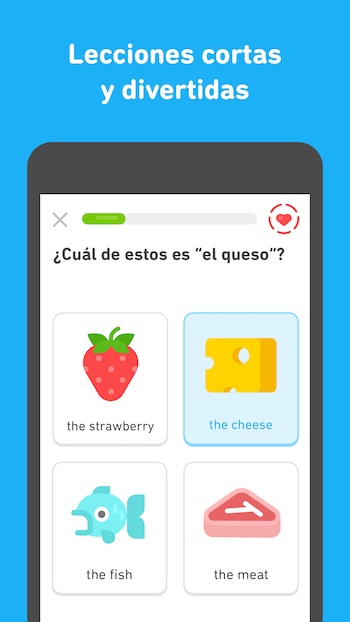 The interface of Duolingo is easy to use and pleasant to engage with. Duolingo offers dozens of language courses in dozens of languages. This means that they offer language courses for native speakers of various languages, not just English. The amount of resources available for the languages may vary, but most prominent languages and even some fictional languages are offered on Duolingo.
For native English speakers, Duolingo offers 36 languages in total including French, Arabic, Chinese, Danish, Greek, Indonesian, Latin, Portuguese, Ukrainian, Yiddish, and many more. The software also offers English language courses for native speakers of many of these languages.
The free version of Duolingo offers all of these features and more. This is one of the main reasons why Duolingo is so popular. With Duolingo Plus, the paid version, you get benefits such as ad-free learning and the ability to download lessons. Duolingo focuses on both reading and writing of a language, as well as speaking and listening.
Duolingo features
The game-like nature of Duolingo means that it has a lot of fun and exciting features that ensure that learners come back daily. This makes education less of a chore and more of a fun activity.
Lessons and activities
The lesson structure of Duolingo is incredibly organized and easy to understand. For each language you want to learn, you start at level 1 and can progress to higher levels as your skill increases. Each level for a language contains lessons in different aspects of the language, starting from basics like the alphabet and simple pronunciation guides to more complex phrases and sentences.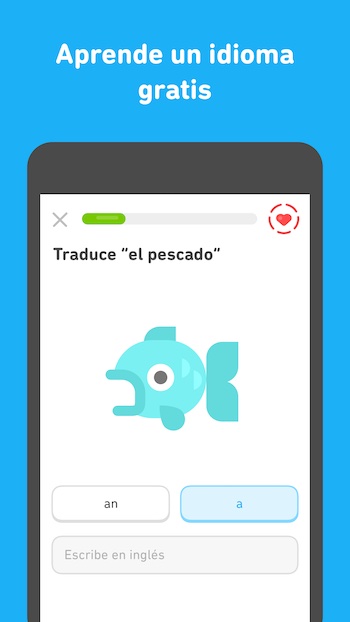 The lessons build on each other with the advanced lessons being made up of smaller words and phrases taught in earlier lessons. This learning tree method has been praised for its concise nature but criticized for its rigidity as learners cannot move to new lessons until previous ones have been completed.
There are also tests, quizzes, and practice modules to help out with different stages of learning.
Interactive nature
The game nature of Duolingo is particularly exemplified in its experience points or XP and gems. When you complete a lesson or activity on Duolingo, you earn XP and gems. Another aspect of Duolingo that makes it more interactive is the hearts. When you are taking a lesson, you lose a heart with each question you miss. Five missed questions mean you're out of hearts and have to refill.
Duolingo also has streaks that are built with daily practice. Each day you log in adds to your streak which serves as an incentive to keep learning. People with the highest streaks and most XP are displayed on the leader board in the community tab.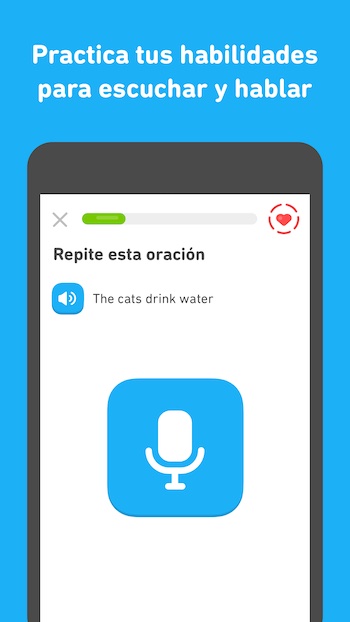 With your XP and gems, you can buy heart refills, streak freezes, outfits for Duo, and bonus skills like lessons in flirtatious phrases or proverbs.
Bonus Content
Some courses on Duolingo provide access to bonus learning content such as podcasts, interactive stories, and even in-person or online meetings with other learners. These features are not available for all languages, unfortunately. But for the languages they are available in, they are a huge benefit to all learners. Content like this gives learners more room to practice their language as well as hear other people speak it and not just the software teaching voice.
Duolingo Incubator
This is a feature that Duolingo created to expand its library of languages. The Duolingo Incubator is a program that allows members of the community to create courses for languages that are not yet available on the software. If a community member is fluent in a language that isn't offered by Duolingo, they can apply to create a course for the language.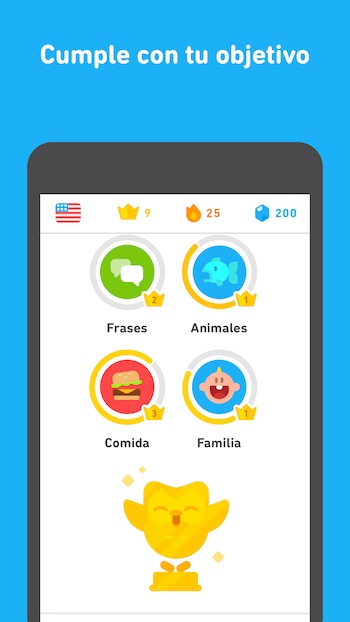 The courses in the incubator are for lessons on languages in other specific languages such as Swedish for Russian native speakers or Chinese for Korean native speakers. The Incubator courses are grouped into three phases: unreleased courses, bate released courses, and graduated from beta.
Conclusion
The aim of Duolingo is not to offer users total proficiency in a language. Rather, Duolingo provides an easy-to-use means for people to gain the basics of a language and a platform for daily practice. Duolingo should not be used as a singular avenue to learn a language but rather, as one of many resources employed in the journey.
Duolingo makes learning new languages fun and accessible and puts the learning journey in your hands so you can work at your own pace. It is a great app for anyone trying to branch out to new languages.
Word count: 1108