Download Simply Guitar APK and get complete access to guitar lessons. Learn how to play the guitar with the complete and detailed courses on Simply Guitar.
About Simply Guitar
Simply Guitar by JoyTunes is a learning app for anyone interested in guitar playing. The app is designed to welcome any player regardless of their level and guide them through the process till they become professional guitar players. The platform is one of the most comprehensive ones anyone can learn on with free classes and audio-visual aids to help learners get comfortable and learn at their own pace.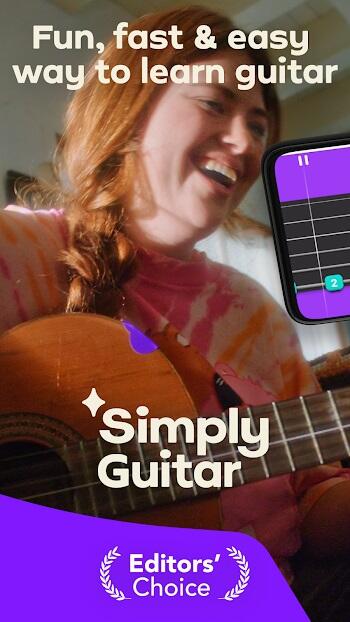 As soon as you download and open the app, you'll be ushered in with a short test to analyse your current skills and professionalism and check your previous experience as a guitar player. The test also asks about your age, the type of guitar you play and how long you've been playing. This information allows you to personalise your learning process and recommend lessons that are ideal for you.
Once you're done with the class, the app will introduce you to a screen with many pre-recorded virtual classes sorted by level and difficulty. These recommended tutorials are based on the information you provide and adapted to your current level. The app also has other advantages asides from its virtual classes. These include keeping note of your guitar sounds when you play close and analysing your accuracy like a teacher.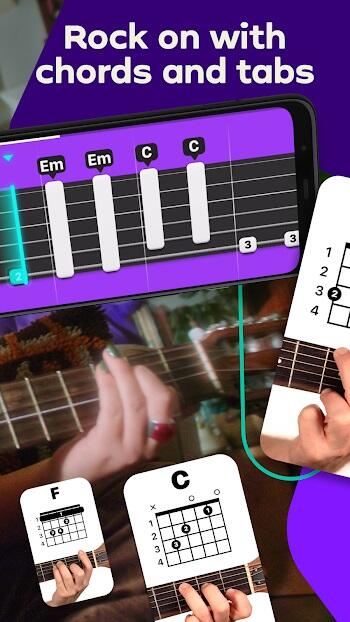 The innovative learning environment was conceptualised and created by JoyTunes, and since its release, the app has gained many users worldwide. It is available in every country and has over 47 languages in store. The content is rated for all ages, and with a rating of 4.7 on Playstore, it's evident that Simply Guitar is a functional and resourceful app for anyone willing to learn the guitar.
Learn At Your Pace
Unlike various learning platforms where you don't get to interact with the platform, Simply Guitar offers a better approach to learning guitar. It doesn't just recommend videos based on the generic tutorial steps designed in the app; it combines many factors to create a comprehensive list of videos and guides that are excellent ideas to take you from your current level to becoming a pro.
You can also learn at your pace rather than go at speed you can't fathom. After video tutorials, you can sit back and practice the training sessions. If you'd like to know how good you've become, you can also use the in-app virtual assistant that automatically recognises the notes from your guitar and help you improve like you have a teacher in a one-on-one session.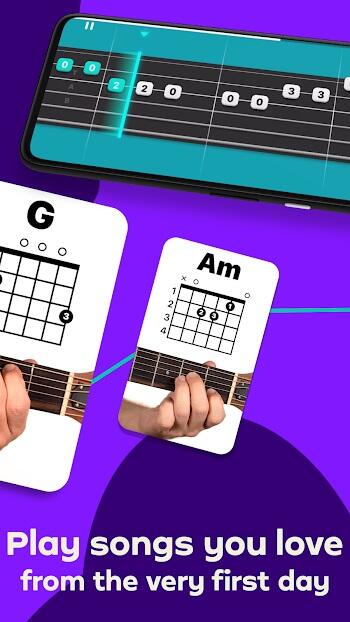 As each person has their skills and abilities, Simply Guitar taps into this to create relatable instructions written and well performed by some of the best music teachers in the world. This helps the app adjust to the various types of speed and sensitivity for every player. The curriculum is also curated and approved by many teachers a d music schools worldwide.
App Features
The App has many features to offer learners of any category. There are many guitar learners in the world and over a million of them prefer to learn on Simply Guitar because of some of the features below:
Learning Interface
Simply Guitar has a great learning space. The user interface is beautiful and easy to figure out. The app welcomes you with a few questions; then, the app introduces you to the main page, where you access tutorials and other learning resources. All the game features are easily accessible from the main screen. And the colour schemes and modern technology make it easier to learn with the app.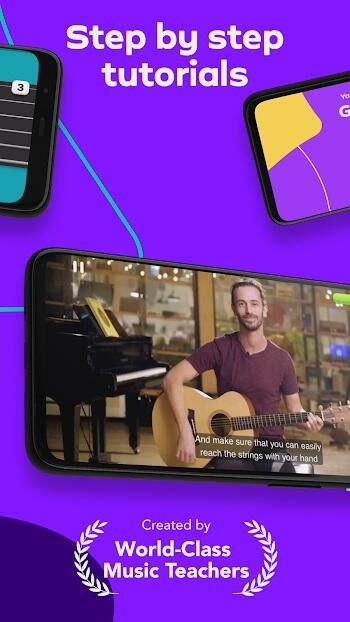 Basic Guitar Principles
As you begin your journey, you'll learn much about Guitar Principles. So, for beginners, you'll be Wales through the basics of playing, such as postures, left and right-hand usage, musical chord sequence, notes and music quality. These lessons help you perfect your skills and are recommended for beginners and professional players who also want to look and sound professional when playing.
Playing Technique
You'll go through self-learning processes to understand the plating techniques here. These include combining different notes, chords and other sequences to create suitable melodies and sounds for any song. You'll also learn how to use the same hand and tune to create different expressions and find the one that resonates most with you.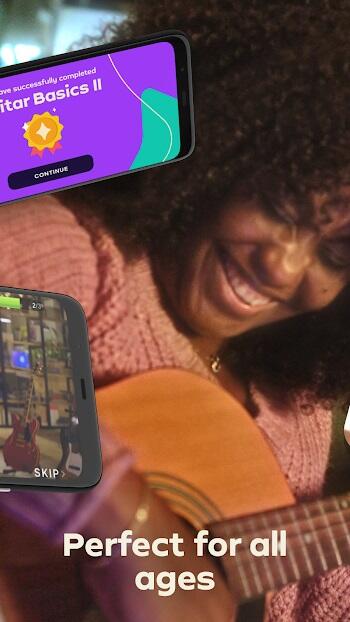 Track Learning Progress
The app also has a feature that allows you to keep track of your time on the app and how much progress you've achieved. For example, when you practice day-to-day musical notes, it will reflect in your progress tracker, and it helps you set and complete goals easily. The feature also lets you decide if and when you need to adjust your learning process.
Guitar Tuning Lessons
Tuning your guitar is one of the most important things to learn. Although it's not part of guitar playing training, it's vital to understand how the guitar sounds. Hence, Simply Guitar allows you to ensure you know how a guitar is appropriately tuned to produce the right sound you want. You'll also learn from professional tuners, which makes it worthy for anyone with more profound needs.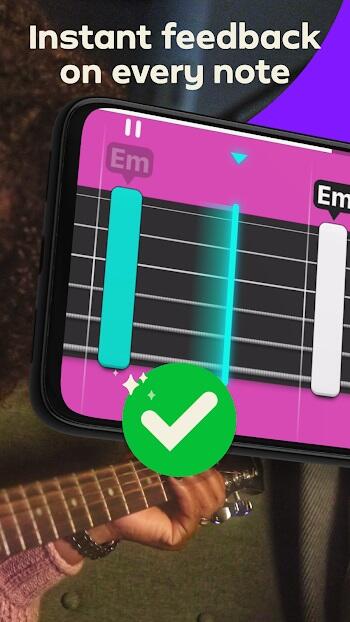 Exercises
From a beginner to an advanced Guitar player, you'll get to practice everything you learn on the app. As soon as you finish your tutorial, you'll be required to complete an exercise to test your understanding and knowledge of the lesson taught. It's also a great way to flex your skills and see how much you have improved or how well you seem to be catching on to the training.
Tips and Tricks
Right on the corner of the screen, there he spaces for tips and tricks when you use the app. This makes learning much easier and more fun. In addition, you'll easily remember anything recommended in the Tips and Trick section.
Conclusion
Simply Guitar is a resourceful guitar learning app with some of the best features you can ever ask for. The lessons are designed and curated by professional guitar players. So even if you have little music knowledge, you'll find it easy to progress across levels in the app and become a better player daily.