Download Yousician APK to learn the simple tricks of playing musical instruments in a fun and convenient way. Master your guitar fast with lesson plans and tutorials.
Yousician Description
Yousician is a simple and easy-to-use musical app that guides you on playing instruments like the guitar on your own. As a beginner in guitar learning, you rely on the Yousician app to serve as a guide on step-by-step guitar playing without going deep into the anatomy of music. This learning app is unique in how it teaches and guides with the materials in an interactive and easy-to-comprehend style.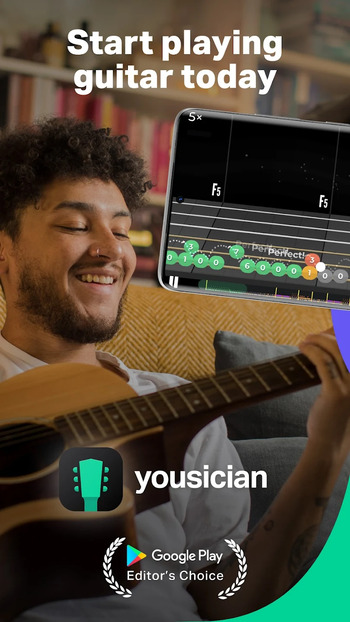 A Finnish company designed Yousician in December 2010 under the watch of Chris Thür and Mikko Kaipainen. This app features other musical instruments such as piano, ukulele, bass, and voice to learn on the App besides guitar. For users to have a paced learning process, the Yousician guitar app designed its guitar courses consisting of lessons, exercises, tutorial videos, and minigames.
Yousician creates its musical instruments learning platform in a way where digital lessons are close to the in-person learning type. You can use the app for both acoustic and electric guitar. All that is needed is for the app to pick the sound of your instrument and give you feedback. Yousician free app can be easily used on Android, iOS, and computers for your guitar learning journey.
How Yousician works
Yousician designed the app that teaches how to play musical instruments in gaming form to make it easy to relate with kids and adults. Download the Yousician app on your mobile device and install it. After that, log in and choose the instrument you want, the guitar.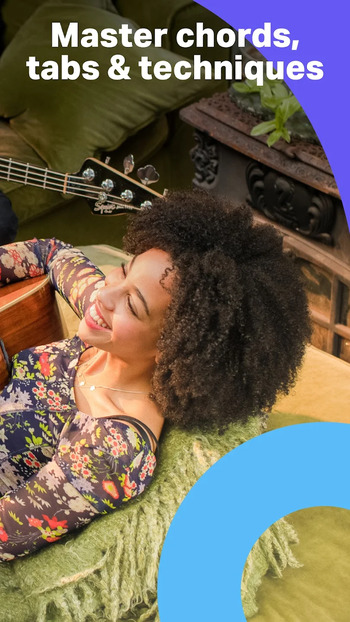 You will be prompted to choose an option based on learning skill level, such as nothing yet", "some basics," "lots of songs," and "almost anything." After you have chosen your skill level, you will need to tune up your guitar with a video tuner and move on to the playing tablature, where you can start to play songs. The lessons are broken down into parts; lead, rhythm, and the study of music theory.

The app has other learning features like activities on slides, bends, strums, fingerpicking, chords, keys, notes, and more. More features and items can be as you follow and complete each lesson just like you are playing a game. Yousician free trial comes with some basic tasks and features for beginners learning. Yousician premium 2022 can access more features and move to the advanced stage of the guitar learning process to learn funky strumming techniques, picking hand muting, and more.
Practicing guitar with Yousician
To practice your guitar skill after downloading, here are steps to follow: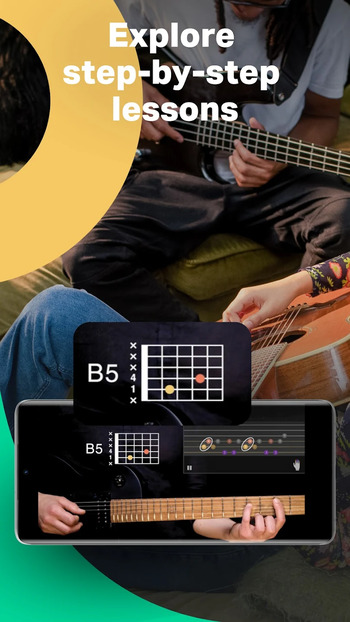 Slow it down: slow down the tutorial by using the practice mode to slow down the songs if you deem it necessary. The pause option is also there for you to play what is displayed on your screen at your own pace and master it before playing with speed. The auto tempo mode can be used to reduce speed to about 50% or goes up or down as you play, and you can also reduce it to like 23% if you feel the speed is too fast.
Practice in parts: you can practice one part of a song and focus on it till you have mastered it before moving to another. From the screen, you can pick the part of the song; the first part is always, and you can move to the next when you have it. Practicing in parts makes your learning effective, and not try to focus on all aspects of the songs that may make it a bit longer to comprehend on time.
Move on and recycle: this is the way to make your learning with Yousician to be efficient. After learning a part of the lesson, move on to others and then go back to what you had previously learned to ensure that you have truly mastered it and your finger has adapted to it. If you don't review your previous skills, you may forget them easily.
Mix it up: if you feel stuck with the session you are learning, play something else for a while, like reviewing what you had previously played or playing songs out of the Yousician songs app to rest your fingers. Doing this will help you gain mastery of the skills you've learned. You can also go to the songs tab to select from the collection of genres or playing styles to set the level you want to work on and learn something different before returning to the previous mission where you were stuck.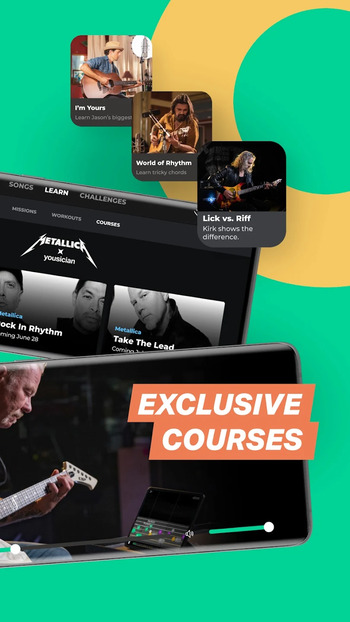 Practicing with the free and premium version
The Yousician is free to download, but you will be limited to a single instrument to learn if you don't upgrade to premium, and you also have between 10 to 15 minutes of practice time and a few songs catalog. However, Yousician premium 2022 allows you to access more learning time and all songs in the catalog without ads. There are different plans you can choose to subscribe to, the monthly and the annual subscription.
How to get Yousician premium for free is by subscribing to a premium plan that will give you a seven-day free trial of all the premium features without paying. However, before the 7-day trial elapses, you must cancel the plan. How to cancel the Yousician premium plan is in the settings and payment option on the app.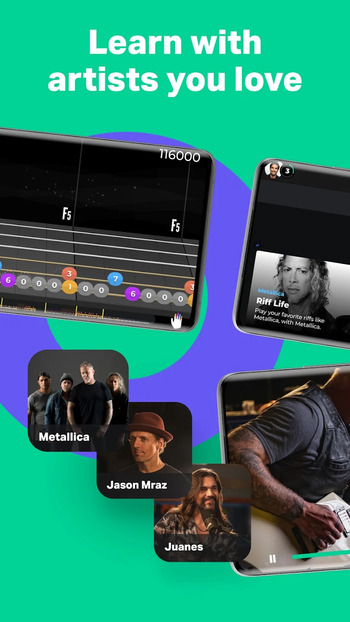 Conclusion
Yousician is an app worth downloading for anyone who wants to learn musical instruments with ease. Learning guitar with the Yousician app is a great tool for anyone who wants to engage in self-learning at their own pace.
There are lots of lessons and practices to be done in a fun and entertaining way to ensure that you master the art of playing the instrument, following the lesson plans. You have to also interact with the app in the form of feedback to be sure you are playing the right sound, and as you progress, more rewards are given to keep on with your learning.


Join Telegram Group
Download Yousician APK to learn the simple tricks of playing musical instruments in a fun and convenient way. Master your guitar fast with lesson plans and tutorials.