Download HelloTalk APK and join a vast community of millions of language learners. Engage in fun chats with native speakers and share exciting memories today!
What is the HelloTalk?
With the various language learning applications available today, learners from all over the globe have different platforms to learn as many languages as they please. In addition, language exchange applications have been introduced to connect learners with native speakers to make this process more fun and engaging.
HelloTalk is one of the biggest language exchange applications with over 30 million users. Learners have access to a non-formal environment to practice their preferred languages by chatting with language partners with shared interests. While taking tutorials and lectures helps a lot of learners, having real interactions is the best way for you to fully master any language. The app offers over 150 languages like Spanish, English, Japanese, German, Arabic, and others. In addition, languages like Navajo and Afrikaans, which are not so commonly studied, are also included.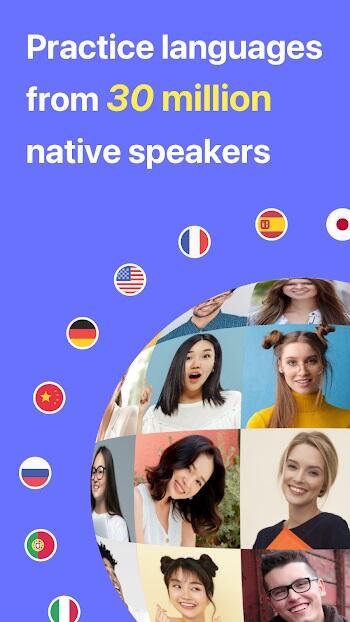 In interacting with native speakers, you get to improve your pronunciation of certain words and learn from your errors which get corrected by these skilled language partners. Language learning becomes less stiff and more natural with the help of the strong community the app offers.
Why use HelloTalk?
HelloTalk is not essentially the only language learning application available for learners. There are numerous apps for users to master their preferred languages on. So what then makes HelloTalk one of the biggest learning platforms of the moment? Let's find out!
Connect with Native language speakers
Just as any social media app connects users worldwide, HelloTalk mirrors this feature by bringing language learners and speakers together. Rather than learn in a formal classroom setting, learners are provided with various partners for individual lessons in the form of engaging conversations. You can search for compatible partners from the app's wide range of native speakers. Any user can easily be both a leaner and a language partner. Upon registration, you can enter the language(s) you speak, your fluency level, and the language(s) you aim to master on the platform. You then go on to help other users master the language you speak by being language partners while equally mastering another language. Learners and partners engage in conversations using the following tools: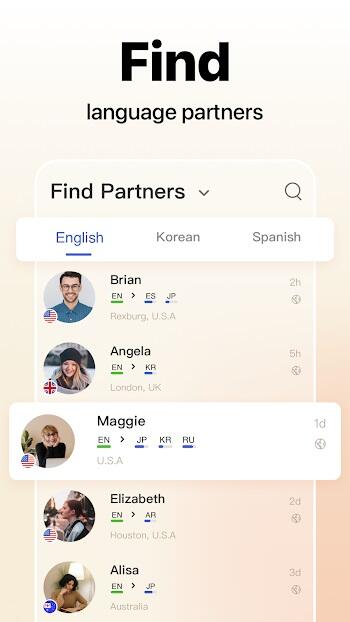 Engaging Chats
Like how users text one another on social media platforms like Facebook or Whatsapp, learners and partners also engage in educative chats in the language, the learner wishes to master. In addition, the partner notes your mistakes and promptly corrects them; this allows you effectively learn from your errors.
Apart from the one-on-one chat feature, there are also group chats for you to join other users and learn collectively.
Audio messages
You can improve your pronunciation of certain words and even master the native accent through audio messages. By sharing audio messages, your language partner can detect mispronounced words and guide you through them. You can equally master the tone and stress of each word and further develop the spoken aspect of the language you are learning.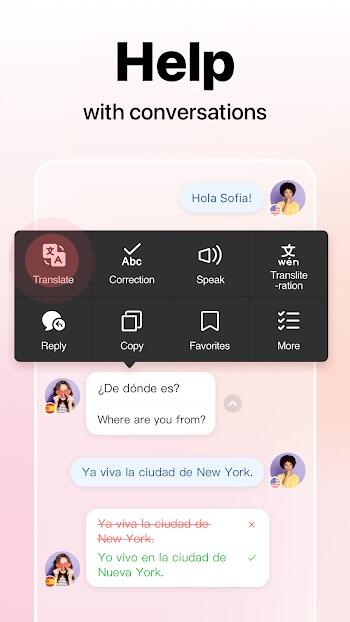 Video/Audio Calls
Another communication tool is video/audio calls. Although language learning gets even more fun and interactive with voice calls, language partners can detect errors and guide you through proper pronunciation. If you would rather see your visibly communicate with your language partner, the app allows you to engage in video calls. Although, you must initially agree with your partner before engaging in video calls, as not every person is a big fan of video calls.
Over 150 different languages to choose from
As already mentioned, you have a wide variety of globally and locally spoken languages. You can practice and develop your Mandarin Chinese or Italian from the very comfort of your home. There is always someone in the HelloTalk community fluently speaking the language you aim to master.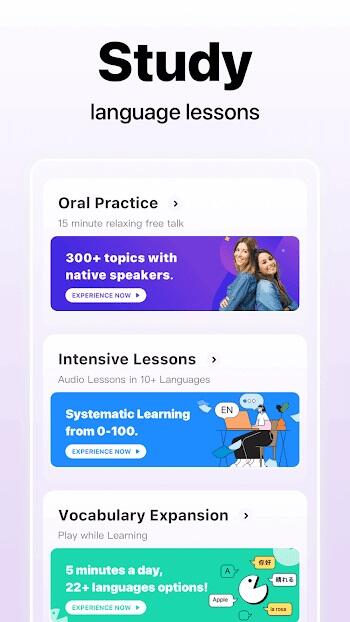 Share Moments
Members can also learn from the open feed feature the app offers. This feature is similar to a Facebook wall or a Twitter feed. You can post pictures, questions, opinions on certain subjects, or life updates on the platform, which other users can comment on or respond to. Other users can openly correct your mistakes and help you improve quickly. You can equally go through other users' posts and comment on them. This feature primarily allows you to interact with a larger community.
Innovative Learning Tools
HelloTalk provides you with tools to effectively aid your language learning. Such as:
Translation and Transliteration tool: you can easily make translations or transliterations of words and sentences while interacting with other users. However, this tool can only be used 10 times a day for free users.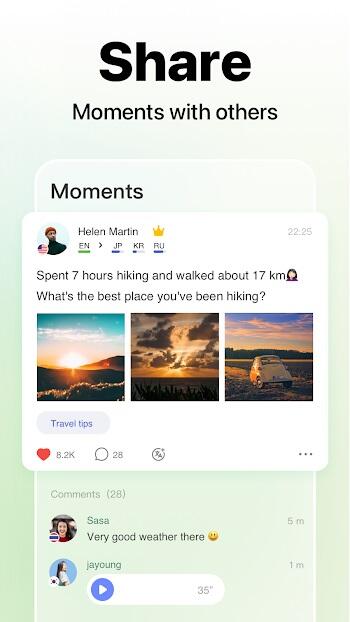 Text-to-speech: this tool allows you to listen to received texts. You can easily note the right pronunciation of each word as well as the right tone.
Correction Tool: allows partners to correct your typographical and grammatical errors smoothly. You can also aid the learning process of other members by correcting their errors.
Language Courses
HelloTalk also provides courses for some of the available languages. Each course entails audio tutorials and effective speech and writing exercises. So, for example, you can take the "HelloJapanese" course and get a deeper knowledge of the language. These courses are, however, limited to specific languages.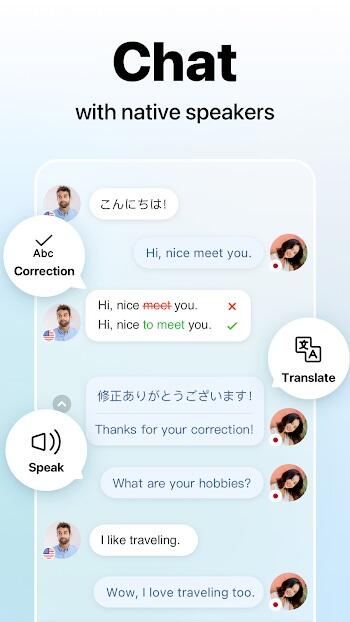 VIP Subscription
To take language learning on the HelloTalk app to the next level, you can subscribe for VIP features not accessible on the free platform. For example, the VIP subscription allows you to find partners according to gender, age, location, or other preferences. You also have unlimited usage of the translation tool and an ad-free experience upon each subscription period.
Final Thoughts
HelloTalk is not without its cons. If you search for an app that teaches languages from the basics and offers lectures and quizzes, then HelloTalk may not give you what you need. Users have also complained that the partners found on the app sometimes tend to steer interactions in the wrong direction.
Regardless, the unique features HelloTalk offers strongly outweigh its demerits. This interactive language exchange app has allowed many users to develop by mastering different languages. The app's large usage only shows how effective it is!