Download Elsa Speak APK, an excellent app for improving your spoken and written English. Correct your pronunciation and written errors with this English learning app.
Elsa Speak
Elsa Speak is a free-to-install mobile app developed by ELSA Speak and released in February 2016. The app is set to assist individuals struggling with the English language.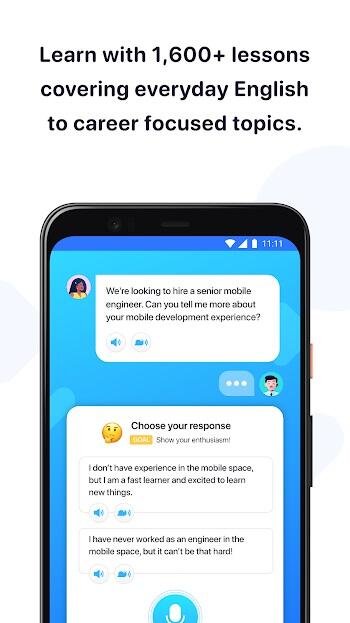 Improving your grammar, vocabulary, and speaking ability has been made easy with Elsa Speak. Get ready to learn English like a native speaker and speak fluently.
ELSA (English Language Speech Assistant) is the only online English learning app set to assist individuals in correcting pronunciation errors for syllables with Artificial Intelligence. The app is equipped with an exclusive voice recognition that was voted Top 5 in the World. Elsa Speak pro is a community of 10 million students, travelers, and professionals on a trip to learn English without errors in the American accent.
Discover your Proficiency in English
If you are curious to know your English pronunciation and speaking skills, get Elsa Speak and start your journey. This app will test your competence from an entrance test that the world's best language experts have designed. When you get on the app, click on the level test, and you will be directed to a 13-English sentences test.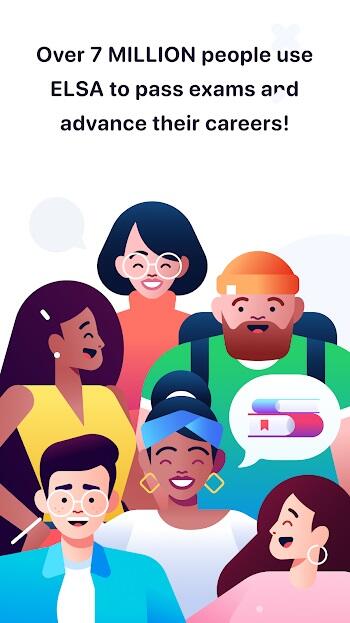 This test requires you to read all 13 sentences in the recording section and point out what is unique about them. Your lessons will be recorded, and your pronunciation will be specifically analyzed in Elsa Speak English. As you proceed with learning on the app, you will be able to tell what percentage of native speakers you are. You will be given a detailed report on pronunciation based on your strengths and weaknesses. Afterwards, you will be given exercise programs that better suit you.
Features of Elsa Speak
Here are the amazing features in Elsa Speak pro:
Why Should You Choose Elsa Speak?
Elsa Speak pro is an online AI English learning app set to assist individuals focus and study English. The App has real-time speech recognition feedback on English pronunciation and fluency where you can check your track record. Elsa Speak English learning app has over 3000 lessons consisting of daily English conversation.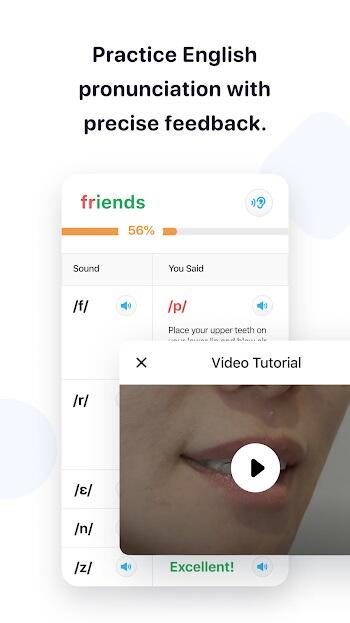 The app easily assists individuals in learning English, building conversations and vocabulary at any time of the day. Thanks to the English pronunciation coach, the available tools are easy to use, and you will find yourself effortlessly speaking English with the correct pronunciation. You are also given the best short-timed lessons to help build your accent and study easily.
Personalized Study Programs
One may argue that lessons made just for you are the best approach to learning and assimilating information quickly. A customized learning path will be created for you by ELSA Speak. Your pronunciation will be improved by the app's selection of brief, useful lessons, enabling you to talk like a native speaker. And the app develops a well-programmed mechanism to make the most of this duty. The three most fundamental levels—easy, medium, and difficult—will serve as the foundation for this system.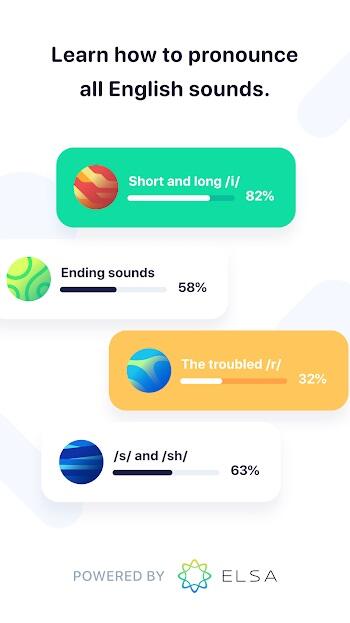 Track Your Progress
This approach allows users to determine their skills and begin the course that best suits them. Additionally, Elsa pro has created its own enormous data goldmine to optimize support for various user wants and goals. This database will have more than 6000 unique, in-depth activities and 1600 courses. The majority of them will be dispersed among 40 well-liked categories, including leisure, cuisine, entertainment, and education, so users may pick and choose what they want to study.
Thoroughly Corrects Pronunciation Errors
For this reason, Elsa learns and speak English has included a ton of fascinating features along with a dedicated curriculum inside the program. The user's voice can be recognized as the first item to mention. The speech recognition feature may attentively listen to the user's voice and intonation if properly configured. When compared to native speakers, they will show any pronunciation problems you have.
When a mistake is discovered, the program will cheerfully instruct the user on utilizing the tongue and mouth cavity to pronounce words as precisely as possible. You will undoubtedly see a noticeable improvement thanks to the application's clever scoring after taking several actions and undergoing frequent inspections.
Improved Pronunciation from Realistic Conversation
Elsa Speak free was made to improve your ability to speak English. The algorithm keeps a careful eye on you, highlighting any incorrectly uttered words, sounds, or noises that require emphasis. As a result, you have access to various real-world conversations to study and practice. Consequently, you will be able to communicate better while also getting a general understanding of how English is used in daily life.
Elsa Speak offers comprehensive guidelines, facts, and files required for learning English. Additionally, the Video Call feature allows you to converse one-on-one with native speakers in real life.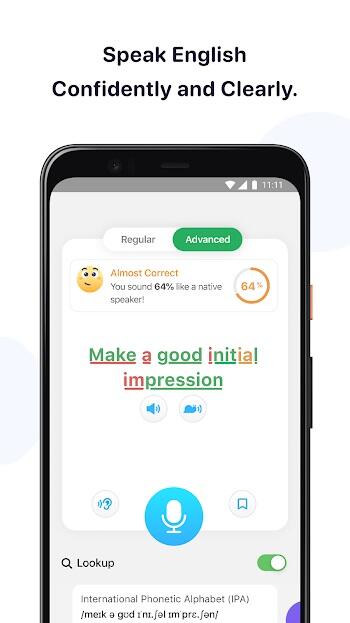 Pick Lessons Based on Your Route
ELSA Speak has produced a good lesson plan. Regardless of your current proficiency level, you have the opportunity to improve your English speaking and reading skills. If you are brand-new, ELSA Speak's abundance of classes may likely overwhelm you. However, you should begin by studying word and phrase pronunciations and spellings. You may read complete phrases as you go and use matching strategies, ending sounds, intonation, and other things.
Final Thoughts
Download Elsa Speak app to improve your learning skills through fun challenges. Set a learning time and allow Elsa Speak free to remind you of your lessons. Since Elsa Speak download is free, you can enjoy the app anywhere and anytime. Get this powerful English learning tool and start learning today!