Download Busuu APK and master a language faster. Have fun with bite-sized lessons to help you learn a new language and connect with a helpful network of native speakers and qualified teachers.
About Busuu
Busuu is a language-learning app that allows you to learn over a dozen different languages from your Mobile device, complete lessons, tests, and everything else you need to learn a language. In addition, it is possible to practice writing, reading, and listening to a language with Busuu. Most tests are written, but some require you to correctly use your ears to complete an activity.
If you are having difficulty finding time to study a foreign language course, Busuu is the right solution for you. The program helps you learn foreign languages and improve your communication skills. As a result, this app contains various engaging lessons that will assist you in changing your experience and becoming more motivated.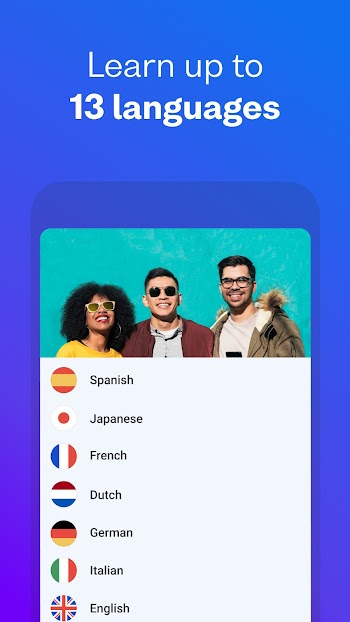 Some of the activities available on Busuu include vocabulary and grammar exercises, audio dialogues, and interactive tests. As you pass the latter, you will advance to new levels in your language.
Users will complete the lessons with various exercises to improve their skills and always include audiovisual elements to help them remember the lesson information. Furthermore, with diverse lessons, users must always maintain their study habits to maintain their level and not forget knowledge.
While Busuu is free for anyone to download, the app comes with subscriptions and in-app expenses. Busuu Limited developed this app. With Busuu, you can become fluent in 13 languages ranging from English, French, Dutch, German, Italian, and Portuguese to Chinese, Russian, Japanese, Arabic, Turkish, Spanish, and Polish. In addition, a Premium Plus membership on this app allows you to explore multiple languages by simply switching between them and studying them.
How Busuu Works
Busuu focuses on teaching you languages online, either from your computer or mobile device. Therefore, the major thing you must do on this app is to choose the language you want to learn and start learning.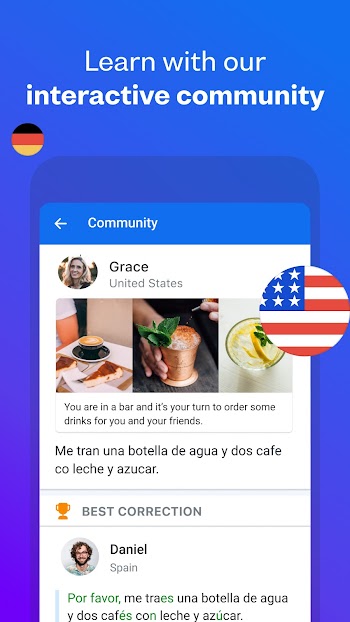 As you might have already inferred, the app offers 13 different language courses and teaches the four primary language skills - reading, writing, listening, and speaking. Users can also make language choices from these levels:
A1 Beginner Level
This level focuses on learning several ways to communicate in the target language to meet new people. When you finish the A1 or Beginner level, you'll also be able to buy food and beverages and participate in everyday discussions by asking and answering simple questions.
A2 Elementary Level
When you reach the A2 Elementary level, you'll learn how to describe your friends and loved ones and construct lengthier phrases. This level also gives you the ability to share your own experiences.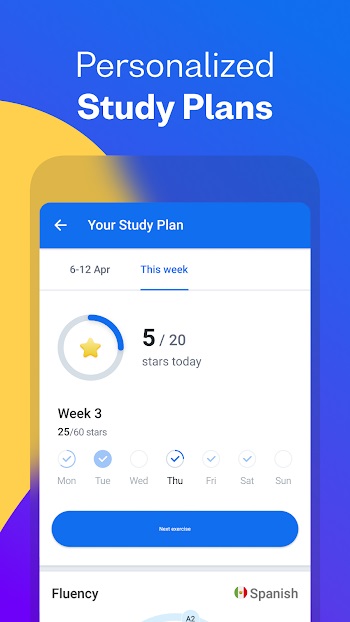 B1 Intermediate Level
You can begin chatting about the movies and music you enjoy most at this level. Students here will learn how to best express their emotions. Additionally, you'll converse more intelligently with your speaking companions about your ideas and how to concur with and dispute with them.
B2 Upper Intermediate Level
After passing the Upper Intermediate B2, you'll be able to talk about important topics that affect your life. You'll also learn how to engage with headlines and events worldwide. In-depth book and film reviews are also an option. In addition, several vocabulary words will become simple for you to point out without needing a dictionary.
You can register on this app for free or purchase a premium membership to access additional features on the app, such as advanced grammar lessons, Offline Mode, Certification, our Study Plan, and our Vocabulary Trainer.
You can also take your exercises through native speakers, who can serve as good judges and provide insightful feedback.
Busuu Premium Membership
With Busuu Premium membership, you open a door into a world of unique and exclusive features such as Offline Mode and Conversations with feedback from native speakers. Offline mode allows you to learn, no matter where you are. Conversations with feedback from native speakers, on the other hand, provide you with valuable and insightful feedback.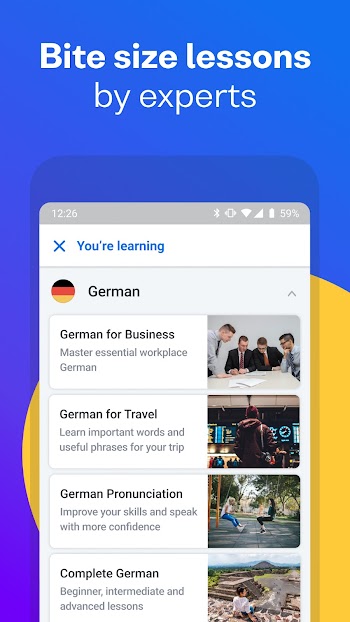 Other exclusive features include a personalized Study Plan, grammar lessons, AI-powered review, and official certification for every level reached. All these unique features will foster your learning and ultimately make you fluent in any language you choose.
Features Of Busuu
If you want to study from a free app rather than a language school, Busuu offers many exciting features that will appeal to users. Here are some of Busuu's best features that will help you learn languages faster:
Speech Recognition
Busuu's speech recognition AI technology may be the most impressive among many language apps. For those who don't have a large budget to enroll in a private language class, it aids in improving speaking abilities. In addition, you'll get immediate feedback on your pronunciation.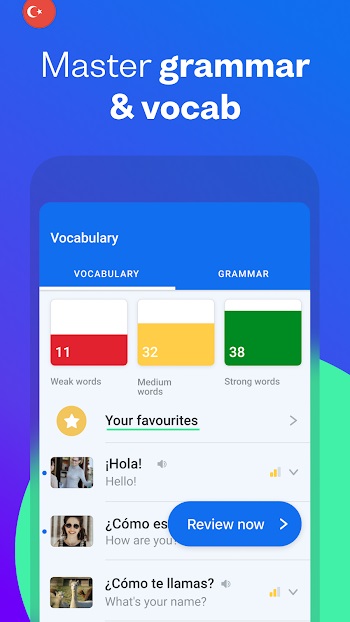 The speech recognition feature works incredibly for those learning Arabic, Frenc, Chinese, and other languages with different accents or similar sounds. What's more exciting about this feature is it's entirely usable on the free version of Busuu.
Connection To Other Language Learners
When you subscribe to Busuu's Premium Subscription, you'll simultaneously gain access to more features and languages. Learners are encouraged to respond in their target language to a daily question. You can add friends, start a conversation with them, and talk about the day's question or other subjects in the languages you know well or are learning.
Certificate of Completion
Given that Busuu and McGraw-Hill Education (2015) are partners, you can obtain a language certificate after completing a course. Premium Plan subscribers will receive certificates in English, French, German, Spanish, Portuguese, and Italian through this collaboration.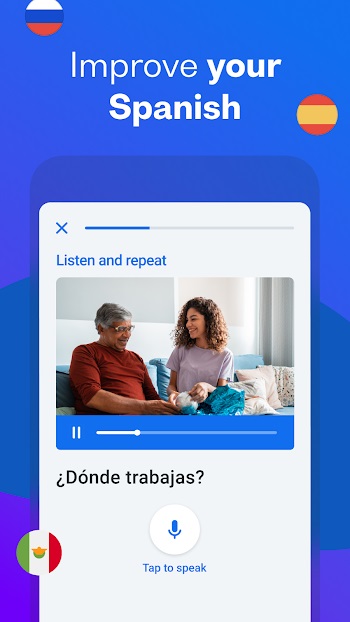 It will be a great addition to your resume for better job opportunities, even if it doesn't amount to an official language certificate.
Person-to-Person Tutoring
Busuu's live tutoring sessions are another unique feature that distinguishes them from other language apps. Busuu Live aims to improve your learning by speaking with a private tutor. Attending sessions in small groups is also an option.
On the other hand, if you want to concentrate more effectively, there are one-on-one language course sessions. Although Spanish, English, German, and French are the only languages offered as online language courses for Busuu Live.
Conclusion
It's only fitting to consider how using a language app to improve your skills will benefit you and to criticize the features it lacks. Busuu has impressive features that will make learning a new language easy for the users.