Download Relax Melodies APK and fall asleep to relaxing sounds and sleep-enhancing effects. Track sleeping patterns and explore other sleep health benefits with this app.
About Relax Melodies
Relax Melodies is a sleep health app with a diverse selection of features that help improve the overall state of your sleep. The app allows you to create your sleep music playlist, listen to bedtime stories of various genres and track your sleep. In addition, Relax Melodies provides sleep tracking, high-quality sleep noises, and directed content specially selected to aid you in understanding and enhancing your sleeping habits.
The Relax Melodies app has many features that set it apart from other sleep tracker apps. One of the app's special features is the one that lets you put together your curated mixes. The mixes in this app are created by combining sounds, music, tone, and frequencies, all to the app user's preferences.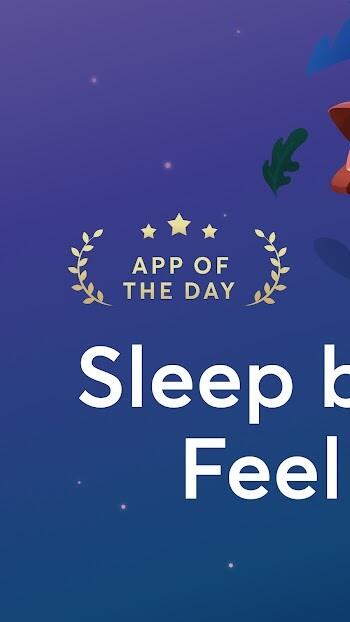 Relax Melodies also presents breathing and meditation exercises to initiate proper relaxation and resting practices. It has a vast content collection of story pieces of different genres, meditations, songs, soundscapes, workouts, and breathing exercises. Relax Melodies offers a wide selection of sounds, one of which makes it to be used as a relaxing nature sound app to listen to the breeze in the trees or the waves rushing on the beach. However, listening to the sounds of a busy city could be soothing and an ideal choice for a different set of people
Relax Melodies was formerly known as Relax Melodies. Ipnos Software released Relax Melodies in Dec 2011, and it has amassed over 55 million downloads owing to its popularity from offering its users tons of customization options to work with. The app is widely approved for use by many respected and renowned doctors, neuropsychologists, and sleeping experts. It is available on Android and iOS mobile devices. It is free but comes with in-app purchases,
Sleep Audio Content
The Relax Melodies application provides the best audio content quality with mesmerizing melodies, narrated stories, and effective meditations that are tailored to your requirements. These sounds make you fall asleep easily, stay asleep without stress and pick up valid long-lasting sleep habits.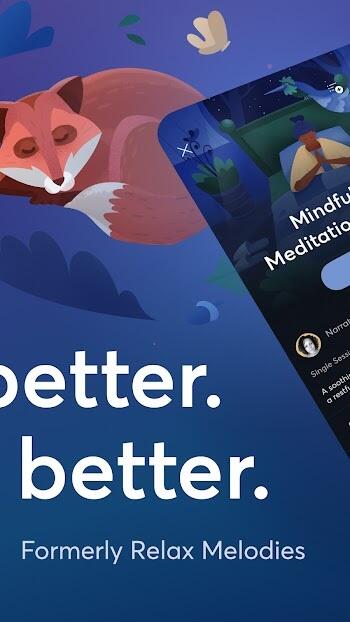 The Audio content of Relax Melodies contains different audio types, depending on what you require to sleep. Some examples of these audios are:
A wide selection of sleep soundscapes, brainwaves, and white noise:
Peruse through and choose from many alternatives of over 300 calming noises, music, rhythms, and textures created by the Relax Melodies app specialists to help you fall asleep. You can combine them to make your sleep music "remixes" and playlists.
Some of the sound choices available in the library include:
Nature sounds include the wind, birds, rustling leaves, and crackling fire.
White noise, such as the sound of a hair dryer, an aeroplane, a dryer, or a fan.
Water sounds include rain, the ocean, gentle waves, and lapsing water.
Ambient tunes, instruments, and voices for meditation.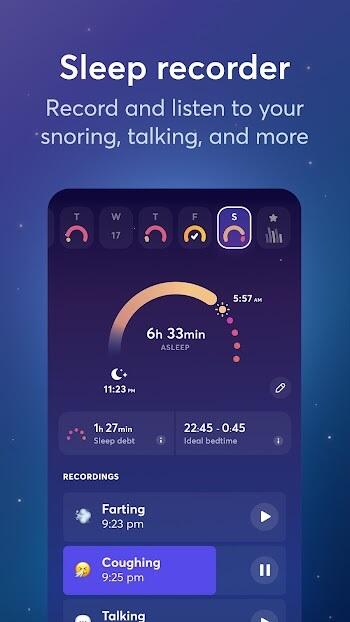 Isochronic brainwaves have 2.5Hz, 4Hz, 5Hz, 8Hz, 10Hz, and 20Hz.
Binaural beats with frequency levels of 2.5Hz, 4Hz, 5Hz, 8Hz, 10Hz, and 20Hz.
The Solfeggio frequencies are174Hz, 285Hz, 396Hz, 417Hz, 432Hz, and 528Hz.
Bedtime stories that get you knocked out in no time.
Take your pick from more than 100 bedtime stories read to the user by award-winning narrators and written specially to help you fall softly and naturally asleep with sweet dreams all night.
The Bedtime stories come in a variety of themes, including: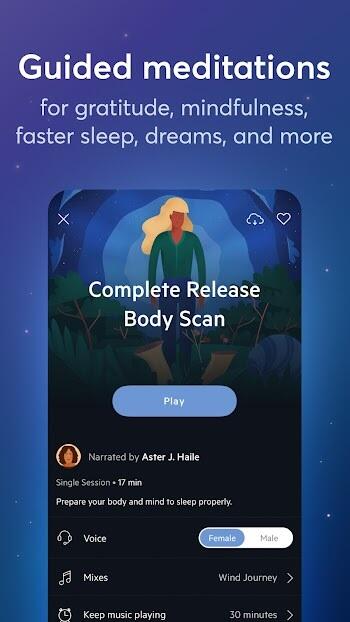 Fantasy
History
Kids
Journey
Myths and legends
Non-fiction
Relax Melodies and Sleep Science
Relax Melodies introduces and educates you about the science backing a good night's rest and proper sleeping routines, amongst other sleep health practices. In addition, it helps you identify and understand your unique sleep needs as well as your chronotype.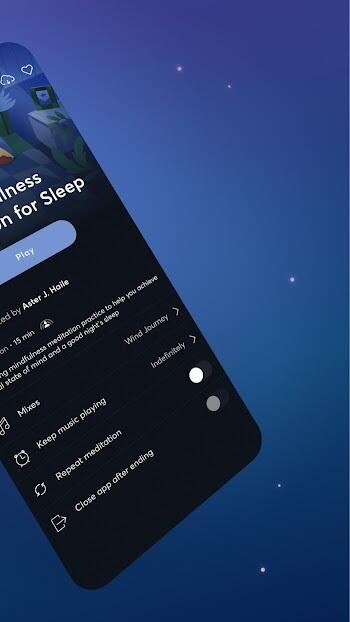 It also has a sleep tracker that proposes the best methods for making the most efficient use of it. As it claims, the app tracks your sleep effectively with an efficiently integrated timer. To start tracking your sleep with the Relax Melodies app, click the "sleep" button to start recording your sleep time before you sleep. After you click "sleep," there are options to edit your ideal time to wake, your preferred alarm tone, and snooze options.
Another useful feature is the Sleep Journal. This feature provides a detailed and comprehensive analysis of your sleep recordings, sleep phases, sleep quality, etc.
Sleep Exercises
Discover the impressive and effective Sleep Moves exercises, a collection of gentle nighttime relaxation methods created in partnership with sleep scientists to get your mind and physique ready for a stress-free sleep. Some of the themes are:
Mini: This relaxation theme helps get speedy relaxation.
Together: Relax with this couple's relaxation routine to relieve stress swiftly.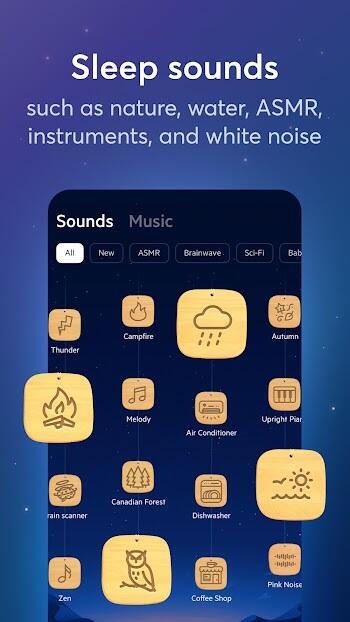 Travel: Get over jet lag and homesickness.
Cooldown: Get rid of any extra energy from a hectic day.
Harmony: Find equilibrium and refocus.
Proper breathing practices for day and night.
With Relax Melodies's breathing exercises and relaxing music, you can relax and work on reaching your goals for reducing your anxiety levels. Then, talk the stress away with discussions on subjects like taking a break, relaxing, clearing your head, going to sleep, and heart coherence.
Features of the Relax Melodies App.
Relax Melodies presents a wide range of features that are very helpful with developing proper sleeping patterns and habitual nightly patterns to fall asleep and stay asleep as long as is required. Some of these features are listed down here:
Bedtime reminder
Timer for sleep tracking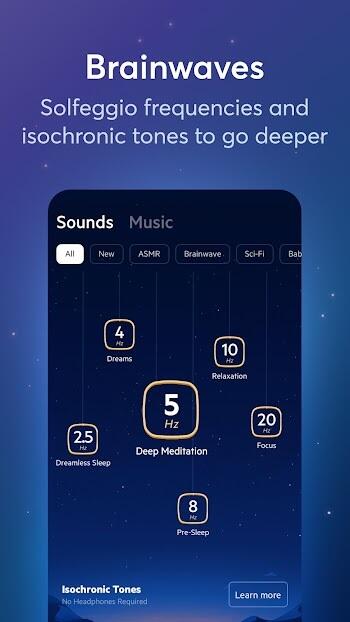 Interactive User Interface
Sleep soundscapes to help fall asleep faster
Sleep journal to take account of your sleep routine.
Sleep exercises for night relief after a long day at work.
Conclusion
The efficiency of this app speaks for itself. With a wide range of options to choose from, your sleep life just got a whole lot improved with this app. Even without the in-app purchase, this app still boasts of other useful options that keep you well tucked in and snoring till it's daybreak. Anyone can get started with this amazing sleep app. So download the app and start configuring your way to the best night rests.