Download Rosetta Stone APK to experience a smooth and fast learning language learning process. Carry out exercises and improve aspects of languages you learn.
About Rosetta Stone
Rosetta Stone is a resourceful language learning mobile app that allows users to get a practical and straightforward approach to learning their favourite language. The app offers some of the best aids and practices that will enable language learners to understand and speak their preferred language from the app quickly.
The platform holds some of the most reputable awards in the Best Mobile App in 2019 from Best Designed App and Best Overall App. It also won the 2019 PCMag Editors' Choice and the Tabby Awards Winner in the same year.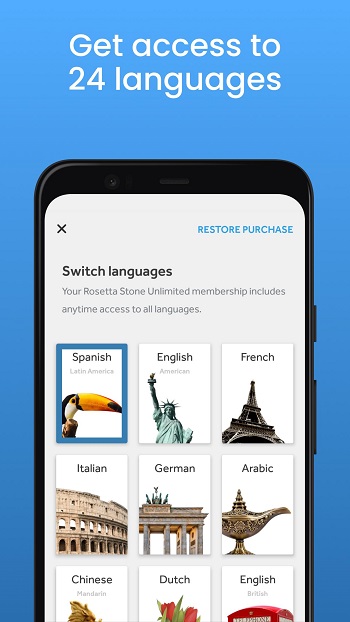 These merits add to Rosetta Stone's credibility as a reliable language learning platform for anyone in the world. Moreover, they approach the learning process in a rather peculiar way, allowing the learners to put themselves in the shoes of a native speaker and communicate like one.
Thanks to the contextual and interactive foreign language learning method, you'll be able to learn your favourite language at a fast and steady pace. There are also extensive features on the app to aid your learning process. In addition, the app is available for online and offline use, which means you can learn languages on the go anywhere and anytime.
The Platform also adds more languages with every new update, so you have an extensive library of languages to learn. Although there is a paid version, you can use the free trial to access the app and check all its features before deciding whether you're satisfied and would love to learn. Some available languages include Spanish, French, English, Italian, German, and many others.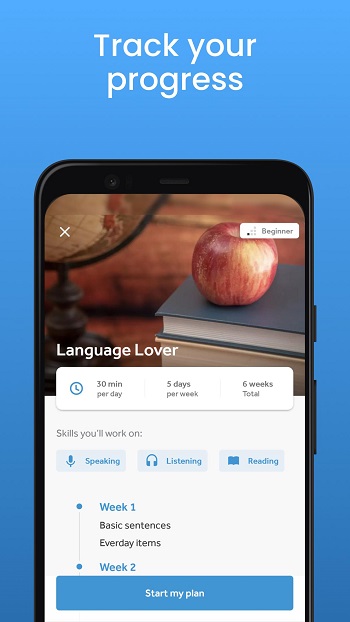 Rosetta Stone Ltd developed the app, and being a renowned language learning platform, the app is simply a mobile version of the diverse resources available for learning on the website. It's free to download and install, and though you'll have to pay for the premium plan to access the primary services, you can always use the free trial to test the features before making payments. In addition, the content rating allows all ages to use the app, so even kids can use Rosetta Stones to learn at their own pace.
Why Use Rosetta Stone App?
Thanks to its exceptional features, Rosetta Stone is quite reputable in language learning. Check out some of the reasons millions of language learners use Rosetta Stone:
Personalize your learning by setting schedules and alerts and accessing record tracking tools to keep track of everything you've learnt.
Take language and accent tests to know how well you've mastered the language.
Use the touch control to reveal the translations of anything you learn in the Core Lessons.
Schedule classes and take lessons anywhere, anytime.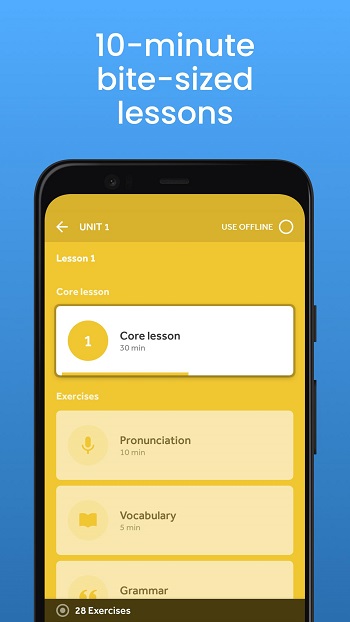 Keep track of your learning progress and get instantaneous feedback when you test your accent and progress.
Get daily resources to practice and learn your favourite language.
Use the Dynamic Immersion ® Method to learn in context rather than memorize the words.
Learn on a reliable platform with more than three merit awards.
App Features
The app has several features that set it apart from other language learning apps on the internet. These include the UI and tools as outlined below:
App's UI
Rosetta Stones did spend a lot of time creating the ideal app for its users. The platform allows you to learn languages quickly and provides all its features in the most appropriate and understandable approach. You can easily navigate the app without any guidance, and considering its availability for all ages, the UI allows kids to have a seamless learning experience here. Each feature has different pages; you can access most of the app features, including settings in less than three taps from the home screen.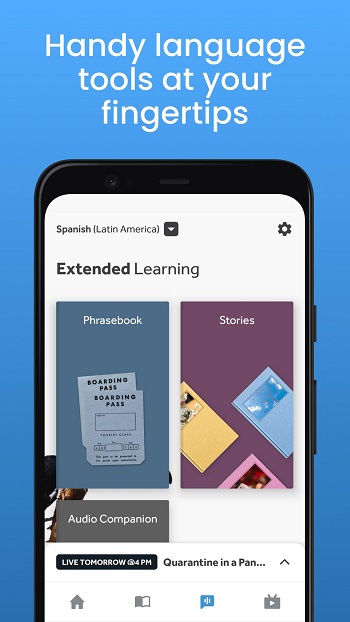 TruAccent
This feature is quite remarkable because it adds more beauty to the learning process. You'll be able to learn and reflect with TruAccent because it's a feature that allows you to check your accent and figure out how close you are to the natural language accent. Hence, rather than learn the words and pronunciations, you'll also be able to use this feature to determine if you're using the correct intonations and sounds for each comment.
Dynamic Immersion Method
This feature.is similar to the TruAccent because it's a great tool to keep track of any language you're learning and determine if you're learning it correctly. So, rather than learn any language however you like, you'll be able to use this feature to keep track of the context for each language. So, you can determine the context of each word as you learn them, and you'll be able to see different scenarios that can call for the use of any of the terms you learn.
Audio Companion Lessons
The audio companion does what it implies. Your language learning buddy allows you to take a break from the screen and stop learning with texts and visual aids. It's useful for the visually impaired and anyone who doesn't want to read from the screen to stay up to date and keep their learning process going. The feature also allows you to train your ears and reception skills by pronouncing words and sentences you can memorize.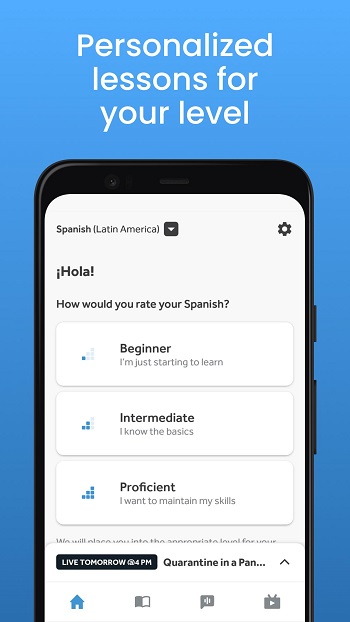 Languages
You can learn many languages with the app, which are not limited to a particular region. Some of the most popular languages include Spanish (Latin America or Spain), Japanese, English, French, German, Italian, Korean, Chinese, Arabic, Portuguese, Russian, Dutch, Filipino, Greek, Hebrew, Hindi, Irish, Persian, Polish, Swedish, Turkish and Vietnamese.
Tests and Feedbacks
You can test your knowledge so far on the app too. Take simple tests in a few minutes to know how well you've understood the language and get instant feedback on anything you learn. So, you can be aware of areas you need to improve and which lessons you should retake for effective learning.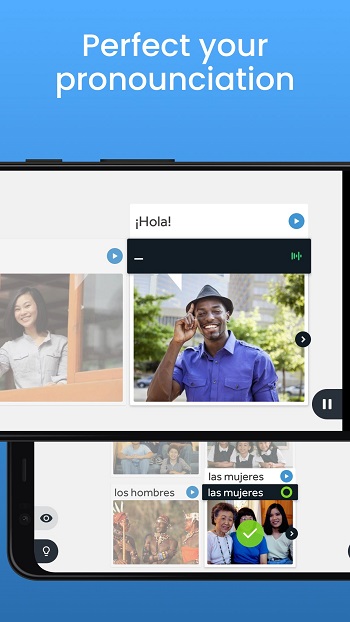 Conclusion
The app is a simple and robust platform that gives you all the necessary language learning features you might need. In addition, it uses a minimalistic interface to boost your learning prowess for any language of your choice.