Download My City: Pajama Party APK and have fun with your friends! Get cool PJs, snacks, and toys to host the perfect pajamas party in the virtual city.
Description of My City: Pajama Party
My City: Pajama Party is a fun game based on the story of a pajama party happening between a group of close friends. Whether you want to play with your virtual friends in real life, this game offers opportunities for you to have a lot of fun. In this cartoonish game, you can invite your best friends to the party and have loads of fun.
You can even check out the Pajamas Party Store, where you can purchase terrific pajamas, toys, lamps, and snacks for your party. You get everything you need to host the perfect pajama party in My City. There is a flower shop for a lot of fun at the party, a night store that sells all the items and supplies you need for your party and different friends' houses with rooms and locations. Regardless of where you want to have your party, there's a good place for you.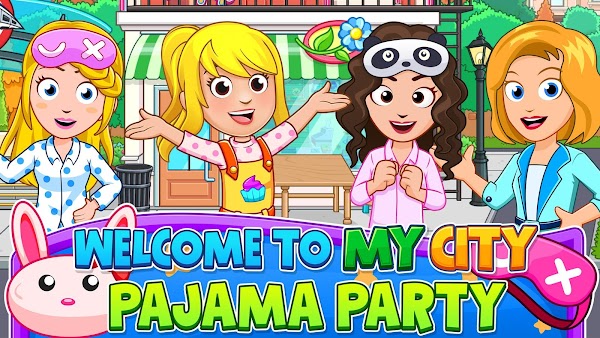 My City: Pajama Party is a fun game for kids between 4 and 12, but it can also appeal to adults looking to have some virtual fun in their free time. It was developed by My Town Games Ltd and first released on the 22nd of May, 2019.
Game Features to Look Out For
My City: Pajama Party offers fun activities and features you can enjoy during the gameplay. The features make it easy to start your pajama party and have fun with friends. Some of these features include: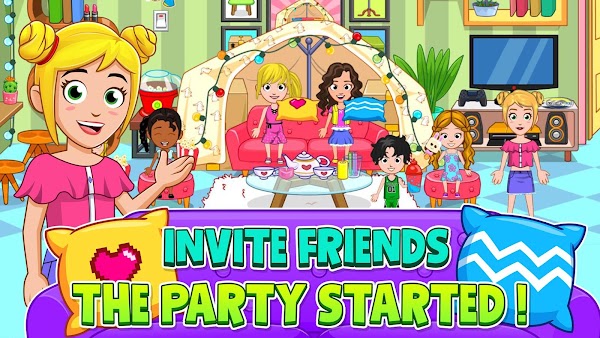 Explore exciting locations like friends' houses, food trucks, flower stores, and PJ party stores. You can move to different locations and have a lot of fun.
There are 20 characters available in My City: Pajama Party. The characters can come to your party and make it even more fun.
This game has ample room for customization, allowing you to decide how you want your game to look. You can also customize furniture.
The game is connected to the other My City games, offering even more fun.
Free play with very high playtime. You can play this game for a long time and feel relaxed.
There are no ads or IAP in the game, allowing you to enjoy it fully.
Play with Friends in My City: Pajama Party
One of the best features of My City: Pajama Party is the fact that you can play with friends. It is designed with multi-touch so that kids can play games together with friends and family on a single screen. As a fun children's game, you can play with your kids or friends in your free time.
At this pajama party, you and your friends can enjoy cosplay and wearing different costumes based on their tone, hair color, and themes. You can invite your friends into the game and discuss how you will plan your party. You can choose the location for the party, decide what to wear, and assign different tasks to your friends every day. There are various toys and props for the game, gathering souvenirs and reviewing old memories.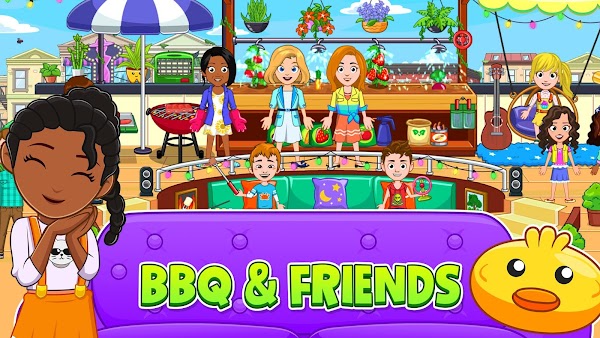 It is a pretty exciting game to play with friends or alone. The planning process is also enjoyable, allowing you the chance to have even more fun when the party day comes.
Interactive Experience for Kids
Children can enjoy interacting with the different elements in the My City: Pajama Party game. The game offers popcorn, snacks, good music, movies, and drinks to start your party. You can do whatever you like in this fun game and interact with any party item to enjoy the experience fully. The game offers you a lot of crazy adventures.
Children can interact with their favorite items and characters and move them to any location they want. This extensive interaction will allow you to expand your thinking and imagination. They can combine the different elements together for interesting functions and use the items in any way that they want.
You can control almost anything you want in the My City: Pajama Party game. The game allows you to control everything that you want, from setting up the entertainment scene to handpicking items, hairstyles, outfits, make-up, and enjoying a fun time with friends. Everything in the game is within your reach. Children will see the connections to characters and enjoy the freedom of choice.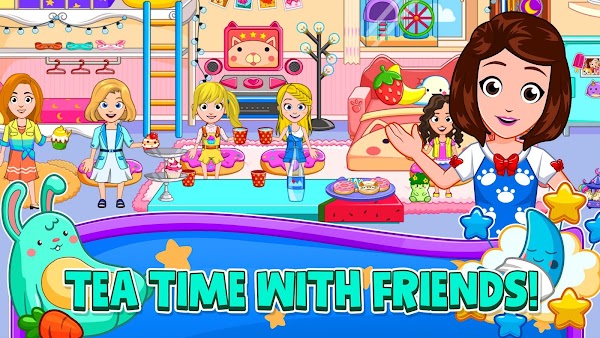 There are six big spaces that children can explore and interact with while playing My City: Pajama Party. These spaces have different items that they can use to plan their party. Even in the houses where you organize the parties, you get living rooms, kitchen, dining room, garden for barbecue, bathroom, and king-size bedrooms. All items, no matter how big or small can be touched and interacted with.
Children are also allowed to interact with the adorable characters, play, relax, lay down, eat, and be entertained. There is so much you can do while playing the game, with no limits.
Topnotch Graphics and Sound
My City: Pajama Party has vibrant and quality graphics, visuals, and sound that enhance the gameplay. The graphics are very vivid, with rich images and objects and a lot of colorful energy. For children, this will really keep them engaged, as they can identify colors and objects.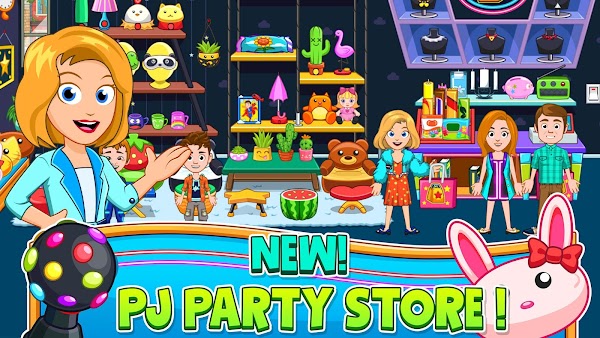 The game also has really good music and a fun soundtrack that matches up with the gameplay. It makes it really fun to play the game. There are really nice effects that you can enjoy too, which makes it easy for children to interact with the different elements.
Conclusion
My City: Pajama Party is an interactive game that will appeal to anyone who enjoys planning parties and being in parties too. The fun children's game can also be enjoyed by adults, and you can have fun with your friends too. Enjoy delicious snacks and drinks, music, and movies, and do whatever you like with all the characters in the game.