Download My City New York and discover the wonders New York City holds. Tour the city with the game's characters to learn everything there is to know about it.
Introducing The My City: New York Game
My City: New York is an adventure game set in the busy city of New York. Explore picturesque locations and have fun while you're at it. This game is popular among children because its features make it suitable. The graphics are eye-catching and able to draw and keep children's attention.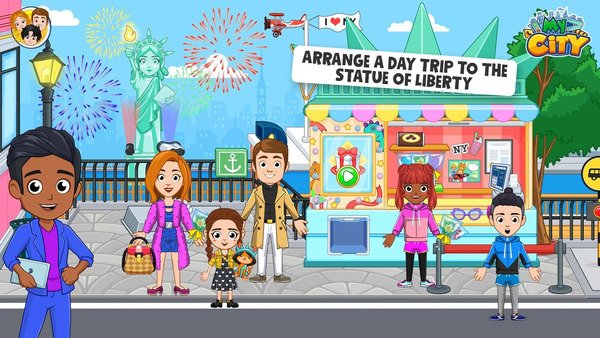 My City: New York is an educational game that helps increase your knowledge about New York. It is an uncomplicated game with simple options. Easy to understand and navigate, this game does its best to capitalize on the psychology of children, using relatable characters to engage them.
It can also be termed a city management game. My City: New York takes place in different locations in New York: stores, restaurants, hair salons, parks, and other fun places. Players get to experience these places through the characters.
Features Of The Game
My City: New York's features are children-centered. The cartoon-like characters are designed to attract members of the younger population. Let's discover these features, shall we?
No Ads or In-App Purchases: Enjoy smooth gameplay uninterrupted by pop-up ads. My City: New York costs a one-time purchase fee of $3.99 or $4.49. After that, every other thing is free. There are no hidden payments or in-app purchases in this game.
Mini Games: My City: New York features mini-games such as puzzles and search games where you get to find hidden items.
Characters: The game has 20 characters to interact with and control. These characters include the police, taxi driver, the family, and the restaurant owner. You can customize your characters by choosing hair, clothes, food, and makeup for them. You also get to decide what they eat and where they go. It's like a huge online dollhouse.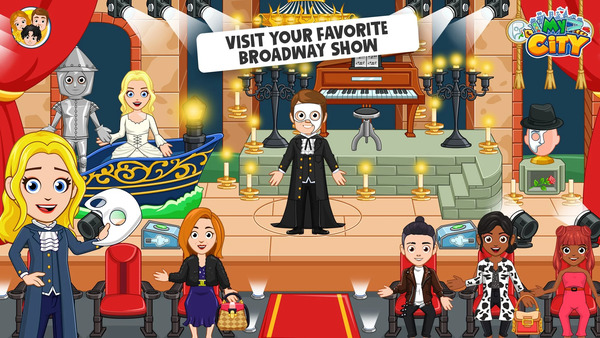 Locations: This kid's game features 8 locations. Watch your favorite movies at the Broadway theater. Have delicious meals in the NYC restaurant. Shop for clothes in the fashion store. Enjoy picnics with friends or family in the beautiful Central Park.
2D Graphics: The graphics are impressive. The mix of bright colors and adorable game characters create a harmonious setting that is great for kids.
Play Across Games: My City: New York can be connected to other games in the My City game series. With this feature, your characters can travel between different cities and play games.
With the aid of its features, My City: New York promotes kids' creative abilities. It also sparks their desire for exploration and feeds them facts about New York.
Journey Through New York City
My City: New York's gameplay immerses you in a world created by the game. Explore New York through the activities available to you. For example, spend some time with the Statue of Liberty and sing in the theater. The singing feature helps children interact with the game.
Since the game attempts to mimic reality, there are lots of fun things to do, just like in real New York City.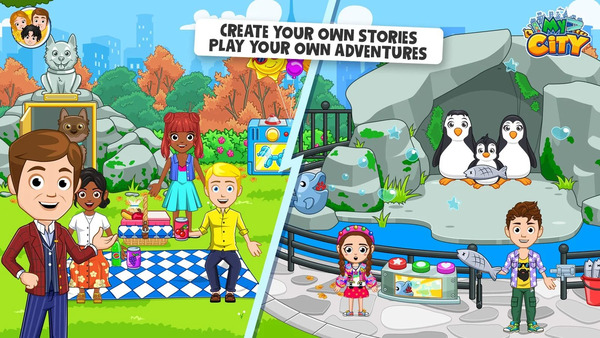 Games Similar To My City: New York
The games highly similar to My City: New York are from its developer. My Town Games Ltd has four discovery game series. One of them is the My Town game series. As the name implies, this series is set in a town. There are 28 games in this collection.
The games include My Town: Home, My Town: Bakery, and My Town: Pets. In My Town: Home, your character wakes up at the start of the day and gets ready by taking a bath and picking out clothes. The home features six rooms and a backyard that even has a swing set. The characters are a mum, a dad, and six young children.
My Town: Bakery is a great way to have all the sweet treats without dealing with the trouble they'd give the tummy in real life. Bake birthday cakes, grab pizzas, and hold fun parties in this game.
My Town: Pets is the 21st game in the My Town game collection. It offers children unique experiences adopting and caring for different animals. Walk your dogs, clean up poop and make appointments with the vet. Enjoy the everyday responsibilities associated with having pets.
About The Developer
My City: New York was developed by My Town Games, a game developer known for creating adventure games for kids. Daniel Aonnenfied and Mark Tulchinski founded My Town Games Ltd to bring dollhouse play to the screens of kids all over the world.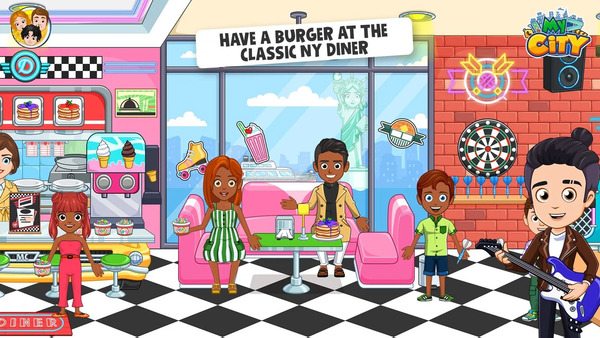 Their games focus on an imaginative play involving adventure and learning. The games are not competitive. This is good as it helps the children focus on the essence of the gameplay; exploration, and fun.
My City: New York was released on the 24th of December, 2020. Like the other games in the My City series, this game offers a safe space for children to develop an adventurous spirit and learn lots of fun while playing.
Other games from this developer include My Town: Cinema, My Town: Airport, My City: Paris, My City: London, and My Little Princess: Fairy Forest.
Conclusion
My City: New York is available on iOS and Android mobile devices. It is not free. It costs $4.99 on the Google Play Store and $3.99 on the App Store. The game is worth the fee. It is useful in teaching kids about places they've never been to.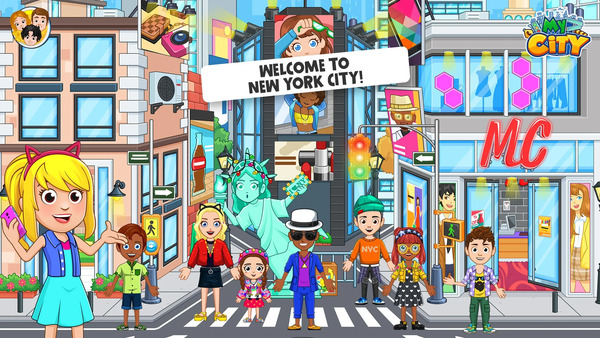 The focus on education instead of competition is an appreciated feature. Create your adventures with My City: New York as you explore the ins and outs of this beautiful city.
New York City is one of the busiest in the world. You can't let your child roam unsupervised in the big city, but you can drop them in this game. With child-safe game content and amazing features, My City: New York promises to be a fun time for your young ones.