Download My City Cops And Robbers APK, an educative game that follows the dangerous lives that cops live. Arrest criminals. Serve your city, and go on fun adventures!
Introducing My City Cops And Robbers
My City Cops And Robbers is a police game tailored to meet the needs of kid gamers. The roleplaying choices here are not limited to moral constructs. You can choose to be a robber, police officer, or judge. You can also visit other My City games with your character and check out the different locations in the game.
My City: Cops And Robbers were developed by My Town Games Ltd and released in August 2020. It is the second game in the My City series. The theme revolves around protecting a city from robbers and thieves. It is a policeman simulation game. You play a police officer and have tasks that include training your police dog and catching offenders of the law.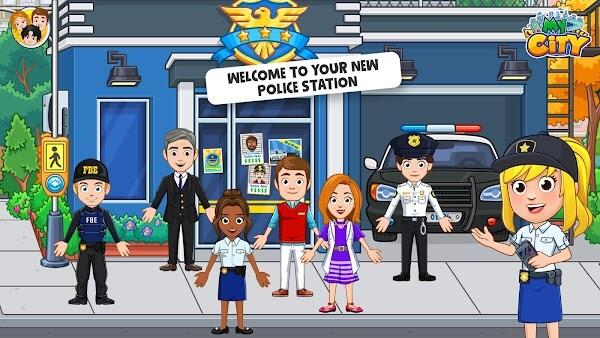 You can also break complex theft cases. My City games are known for simulating real-world experiences well; this game is not an exception. Children and adults get to explore the new things in each new world a My City game installment brings. The millions of downloads on Google Play prove that this game is safe for all ages.
My City: Cops And Robbers are one of the best games in the simulator genre. Why? It has a plot that is captivating yet easy to understand. Your character gets to decide the story's development and the criminals' lives. He will even participate in court hearings and set traps for the robbers.
My City: Cops And Robbers Gameplay Explained
You play the part of a police officer hunting thieves in this city. Whenever a situation arises, you have to go to the scene with your dog to see what's up. The police dogs are trained to assist you in finding the thieves. They provide added security too. While exploring the city, you'll find the thieves' hiding spots and solve some puzzles.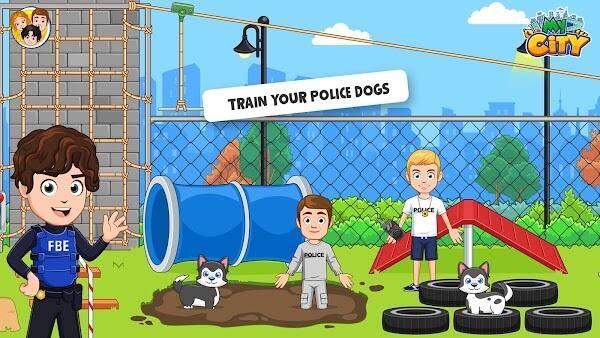 Before you arrest a thief, you'll have to take certain steps, especially if you did not witness the crime. First, you must investigate and find the hideout to make the arrest. Despite being a game about cops and robbers, this game has zero violence. It just focuses on offering thriving adventures and challenges.
My City: Cops And Robbers also help kids understand the duties of police officers. From assuring the elderly to protecting people from harassment and property from getting destroyed, children will get to see what the full scope of being a cop entails. In addition, it is a great way to teach kids the differences between good and bad and how bad deeds affect society and victims.
The game includes peculiar locations such as the jewelry store and courtroom. Each location has unique characters and stories. The game offers storylines that you can develop by making adjustments to them. The game is played in episodes where you have to make voices to control the story's development.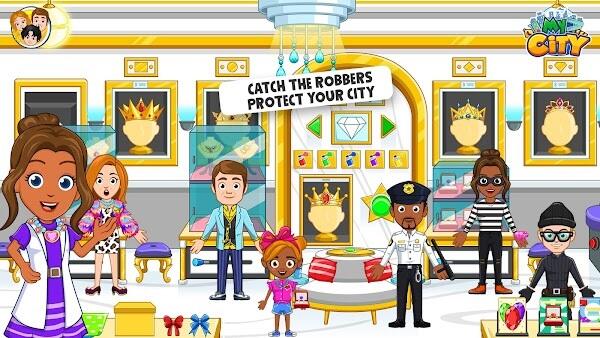 Interacting with the characters and objects at the locations is important. You can help solve crime cases at the police station, train the dogs or just shadow other cops to get tips and tricks from them. When playing a cop gets boring, you can switch to the role of a hardened criminal or seasoned court judge.
Playing different characters helps you see the story through different eyes. You can also play a detective who tracks the criminals undercover. My City: Cops and Robbers do not only feature lawful deeds. Thief characters get to steal and get punished. This can help teach kids that there are consequences for all actions.
Features Found in My City: Cops And Robbers
My City: Cops and Robbers offer creative gameplay with the aid of cartoon visuals and a cheery design. It uses a playful means to convey its messages to players of all ages. The key features of this simulation game include: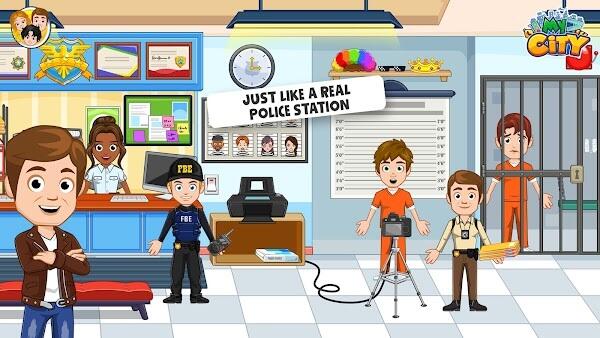 Multiple Roleplaying: You play multiple roles at different times of your choice. You can be the good policeman who helps everyone out, the thief who steals every day, or the judge who handles criminal cases in the courtroom. You'll use the puzzles and solutions in the stories to figure out the challenges you're facing.
Interactive Gameplay: The game was made for children aged 3-10. These are children's formative years, and this game helps them develop a sense of duty. It lets them touch and interact with the objects and characters in the game. The stories are simulated in great detail to help the imagination of kids. The locations in this game include bakeries, prisons, courts, jewelry stores, and police stations. Each location is an intriguing story for you or your kids to explore.
Kid-Friendly: Most modern games have some form of violence included, but My City: Cops and Robbers are violence-free. This is one of the major reasons it's a great option for children. The content here is free of blood or horror scenes.
Pricing: My City: Cops and Robbers cost a one-time fee of $4.49 on the Google Play Store. After this, you don't have to spend money.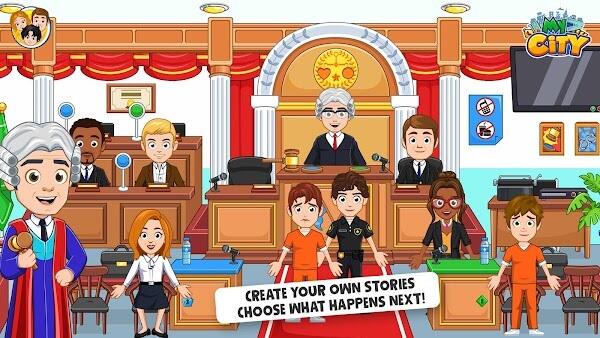 This game does not only teach you to help others out. It also instills morals such as getting to work early and being responsible for your decisions and actions.
Conclusion
My City: Cops and Robbers is also an avenue for you to become online friends with other My City players. Your kids will play most of the time, so this is a feature you have to monitor. Online communication can lead to cyberbullying and grooming. Ensure your kids do not become victims of this.
You're allowed to play My City: Cops and Robbers too. Although it is a kid's game, no law states that adults or teens are not allowed to play. It's fun to get rid of boredom or unwind after a long day. Learn the ways of detectives, police officers, judges, and thieves, and follow the diverse lives of the other characters you'll get to meet here!