Download My City Grandparents Home APK now! It is a fascinating, interactive game for kids. Offer them a lovely opportunity to contribute to society and boost their ego!
My City Grandparents Home
Have you ever wished to train your kids and avoid their questions? Do you wish to boost your child's confidence? Or want to correct a nasty habit in them? Introduce My City Grandparents home to them!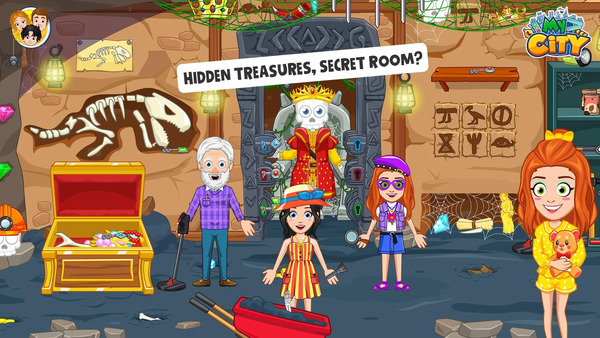 In the game, they learn social interaction with adults, how to be resourceful, solve problems, and the importance of performing house chores. My City Grandparents Home is a must-play for all young kids, parents, and guardians with wards who need to learn how to interact appropriately with adults who are partial to the game.
About the game
The game is set in a simple cartoon design to tickle the fancy of young players, and keep them interested in playing. The setting is a small town where the character is off to her grandparents' home to play for the weekend as usual. As is the case in the real world and also in the game, the grandparents are glad at this constant visit and prepare the best dishes and activities for their grandchild.
The character is given access to all the rooms in the house, including grandpa's tools room and work shed. The items in the tool store and work shed are intensely valuable and have been by grandpa over the years. A few have even come from his days as a young chap and many from his youth. So, you must take great care not to break or damage any of them or risk a game-over event.
Grandma also has an impressive garden at the back of the house. She has catered for it over the years. You can swim, help her out with fetching water, plant flowers, trees, and vegetables, and also run errands.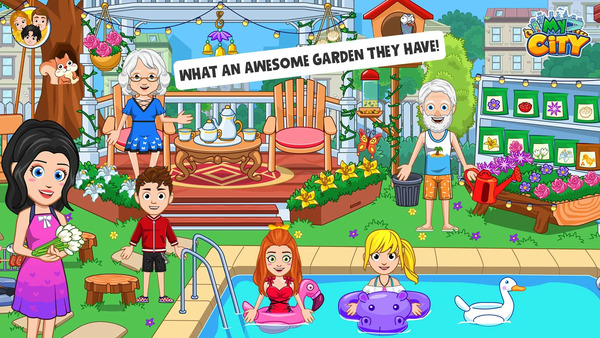 My city grandparents' home secret room is one of the many hidden places in the game designed to keep children playing - and interested in it for a long time. Concealed and noticeable rewards for performing tasks alongside other actions of kindness a child should know and do are available in the game. This acts as a form of encouragement as children receive treasures and bonuses to boost their character -for carrying out polite and helpful actions that they would replicate instinctively in the real world.
Gameplay
My city grandparents' home game is set in the summertime when schools are closed, and children are home just like the character is. Grandpa and Grandma's house is gigantic, with lots of spaces to explore and chores to do. Each room has its functions and maintenance required. The rooms are surprisingly well-furnished and laid with surprises for you. For instance: In a closet, you could find a blender for you to use and transport to the kitchen, brooms in the refrigerator, and bags under the sinks, all placed for the player to rearrange appropriately as a side quest.
As earlier stated, occasionally, the player may stumble on a hidden item, which they could keep as a reward. The house is furnished with ornate furniture, modern appliances, and things you would expect in a home, including a swimming pool and slide behind the house -for you to invite your friends, slide, and swim together.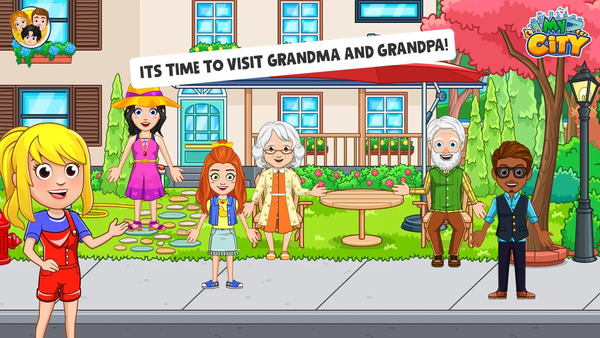 My City Grandparents Home game is not only limited to only the house; you can also access the town with the permission of your grandparents. In the locale, you would discover even more astonishing and creative things to be seen and done. Make friends with the town people and your peers, explore the community, and find hidden rewards as you did in the house. The town is large, so exploring it would take quite a lot of time.
Game Features
Eight significant places are in each location for kids to enjoy, with the option of role-playing and to create games and stories for the player to listen to.
Twenty characters are in the game, so feel free to interact with them, escort them to many places and create your games!
A mysterious basement exists in the grandpa's house, and it is filled with lots of secret rooms and treasures for you If you can find it!
This game has no ads as it has been designed specifically for children and other younger players.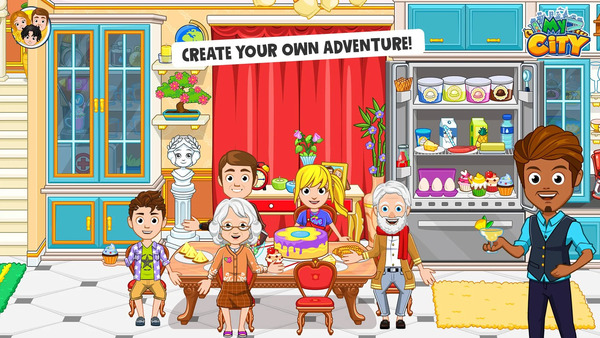 Game modes
My city grandparent home game exists in both paid and free versions. However, both versions of the game are available with a simple search like: My City Grandparent home download, My City Grandparents Home free download, or My City Grandparent home full unlock.
The paid version of the game is very affordable and made to be more interactive and suspenseful than the free version. The game is the 19th installment of its series, and it was released not too long ago; this series targets making learning home values and interaction with elders fun for young children.
My City Grandparent home game is the sequel of the previous game in the same series. Hence characters you just met may already be closer than expected, as a casual walk into the town would reveal.
The game further teaches the player the importance of friendships and staying safe by never exploring or going to strange places alone. It does this by having no less than five characters and an adult accompanying the players' avatar wherever they go. This positively affects the player on a psychological level that when exploring or going out to play, the supervision of an adult in the family is needed for guaranteed safety and never to go out alone.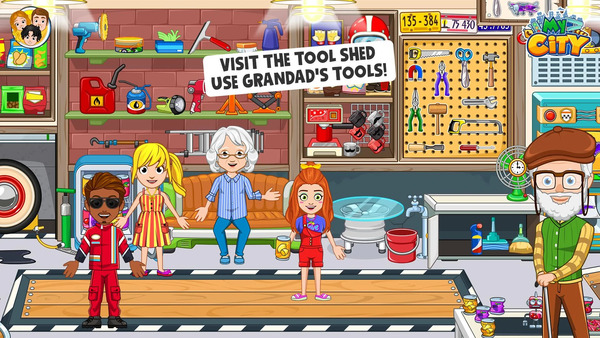 Conclusion
All My City games series are designed for kids and growing children to teach them core societal values, morals, and how to be creative, speak smartly and politely to adults, make friends while playing and be hardworking and obedient at home and beyond.
My City Grandparents Home game is just the 19th iteration in a long child-friendly game series. Without a doubt, the game is an excellent tool to teach your children anywhere and at any time. They are quick to become engrossed in the game and learn many things as they explore each location and the eight sub-locations in each.


Join Telegram Group
Download My City Grandparents Home APK now! It is a fascinating, interactive game for kids. Offer them a lovely opportunity to contribute to society and boost their ego!