Download My City Animal Shelter APK and take good care of your pets in your personally designed pet house. Provide warmth and food and nurse the pets to optimum health.
All about My City Animal Shelter
This game is a top-choice game for game players interested in pet care. It allows the player to choose several preferred pets and take care of these animals until they're fully grown. Depending on the player's preference, there is a large assortment of pets and exotic animals to take a pick of from all over the globe. If you want to explore the idea of having a shelter and caring for different animals, this game is a nice pick.
In this game, you must create a home for the animals and be their caregiver. The game gives an idea of the needs of these animals and the best way to care for them. The home you create will be customizable to fit the aesthetic needs of you, the player, and the beneficial needs of the animals. You can view this game as a fully interactive playhouse where you can interact with and touch practically every item you see. Players can also "play house" by making up and acting out their own stories with the help of entertaining characters and incredibly realistic settings.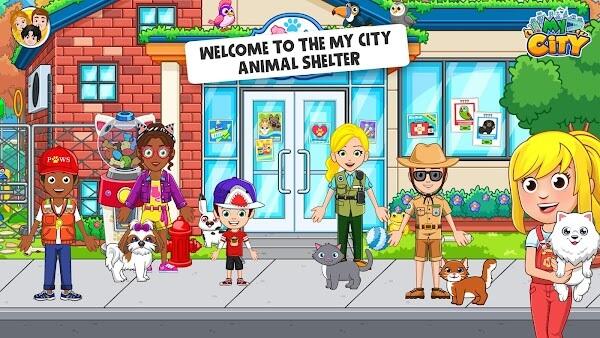 MY TOWN Games April 2020 released the app. It is available for download on Android and iOS mobile devices. It is free on Android devices but needs to be purchased for $5.99 on the iOS app platform. It comes with in-app purchases and is ad-free. It is children rated and can be played by any child, so parental guidance might not be necessary.
Interesting Gameplay
This game would be very fun for the parents and children to enjoy as it is designed with interesting features that span the entertainment needs of different ages.
My City: Animal Shelter is designed with many entertaining activities at many interesting and special locations. There are unlimited imaginative experiences to create and so much fun to explore with the pets. The game features a ton of adorable creatures. These include cats or dogs as well as tigers and hippopotamuses. In over eight different areas, you can play with and take care of over 50 new pets, like lions, snakes and rabbits, frogs, and even a racoon. The game has several more than eight different locations, giving players plenty of room to roam about and test out various roles available in the game. The gaming screen is also very innovative and entertaining.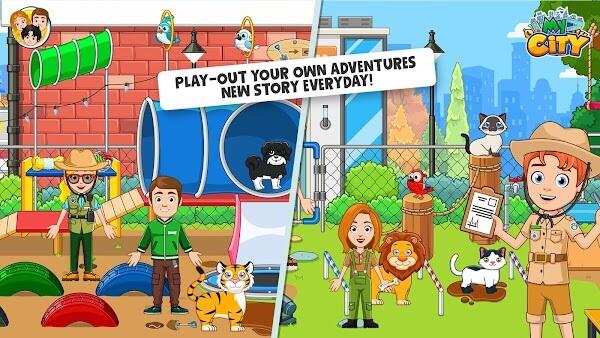 You will be required to take on the character of a veterinarian in this game, which will require you to fulfil various missions. Here, you play a nice doctor who is always trying to find better ways to look after, treat the adorable animals, and give them thoughtful, meticulous care in this animal haven. If they are hurt, you are to take care of them by washing them, treating their wounds, and bandaging them. Additionally, you must regularly monitor their health by taking their temperature and heart rate and performing other diagnostic procedures. Utilize your understanding of medicine to create the most appropriate and strategic gameplay so that you fulfil all of the game's objectives. An interesting twist is you will experience certain unexpected scenarios that the animals deliver, which will keep you entertained all day. They'll ask you to play games like a chase, ball, and sliding.
When you want to get costumes for your friends, you can decide to go to the pet store. This is where the in-app purchases come in. You will be able to get customizable outfits at affordable prices.
You are given access to a sizable neighbourhood in My City: Animal Shelter that you are free to travel to whenever you like. Shops, campgrounds, and subway stops with tourist opportunities are all included in this game of adventure for sightseeing. There is also the game's submarine system that lets you go anywhere.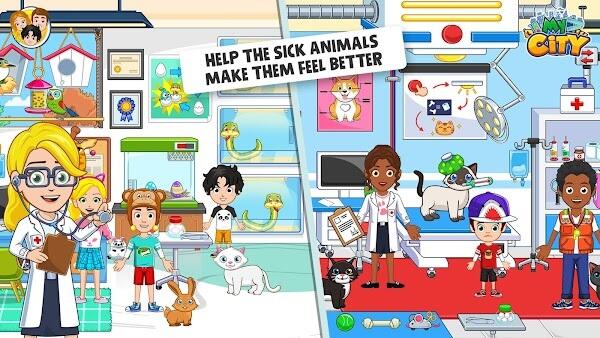 After finalizing each activity, you can earn several gifts and impressive bonuses from the mission. In the course of examining and looking after the animals, it will provide you with several advantages. Additionally, playing this game helps players get more expertise in caring for and raising pets. You must be completely familiar with each animal's unique environment to properly care for them, as each animal will have a distinct adaptation.
Eye-Capturing Graphics
The My City: Animal Shelter game is nicely created with an incredibly colourful interface and incorporates numerous surrounding scenes in a stunning style, with eye-catching details. Each designed scene is strengthened by the precise, delicate editing and meticulous sketching of every element on the interface screen. The characters in this game are also rendered in crisp, lifelike HD graphics. Each game's characters will differ in appearance, personality, colour, and function. Players will remain very concentrated and enjoy an immersive experience when playing this game. The soft background music also adds to the whole gaming experience.
Addictive Features in My City: Animal Shelter
You can expect many interesting features when you download this game. Here are a few features you can expect to keep you engrossed.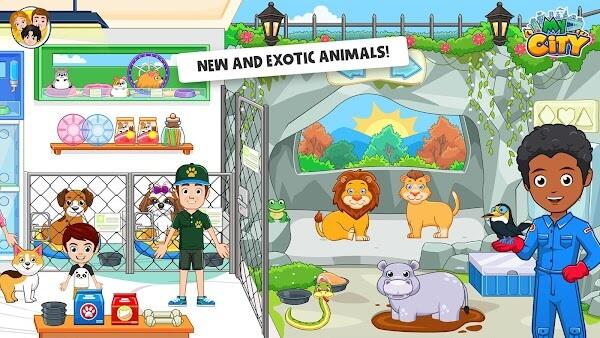 The game is Multi-touch supported.
Players can role-play in eight brand-new places in this game and create their own stories there.
There are many adorable animals to take care of. From dogs, cats, hamsters, bunnies, and birds to wildlife animals like hippos, tigers, and lions. Even reptiles like snakes and frogs are available.
Interactive UI surface
Can be a good source of animal education,
Easy to handle controls,
This game has 20 human characters to pick from.
Children are safe, and no parental guidance is necessary.
No IAP or third-party advertising.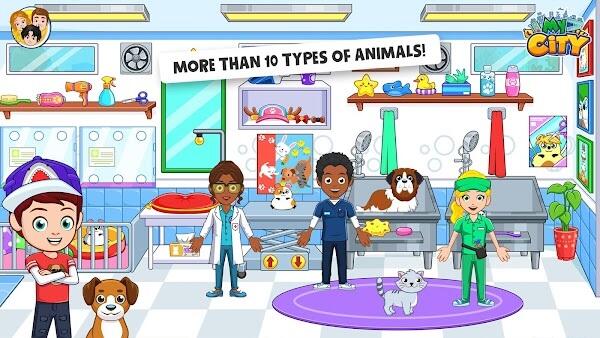 Updates are free with a single payment.
Interesting plot.
Captivating HD graphics.
Conclusion
My Town: Animal shelter is a game in class. There is no dull moment with the large selection of adorable creatures, stunning HD graphics, and the adventure-packed theme this game brings. Interact with your chosen pets, play, and nurse them to full health if they get sick. Anyone and everyone are free to download this game and have a blast.