Download Mimo APK, a coding program designed with beginners in mind. By using the app, you can advance your career, create apps and sites, or learn how to code.
Mimo app
Never before has learning to code been so simple. With Mimo, you can gradually study programming (in Python, JavaScript, HTML, etc.), the century's most in-demand ability. The easiest and most efficient way to code in Python, JavaScript, HTML, SQL, and CSS is through Mimo. Without prior coding knowledge, you can benefit from the programming classes and practice exercises.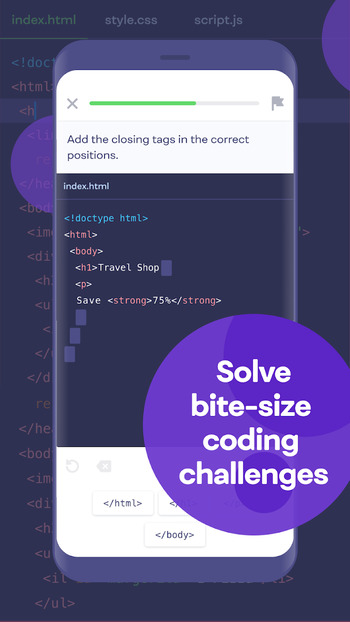 If you know nothing about programming but want to improve your skills and become more open to all of the opportunities accessible to those who are competent in programming languages, Mimo is an excellent place to start. Download Mimo for free coding lessons in Python, Javascript, HTML, and more languages.
Mimo makes coding and getting into computer programming as simple as possible. Professionals created the curriculum, which allows you to learn by doing real-world projects in HTML, JavaScript, CSS, Python, and SQL.
Description of Mimo app
Programming is becoming increasingly popular. It aids in the development of your thinking while also providing an open employment prospect with higher pay. As a result, even people not majoring in computer science can learn to code to advance their professions.
Mimo is a free app that teaches programming skills through daily sessions. The technique of instruction is similar to that used by Duolingo for language learning.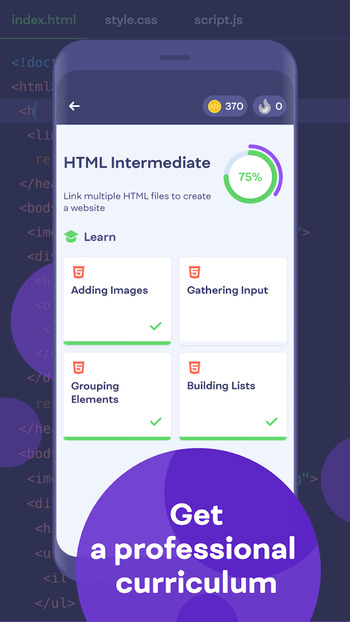 In each class, you will react to questions and complete exercises that you have learned how to approach clearly previously. It offers a simple UI that allows you to focus on studying.
Mimo is a tool for learning any programming language, regardless of how much you already know. A fantastic method to learn at your own speed and from anywhere. Mimo, as a learning tool, provides a lot of programming language and computer science knowledge.
Courses on the Mimo app
Mimo's content is divided into two categories: web development and python. You can begin your education in one of two ways.
You will use HTML for web building (Hypertext Markup Language). It is used to instruct the computer on how to present content, graphics, links, and so on... Then you'll learn about CSS (Cascading Style Sheets), Javascript, and various other topics. This is all the knowledge required to create a complete website.
Python programming will start with the fundamentals, such as defining a variable, using an operator, a loop, and a conditional statement... In general, the materials are appropriate for novices. It will require a while to finish all of this, but after, you can use what you have learned to create a real-world application.
You will also know more about the SQL query language. The topics of query generation, query execution, and connecting your web/Python application to a database.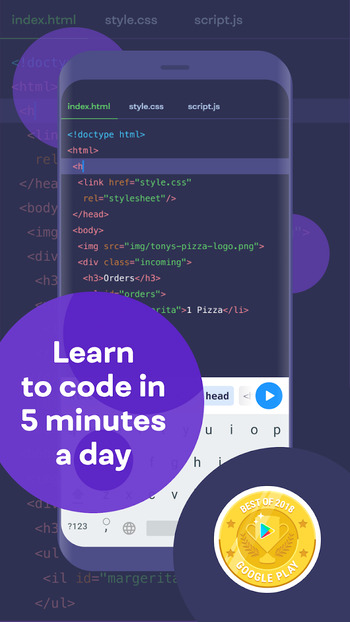 No matter what your starting level of programming skills is, Mimo allows you to start at three various stages (beginning, intermediate, and advanced), implying that everyone can use this application without issue. You will learn Python, Kotlin, Swift, HTML, CSS, JavaScript, SQL, PHP, Java, C#, C++, Ruby, and Git. Are you curious about how they're utilized, what they can do, and how they're used in real life? Begin learning right away.
Features of Mimo app
Learn coding within a few minutes every day
Mimo's purpose is to help you grasp coding in a short period, even if you have five minutes every day to learn the fundamentals. However, all the knowledge cultivated by coding professionals, together with global testing, will meet the standard for people to understand and implement in five minutes.
It includes numerous exercises or specific assignments that require you to apply everything you have learned to each code line. It will interface with different correction or error detection systems and allows you to improve even more with a plethora of handy functions and lessons.
Several coding lessons
The application contains a plethora of classes to help you get started in the world of coding. Everything is categorized into numerous categories based on the level of each individual. In other words, this program functions as a coder library, as you can select any course based on your skill level.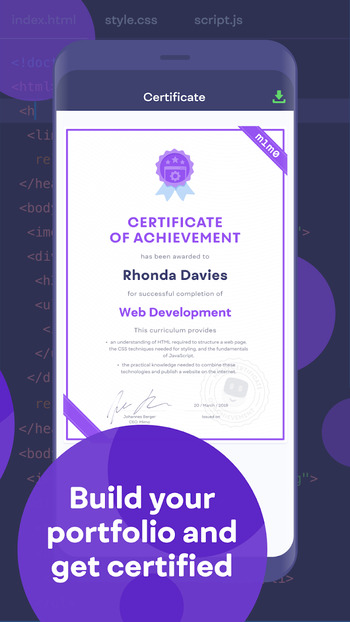 The various levels provide more opportunities to learn to code, and many different areas are clearly described to begin researching. Furthermore, the application will have numerous special tests to level up or test abilities, allowing you to code the first instructions or applications.
Unique and adaptable code
Mimo is a specialized and beginner-friendly coding tool that includes keyboards or special characters to help you get started. Its coding interface is versatile and superior, allowing you to freely test for flaws or errors that are undetectable to the naked eye.
It allows you to copy or paste many additional resources into the program, strengthening it and making it easier to create good first statements. The command editor system is the most developed feature in the application, allowing you to freely develop an unlimited number of apps or programs.
Code with other users.
If you have any issues or wish to develop your skills, Mimo offers a variety of online tools and features. All online courses are held every day, and everyone is allowed to join in the discussions or live streaming. In addition, you can code in group projects and collectively help or amend the commands to finish and work on the first try.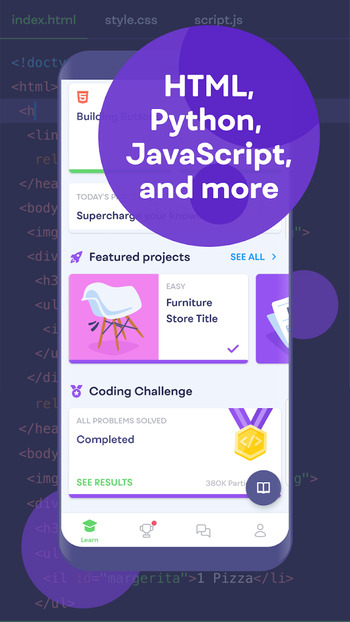 Learning to code with like-minded people is beneficial and will help improve other abilities outside coding. Mimo is regarded as one of the top coding education applications in the world, with numerous features and tools that other apps lack. All these resources are available in programming languages, giving you infinite options for use in practice.
Mimo Pro Version
Mimo is a free version service. That means that only a portion of the information is free. If you want to learn more content, such as specific lessons in Python classes, web development, or the courses mentioned before, you must subscribe to the Pro package.
The Pro package also removes advertisements, provides certificates upon course completion, and allows you to save creations on your Personal Page or publish them.
Conclusion
Download Mimo now to learn to code or enhance your programming skills! It will aid in the learning and acquisition of new skills within the field of computer programming.