Download Almost a Hero APK, a game for special types of heroes. In this game, you are not the bravest knight of all. Instead, you are the one who tries to be brave.
An In-Depth Description of Almost a Hero
Almost a Hero is an intriguing game for special types of heroes. One thing that makes this game stand out is how it places a lot of importance on the fact that even the deeply flawed characters can become heroes. If you are looking for a game where you can be the hero that saves the world or the bravest of all knights, then this game is not for you. Instead, players are almost heroes – they try to defeat enemies, go into battle, and be brave.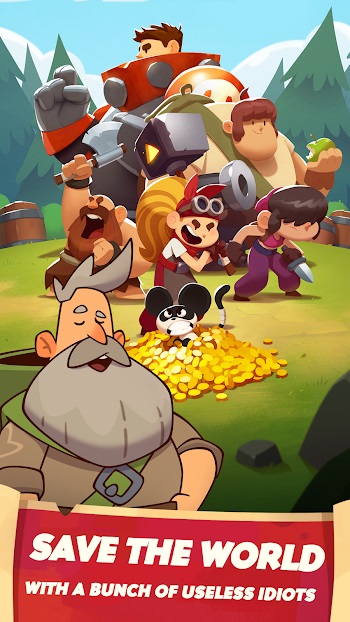 Almost a Hero for Android is an addictive role-playing game where you will join forces with a group of nine idle heroes, also known as the most useless people, to walk the surface of this earth, to battle against thousands of enemies. Since it is a clicker game, there is a lot of clicking to do. You will shoot lightning bolts at your enemies when you touch the screen. But you do not need to worry about controlling the rest of your team because they will attack automatically.
In Almost a Hero latest version, players will come across a lot of idle heroes with secrets, ancient artifacts, quests, and upgrades that will need to be unlocked to become almost heroes. Almost a Hero gameplay is pretty simple and similar to every other role-playing game. Anytime you defeat an enemy, you earn a certain amount of coins. You can use these coins to increase the damage you and your heroes caused through your attacks.
For every ten enemies that you and your heroes manage to defeat, you will come across a boss. The bosses are stronger enemies with greater powers, and they are more resistant to your attacks. These guys are tough to defeat, making things much more difficult for you. They will test your skills, but luckily, you can use your special powers to end them. It is advisable that you save your special powers until it is time to fight the bosses.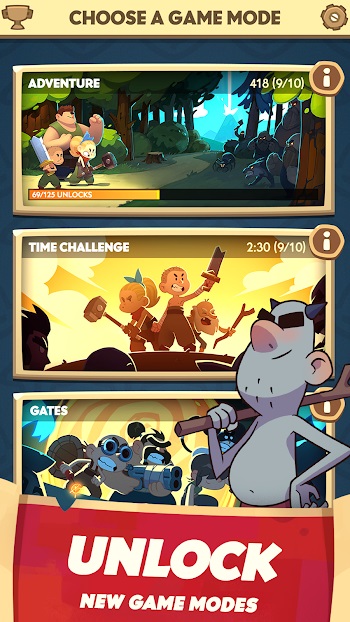 When you begin playing Almost a Hero Android, you will only have access to one hero. It is then up to you to buy new heroes as the game progresses. This RPG clicker game has fantastic visuals that you will surely fall in love with. Do you think you have what it takes to join the Almost a Hero team? Our site offers a straightforward Almost a Hero download process, so you can get right to it.
Features of Almost a Hero
Now that you know all about Almost a Hero, let us take a look at some of the exciting features of this role-playing clicker game.
Almost a Hero Gameplay
Almost a Hero has easy-to-learn gameplay, and the game is somewhat so comedic even though it emphasizes flawed characters. Since it is a clicker game, it does not have complex controls. All you need to do is tap on the screen continuously to eliminate enemies and earn coins. The coins you gain can upgrade your character and recruit new troops, while the gems can be used to purchase high-value items.
You should know that the path to becoming a hero, or almost a hero, in this case, is not easy. Your heroes are not exactly heroes; instead, they are random people put together to go to war. You will have to fight different enemies and conquer strong bosses of all shapes and sizes. Sometimes, your skills may not be enough, but you will have to give it all it takes.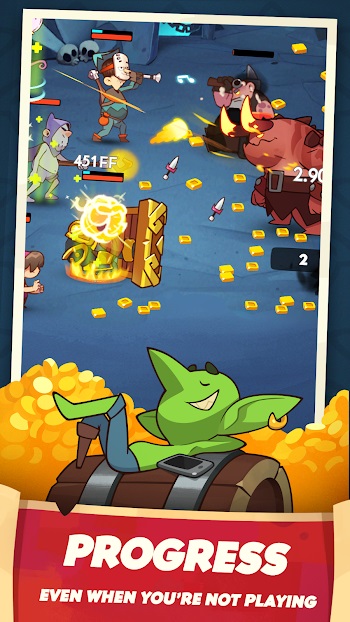 One good thing is that they all have magic rings, so whenever you touch the screen, they will attack the enemy automatically. Your character has unique skills that you should only use to get out of difficult situations – it is advisable that you save your skills until you come face to face with a boss. You can try out the different game modes for different adventures, and your heroes can be sent to do other things in the game, like breed a pet.
Overall, Almost a Hero is a game about the most random warriors being put together to fight endless battles. They have zero experience, and since they are so deeply flawed, their qualities are not worthy of becoming heroes. Instead, they are almost heroes.
Graphics
Almost a Hero has lovely and colorful visuals that you will surely fall in love with when you launch the game. The heroes look very small on the battlefield, but their designs are very detailed, expressing character naivety. The characters have a funny, understandable appearance, and the game uses vertical screen 3D graphics.
Other Features Include: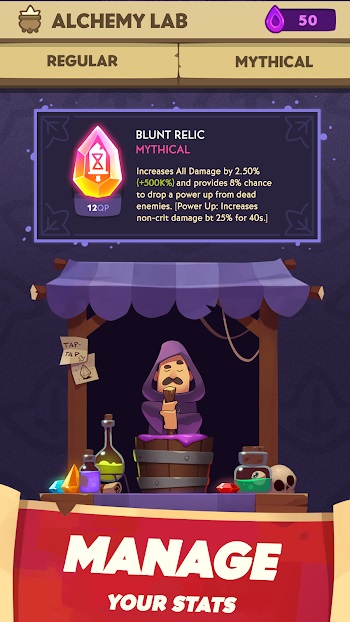 Get ready to get killed several times as it is an idle RPG game.
You can adopt pets – a cute poisonous spider is not such a bad choice.
Your heroes are emotionally broken and deeply flawed. They consist of a wealthy goblin, a bold blonde, a night thief, and a grandma. Yes, you read that right.
It is up to you to turn this group of people with zero experience into heroes; one day, they might save the world.
Almost a Hero features an alchemist with powerful artifacts that you can use to develop ancient magic.
Participate in thrilling battles against bosses and check out the different game modes.
Conclusion
So, if you are ready to build your Almost a Hero team, you can go ahead and hit that download button. Who knows? You and your team might just save the world one day.