Download Shadow Fight Arena APK, an epic 3D PvP fighting game where you can play offline with bots or online with friends – can you become the shadow fight hero?
An In-Depth Description of Shadow Fight Arena
Ever since Shadow Fight 2 was launched, there have been so many players who wanted to play PvP games on their mobile devices but were not able to. Luckily, Shadow Fight Arena has made that dream come true! This new multiplayer fighting game is perfect for everyone – you can play wherever you are and whenever you want. You can also fight against friends for ratings or engage offline against bots for fun or when you need a break. Do you think you have what it takes to become the shadow fight hero in this free-to-play video game?
Shadow Fight Arena was published by Nekki and developed by Nekki and Banzai Games. In this game, every player gets to control their dream team of three warriors to defeat their opponent's team. They can level up their team as they progress in the game as all the heroes have special upgradeable abilities. It is up to you to choose the right fighters to battle against your enemies and come out victorious – become the best warrior to walk the lands of a world that holds many secrets and is on the edge of war.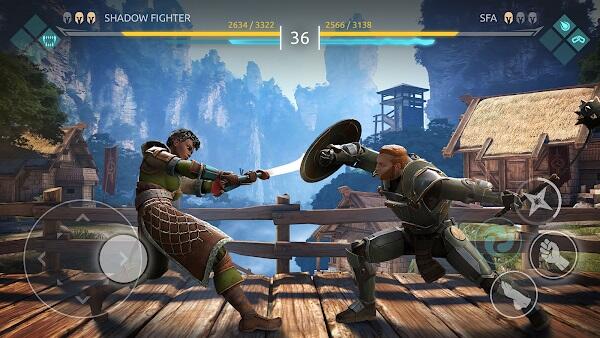 Controls are easy in Shadow Fight Arena – on the right side of the screen are the buttons for attacking your enemies and on the left side of the screen is the virtual d-pad that you can use to control your character's movements. Players can combine different hits and directions like every good fighting game to create incredible combos to defeat their enemies quickly. Players can use several different types of weapons and armors to defeat their opponents, which they can unlock when they win combats.
For hand-to-hand combats, players have multiple weapons, like spears, sticks, and swords. Players can choose from a number of talents and unique skills that they can use to create their special attacks to defeat their enemies in one go. With the number of characters, weapons, equipment, and weapons players have to unlock; they will never run out of content. Not to forget Shadow Fight Arena's lovely visuals and incredible character animations.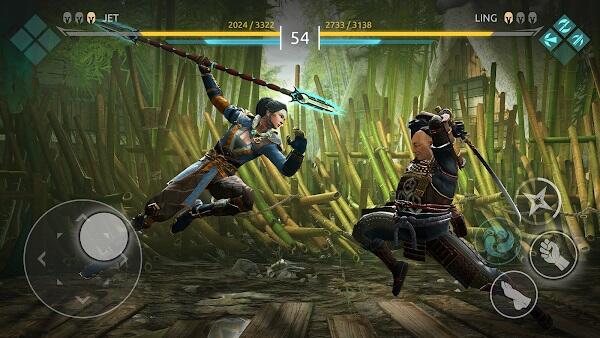 Dive into the Shadow Fight Arena world and win different battles against your enemies to reach the highest rank in the game. Unlock weapons, armors, and other items and collect additional resources to help you become the best warrior. Our site offers a straightforward Shadow Fight Arena download process, so you can get right to it.
Shadow Fight Arena Tips
As a beginner, here are a few Shadow Arena Tips you should keep in mind to easily win battles against your opponents.
Stay Close To Your Opponent
Getting closer to them is the best way to inflict the most damage on your opponent. Staying far away will not do as much damage as when you are within close range. But, it would be best to keep in mind that your opponents can do the same to you, so you must always be alert.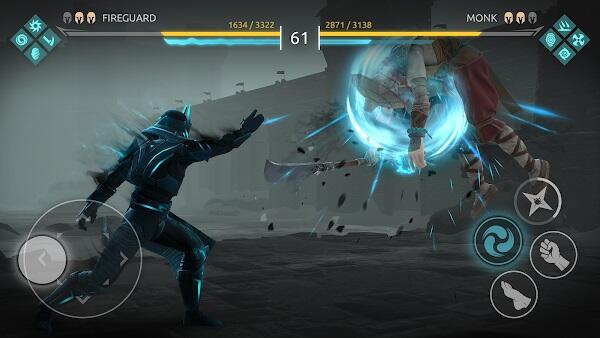 Movements
You cannot stay in one spot while fighting your opponents as you will be pushed around. This is why you need to use the virtual d-pad to control your character's movements while fighting. You can roll away and dodge attacks easily when you do this – if you press the arrow key towards the enemy twice, you can avoid close-range attacks.
Kick Your Opponent
Kicking your opponents is one of the best ways to deal with close-range attacks – it helps you push them back aggressively and get breathing space, even if it is just seconds. When you kick your opponents, they will become unsettled, giving you a chance to fight back harder.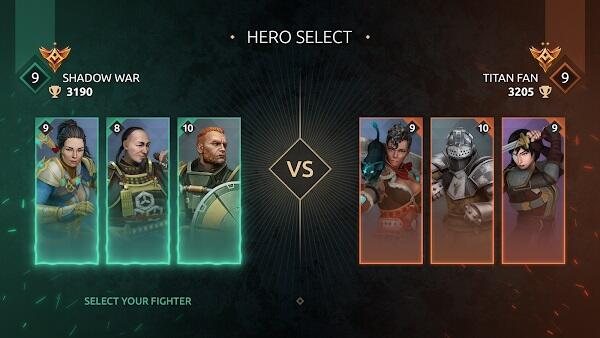 Timing
Of course, timing is always vital when it comes to battling against opponents. It would help if you always waited for your opponent to finish their attacks (ensure that you block these attacks). The moment the attack stops, you should retaliate immediately. This will reduce your opponent's life drastically. Using a sword for this does a lot of damage.
Features of Shadow Fight Arena
Now that you know some of the Shadow Fight Arena tips let us look at some of the exciting features this game offers.
Easy Controls
Shadow Fight Arena has console-level controls – players enjoy a console battle experience on their mobile devices. With this feature, you do not need to swipe your screen to attack your opponents. Instead, you can use the control buttons to attack and create your strategy. You can also use the virtual d-pad to move your character efficiently and quickly. Lastly, some special buttons allow you to use shadow magic and crazy combos while fighting.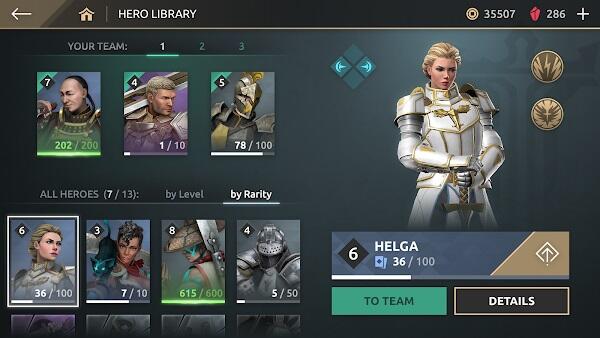 Epic Heroes – Upgrade Your Heroes
In Shadow Fight Arena, you can build a team of the best ninjas, samurais, and warriors – there are several legendary heroes you can unlock by playing matches online. As stated above, players will create a team of three heroes with unique abilities that you can adjust to fit your style. You can learn shadow magic to make your attacks against your opponents more deadly.
The good thing is that you can upgrade all the heroes you collect. This is necessary because as you progress in the game, there will be many challenging levels, and you will have to face stronger opponents. So, the best way to win the battles is by fully upgrading your heroes and unlocking more powerful abilities to make you stronger.
Multiplayer Battles
Make your dream team of three heroes and battle against your friends in the online multiplayer mode to see who is the best shadow fight player. You can send an invitation or join a friend already playing a game. You can also play online events and earn amazing rewards when you win the battles. If you are not up for a challenge or cannot connect to the internet, you can simply play an offline match against bots to brush up on your skills.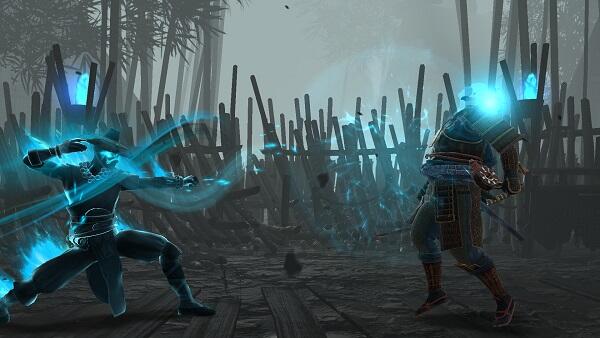 Customizations
Players can send emotes and taunts to their opponents during a fight to show them who is boss or thank them for a good game.
Players have access to cool hero skins – now you can win your battles in style.
Whenever you win a fight against an opponent, you can celebrate your wins with 3D action animations.
Conclusion
Prove to other online players that you have what it takes to become the top shadow fight player – create your dream team of three warriors, engage in different battles, upgrade your characters and come out victorious. Our Shadow Fight Arena download process is straightforward – so what are you waiting for? Hit that download button now!