Download and install Tap Titans: Clicker Idle RPG and become a Sword Master on the quest to hunt down all the monsters wreaking havoc on all the realms.
Description of Tap Titans 2: Clicker Idle RPG
Pick up your sword and form the heroic team that will go on this adventure with you, and then collaborate with fellow Sword Master on the quest to eliminate the great Titan Lords in more than a hundred thousand levels.
As the title suggests, all you have to do to slay the Titans is to just tap on your device's screen, and your virtual character will use his sword to eliminate enemies as you cruise through the realms in this game. You also have the chance to upgrade your sword for new weapons, gather pets, participate in a multiplayer raid of clans with players worldwide and leave a powerful legacy behind as the undisputed sword master.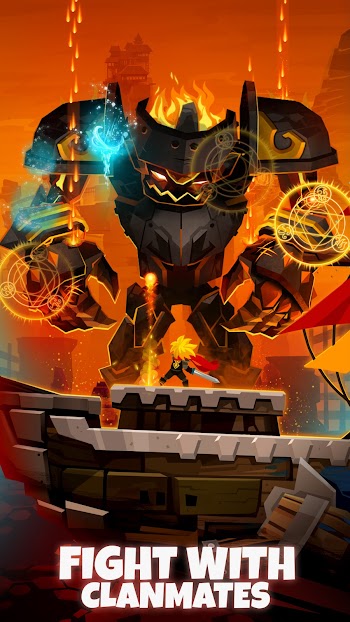 With your control, you will improve your heroes' skills to attack powerful Titans and battle monsters nonstop in the quest to return peace to the realms.
What You Can Do with This Game
The following are the actions you can perform in this wonderful game of strategy:
PLAY the Complete Idle RPG Game on the Go and Offline: You have the opportunity to play this game anytime you want. You can choose to play on the go. There is also a chance to play offline if you are not in a place with good internet. You will enjoy maximum satisfaction from playing this game either online or offline.
TAP to Kill Off +150 all-new Titans in 14 Hand-drawn, Gorgeous Realms: The gameplay and control of this game are pretty simple. All you have to do to defeat the Titans is tap on your device's screen, and you will see your heroes brandish their weapons and attack the Titans. You can battle as many as over 150 new Titans added to the game, and you can visit about 24 different realms to battle some more Titans.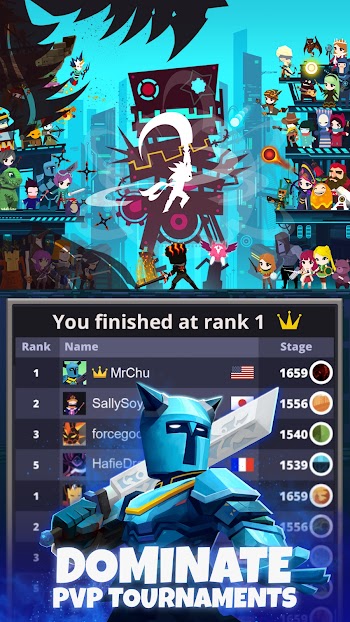 UNLOCK Special Skills to Increase Your Power to Battle Monsters: In some cases, your basic combat skills may not be enough to fight off some creatures. These creatures are often just too powerful for you. The only way to defeat them is by unlocking unique skills to help your heroes fight more effectively and defeat the monsters. So, whenever you encounter a more powerful monster, perhaps what you need is to power up your skills before you can defeat these monsters.
PRESTIGE and Cash in Your Earnings and Become Stronger: You will earn virtual coins when you play this game. These coins are in the form of money with which you can get some other items you may need. Therefore, if you need things that will enable you to become stronger, or you are interested in getting some old artifacts, all you need to do is cash in the money and coins you have earned. It is simply like a trade.
COLLECT Items to Customise Your Hero's Armour and Blade to Fit Your Style of Play: Besides earning some coins and money, you will come across some important equipment in the game. You need to collect the equipment because they can help your hero fight more effectively. In addition, you can use the equipment to customise the armour and blade of your hero so that they can create more stable defense and attack modes during battle.
CREATE or Collaborate with Clans to Kill the Titan Lords in Multiplayer Mode: With the multiplayer mode, you will have a chance to interact with other online players. You can even be invited to join some clans. This will assist you in killing more Titans. Also, you will be safer fighting the Titans under a clan than fighting them all alone.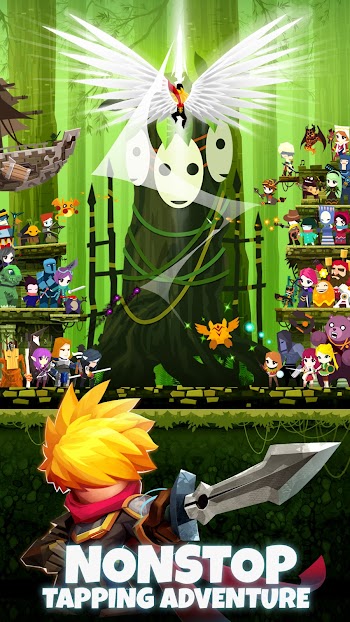 ADVENTURE down Scenic Paths during Seasonal Events to Earn Exclusive Gear and Rewards: There is often an event that is constantly held. This event is often geared toward the theme of adventure. However, there is more danger in this adventure, and if you succeed in this quest, you will earn some exclusive gear and rewards.
COMPETE against Other Players from around the World: There is occasionally a global tournament in which players worldwide take part. This tournament is where you will know exactly where you want. There will be some games you would win and others that you can easily lose. You have the choice to join clans, and you can compete with other players to display your incredible strength and receive some nice prizes.
Why Should You Play Tap Titans 2?
As already mentioned, this game's control and gameplay are pretty easy to understand. You should expect the following each time you are playing Tap Titans 2:
RAIDS: This is a common method of fighting in multiplayer mode. In this level, you will have to battle some new Titans. You will also have incredible abilities here, and each victory will earn you some satisfying rewards.
HERO SCROLLS: This is part of the rewards you will win whenever you complete raids. The Hero Scrolls will allow you to improve your Sword Master's skills much more than you can do in the past.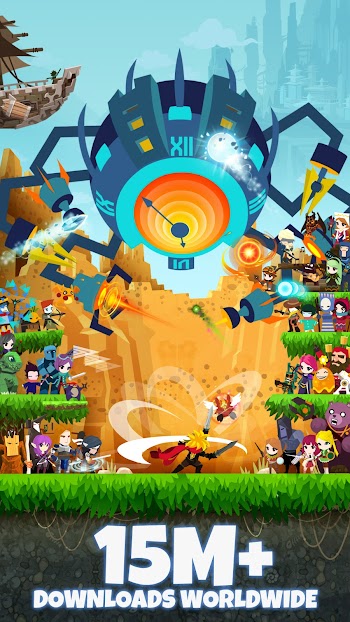 TITAN LORDS: These Lords have joined the raid to seek vengeance on you. However, there is a way you can still defeat them further. Simply break apart individual armours they wear so that you can expose the weak bodies of these monsters and then strike them down.
CARD COLLECTING: As you play the game, you have to collect some cards along the way; these are how you can increase the power of your Swordmaster. The cards will grant your hero the attacking and defending abilities to emerge victorious.
DUST: This is the currency you will use in upgrading your weapons and armour during battle.
CLAN UPGRADES: This upgrade includes Raid Tickets and clan XP, which will allow you to interact and play with fellow online players worldwide. They are also Sword Masters like you.
Final Thoughts
To play this game, you will role-play as a powerful Swords Master on a quest to slay monstrous Titans who have been wreaking havoc across various realms. Your quest is to hunt the Drak Lord, but you must slay all the Titans blocking your way.