Download Eternium APK to battle against evil forces that try to overtake your world. Enjoy the full power of your might as you slay them in unimaginable ways.
All You Need To Know About Eternium
Eternium is one of the best action RPG mobile games with well-crafted graphics. It was released on June 25, 2014, by Making Fun Inc, aiming to make fun of people, especially those who love the fantasy theme. Since its launch, it has aimed to reach millions of players worldwide. It is available on Android, iOS, and Microsoft Windows.
Eternium is a role-playing game that features a beautiful storyline. The story centres on the mission of protecting your world against several evil forces that want to overtake it. They attack your world in several numbers, different shapes and sizes, and forms, and you must be strong and skilful to fight them back. Its storyline is also filled with intriguing elements and funny characters. A central enemy, Ragadam, controls your enemies. You would have to hunt him down as you travel across different worlds. Your main goal is to uncover his true mission and stop him.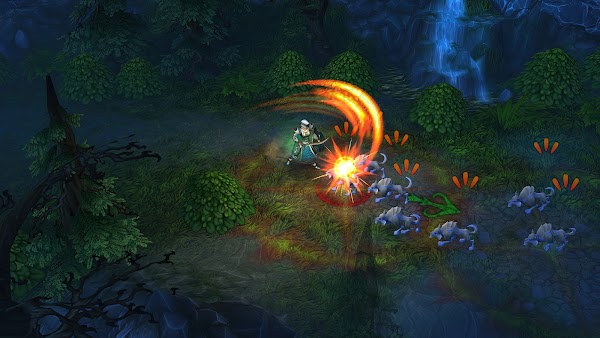 Moreso, this is not just a game of skill and might only; you must be able to cast spells. This is one of the exceptional features of the game. This spell empowers you to destroy your enemies in a flash.
The great news is that Eternium is a free game. You can play as many levels or modes as possible without paying a dime. Purchasing items or gear is not compulsory; your choice can make them. You can, however, upgrade your gear but taking them from your enemies and during your quests. To enjoy the best game items, you must play to the fullest!
Gameplay
Eternium is a combat game. Its gameplay is majorly based on fighting various enemies. Most times, these enemies tend to outnumber you, but you can overcome them with your skill, power, and ability to cast spells. Its graphics remind me of great classics in the RPG game category.
Its gameplay is fast-paced, with responsive combats accompanied by great special effects. These special effects bring life to the game as you slash your enemies with different tactics. In addition, it has intriguing gaming sounds, damaging numbers that are rewarding, and music scores that keep you inspired.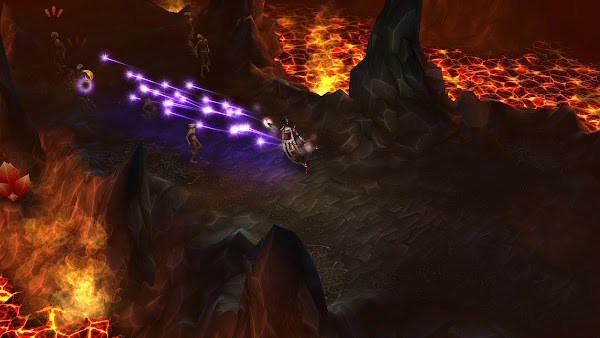 You are not limited to one character. Instead, you are offered a few options depending on the game's style, look, and feel you want. For example, the game allows you to choose between a mage, a warrior, and a bounty hunter. Each character is relentless, wielding different weapons, including a sword, an axe, a staff, and even a gun. The enemies are fierce and are plenty in number, and you need to be well prepared to battle them.
Enemies you will face
As earlier said, enemies that attack your world and try to overtake you come in different shapes, sizes, and forms. It is safe to believe you are not fighting against mere humans. Your character isn't a mere human. You will have to fight against skeletons, aliens, demons, zombies, dragons, automatons, and other unimaginable creatures.
These enemies have varying strengths, and understanding them is key to winning the battle. A dragon is more fierce than a zombie or skeleton. You'd have to decipher what weapon to use as you face each of them separately or even together simultaneously.
Different Locations
To contribute to interactive gameplay, there are several locations to battle your enemies. You can battle them in dark dungeons and caves, in villages, in forests, in graveyards, on peaks of snowy mountains, in jungles, in canyons, in deserts, and even on the moon! You get to choose from a bunch of pretty cool and fascinating options.
Battle Gears you can acquire
There are several weapons you can acquire in the game through different methods. You can loot treasure chests and acquire things that will be useful in your battle. You can find gold, gemstones, or battle gear in a treasure chest. You can also protect yourself with breastplates, helmets and hoods, shoulder pads, and cloaks. These gears are all designed to give you a defensive and offensive advantage against your enemies. You can also possess a shield to guard you as you slay your enemies with a gun, a sword, or a staff.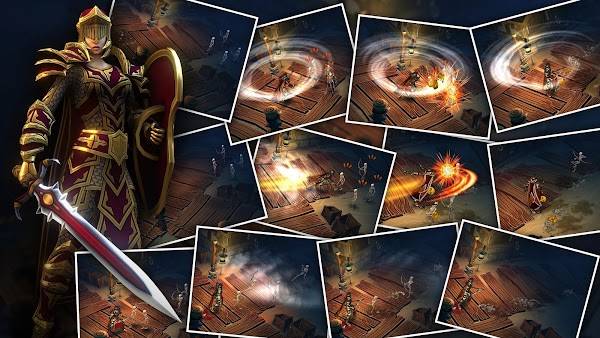 At first, you will be provided with basic battle gears to fight, but as you advance into the game, your gears get rarer and legendary. You can also get creative by crafting rings and amulets to give a higher power. You can also place gemstones into your battle gear to give it that extra boost.
Levels
Although you have one main mission to find and stop Ragadam, you will have smaller missions to complete. These missions are determined by the level you unlock. There are several levels in Eternium presently. However, you will unlock champion levels once your character attains level 70.
You can play game modes in Eternium with different levels and missions. Play on these modes as you uncover the true mysteries of the game.
Abilities
Your character can possess many awesome abilities, such as Shockwave, Whirlwind, Arc lightning, smokescreen, traps, vortex, silence, etc. These abilities give you the power to attack, control, and assassinate your enemies.
Moreso, you would have a team of three companions to assist you in battle. Each of your companions will possess many skills and spells to Wade and battle your enemies. They will also assist you in unlocking several levels in the game, including the champion levels.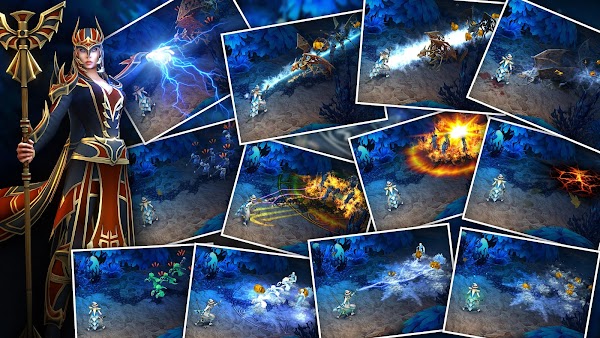 Key Features
- It is fast-paced with highly engaging combat
- There are lots of weapons and armours
- Thousands of enemies in different forms
- Explore three worlds as you advance in the game
- Classic and easy-to-use controls; you only need to swipe and talk to move and cast spells.
Conclusion
Eternium is a perfectly designed Action RPG game where you can unleash your powers as you fight thousands of enemies. It has a simple control interface with highly sophisticated graphics to get you addicted. So do you have what it takes to save your world?


Join Telegram Group
Download Eternium APK to battle against evil forces that try to overtake your world. Enjoy the full power of your might as you slay them in unimaginable ways.