Download MeChat and get help finding your right partner. To experience a brand-new virtual dating experience, download the MeChat game, match, swipe, and date.
MeChat
PlayMe Studio created and unveiled the smartphone game MeChat. MeChat is a virtual dating simulation game that allows users to match with captivating personalities and progress through plotlines.
How you handle and respond to issues can get into sweet and sour relationships.
MATCH with those you prefer! Discover your online crushes through fun conversations and gorgeous photographs, respond with emojis, and make decisions that affect the plot.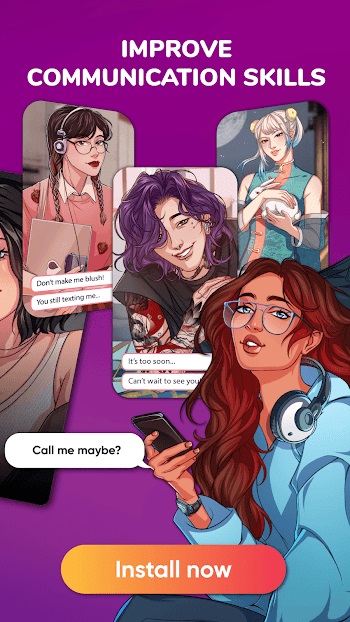 DATE people you feel a strong connection to. Discover their greatest delights and hidden secrets in a wide range of scenarios! In MeChat, you play the lead role and the love interest. With dozens of personalities waiting for you, SWIPE and MATCH various people, settings, and narratives. What lies ahead — drama or adventure? Play to explore!
MeChat is a free download game, but some in-game products can be bought with real money. Simply disable this option in the Restrictions menu on your device if you don't want to use it.
Description of MeChat
MeChat is a chat platform-based interactive game. There are numerous stories in MeChat of various genres with a variety of personalities.
MeChat is a fun talking game where users can enjoy meeting new personalities through what appears to be a dating app. Additionally, you may select the tone of the chats before they begin, ensuring that everything goes according to plan.
Build a profile that allows you to customize your appearance before beginning this entertaining trip. Following that, you must choose five interests, your star sign, and if you want to have a boyfriend/girlfriend or have romantic talks. After that, a screen resembling that of dating apps like Tinder will appear, and you can begin swiping left or right based on whether the profiles attract you or not. Once you find a match, the game and conversation start.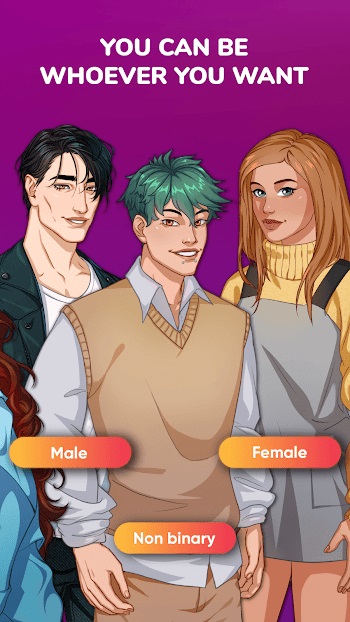 When talking, you have the option to select your responses, which will influence the dialogues with each person.
Anytime you strike up a discussion with anybody, you don't have to focus solely on them. Keep browsing for matches and interacting with other attractive and intriguing people. Additionally, every person you speak to will have a unique personality.
Build your relationships from there. Any decision taken through text messaging has the potential to drastically change the course of the narrative. MeChat is one of the few games that seamlessly blend two categories into one.
Intriguing Friends and Stories
Each MeChat narrative has a unique flair. The primary character, you, is surrounded by many characters. You can select whether to learn about one person's life or ignore the other and discover their innermost secrets. Beautiful scenes that explain the situation or the person you're engaging with are interspersed with the communication flow.
MeChat is beautiful in the way it crafts short messages that touch people's hearts. The game then transports you to a succession of thrilling, romantic, or extremely perplexing situations through the chat box, forcing you to make difficult decisions. You'll discover that you are that individual rather than just an outsider participating in a mobile game.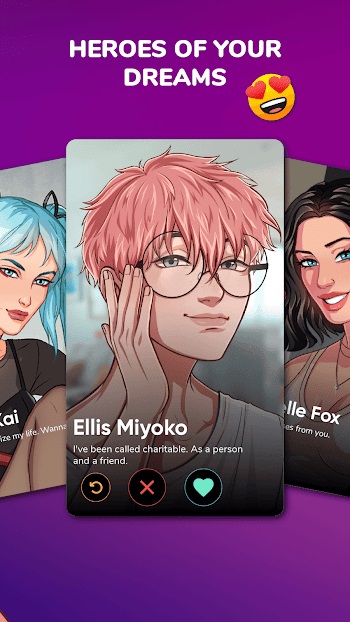 The characters in the game are designed uniquely and daringly, from appearance to demeanor, and even how they talk with you through communications. Each one makes you feel something different. Choose one of them to carry on the conversation. Then push the relationship further. It all comes down to personal choices. Every option and decision lead you to the desired path.
According to the publisher, MeChat constantly updates more than 100 tales and adds new content. That means you can shift into all of the main characters in the story and be surrounded by different appealing connections.
Features of MeChat
MeChat unlimited Gems
Actions like accessing CGs and voice messages require gems to receive a premium response. Gems can be gained using the following methods:
Every 6 hours, open the app to receive 5 free gems.
View advertisements every three hours to receive 3 free gems.
When you complete the love meter, you will be rewarded with jewels.
Buying gemstones with actual money.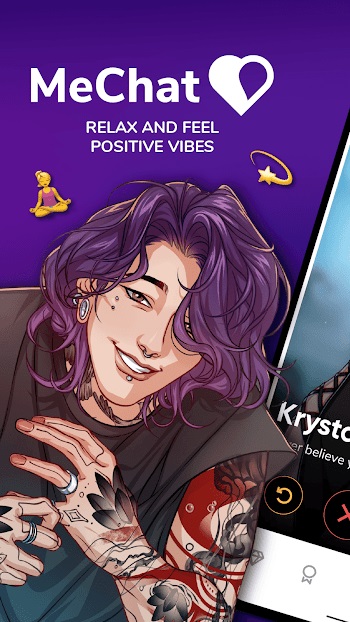 The Love Meter
The love meter monitors your relationship status with your matches and grows as you acquire Mechat premium options. The love meter functions as a reward. The number of diamonds you earn is determined by your level. When the bar reaches level 4, you will be gifted with four jewels. The more gems you get, the higher your level.
CGs (computer/character graphic)
When they interact with you, matches will send you their CGs. Unlocking these CGs will cost gems and will be saved in your gallery.
Voice Mails
Matches will leave you voicemails, much like CGS. The price for each voicemail is 33 diamonds. The Voice actor/actress for each counterpart will be the same.
This functionality, however, is still being developed and will only be accessible for some matches.
Dates
You'll be asked to go on a date with your partner after exchanging a particular number of SMS! Dates are a component of the game, and premium options cost gems that will reveal exclusive dialogue and scenarios with your match. You won't be able to replay them once the date has been played.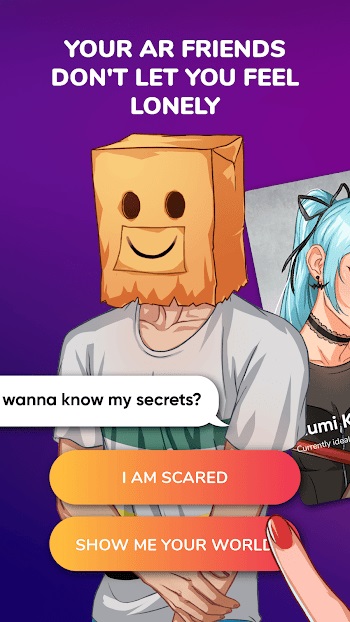 Matches and Counterparts
Character names and appearances in this app are pre-determined; players cannot change them. Because of this, the program offers players the option to select from two individuals (a match and counterpart(s)).
The progress will be reset whenever a player switches between the matches and analogs. For instance, Takuya Mae and Douglas Price are two characters who are opposites of one another; they are both Android characters who follow the same plot. The story will restart at the beginning if you match with Douglas, unmatch him during gameplay, and then go with Takuya. Any progress you made with Douglas will also be lost.
Graphics and sound
All of the episodes within the game are rendered in seconds. However, each character in each story features a terribly distinct look. Everyone features a totally different face, body type, and sense of favor. Often swish, liberal, and trendy. As a result, you'll realize all of your dream partners there.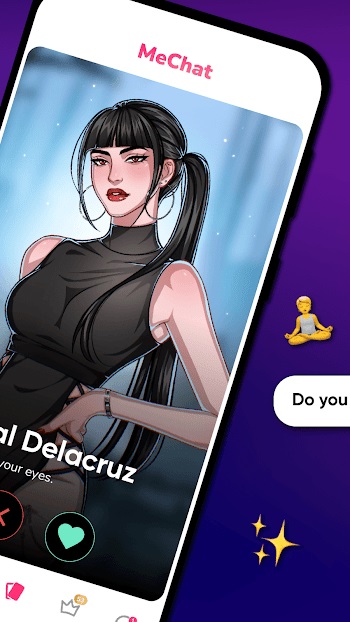 The game's message rhythm is suitable. Before responding or causing a text to somebody within the game, you have got ample time to suppose clearly. To search out that affiliation you may have at the top of the story, simply act as you'd in the real world.
The delicate sound varies in each reckoning on the narrative. The sport guarantees that it'll be spare for you to focus and become immersed in the character's emotional states in hard or unpleasant things.
Conclusion
You'll have tons of fun having conversations with several characters in MeChat, a practical and diverting talking game.