Download Takashi Ninja Warrior APK to enjoy the 3D world of medieval Japan. Download the game and play as a samurai to defeat the evil that threatens your people.
In-Depth Description of Takashi Ninja Warrior Samurai
Takashi Ninja Warrior Samurai is a 3D action-packed fighting game in which the player controls Takashi, a ninja warrior who battles against evil to protect his family's honor and the land of Tochi, which monsters have overrun.
Takashi, the character you will play if you download the game, is the son of Arashi, and he will gain glory by battling and defeating the corrupt and evil forces in Tochi, the Land of Secrets. Takashi Ninja Warrior Samurai is an adventurous game that blends intense fighting and battles with amazing graphics and gameplay.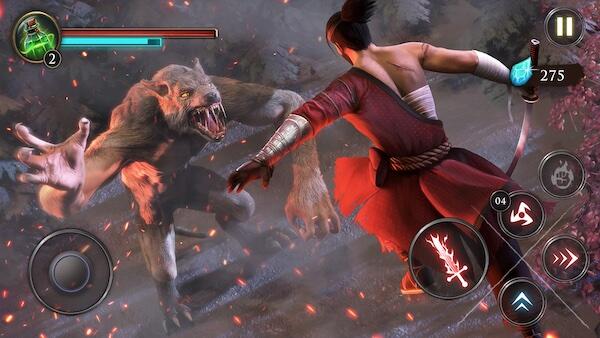 The game has a perfect blend of RPG (role-playing game) and hack 'n' slash (i.e., games that involve violent killings) elements, making it ideal for anyone who wants to have fun with sword fighting. Takashi Ninja Warrior Samurai was released in September 2019, and its developers have updated it regularly to make improvements to the game.
Store
You can purchase items from the in-game store, which will aid Takashi, the ninja warrior, in carrying out his mission of defeating evil in the land. You can buy potions, costumes, and many other items from the in-game store.
Controls
Takashi Ninja Warrior Samurai is specially optimized for devices with low storage, and its controls are optimized for touchscreen devices. On the left side of the screen is a circle that works as a virtual movement stick; you can use this circle to move Takashi.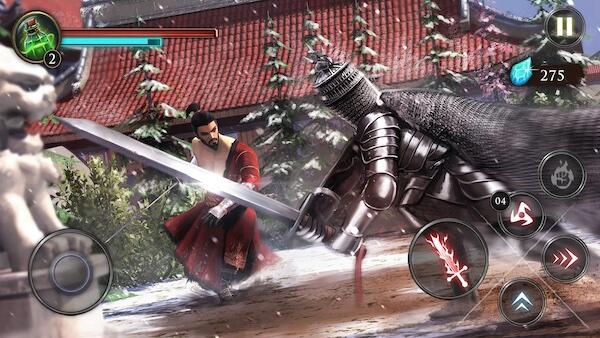 On the right side of the screen are the action buttons that you will use in fighting: buttons to dodge/block, jump, attack, use weapons, and other special abilities. Also, when you approach your opponent(s) from behind, you can use the attack button to execute special attacks against them.
Distinctive Bosses and Enemies
Just as his choice of weapons is diverse, so is his pick of enemies and opponents. Takashi will face a lot of enemies whom you will have to defeat to upgrade and move higher. You will fight against monsters and other humans; your opponents include evil ninjas, beasts, and witches. All the enemies you battle have different behaviors and fighting patterns, so you will have to adjust your fighting style to defeat your opponent.
Unique Features of Takashi Ninja Warrior Samurai
Unique Weapons. Takashi will have his pick of unique weapons in Takashi Ninja Warrior Samurai, and as the game progresses, you will unlock even more weapons with which you can defeat the forces of evil. Because he is a samurai and samurais were known to use swords as their primary weapon, Takashi uses swords. But he also uses an array of weapons that include, but are not limited to, shurikens, axes, and hammers. Each weapon in the game has unique attributes and a story behind it; you cannot complete the game with a single weapon.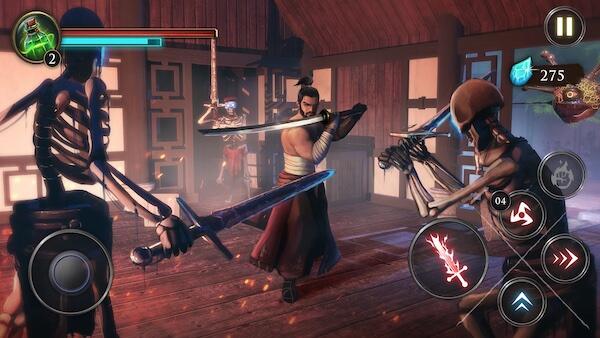 Unique World Exploration. Takashi Ninja Warrior Samurai has an interconnected map system, making it easier for Takashi to move from one location to another. This interconnected map is helpful in many ways, one of which is that you can gain access to distant locations by using secret paths. If you explore the entire map, you will find secret rooms containing hidden treasures – these treasures may include unique rewards you cannot get from the regular gameplay.
Offline and Requires Little Device Memory. Takashi Ninja Warrior Samurai is a unique RPG game in many ways; one of its uniqueness is that you can play the game offline. Most role-playing games require an internet connection before you can play them, and you may have to play against players across the globe. But Takashi Ninja Warrior Samurai is an offline game, so you do not need to be connected to the internet to play.
Also, the game is capped at 100MB, so you would not download the app for anything more than 100MB. In addition, there are no additional downloads after you have downloaded the game from the app store.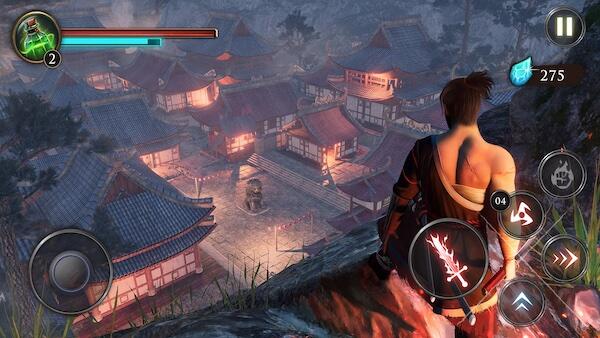 Checkpoints. It is vital to save your game progress so that you can continue from where you left off. Takashi Ninja Warrior Samurai features checkpoints that you can go to save your progress. These checkpoints also restore your health, making them useful after intense fights. The best part about these checkpoints is that they are placed at several locations, so you can always find your way to them when necessary.
Conclusion
Experience the medieval age in Japan and dive into a world with samurais and sword fighting. Download Takashi Ninja Warrior Samurai and play as Takashi. It is a game filled with action and adventure; engage in quests, defeat vicious monsters, and emerge victorious! Will you be known as a legendary ninja warrior?