Download Ultimate Robot Fighting APK and enter the mind-blowing 3D world of sentient war machines and auto-bots. Fight and battle for control in this universe of steel.
Ultimate Robot Fighting
Ever wondered what it feels like to be a transformer?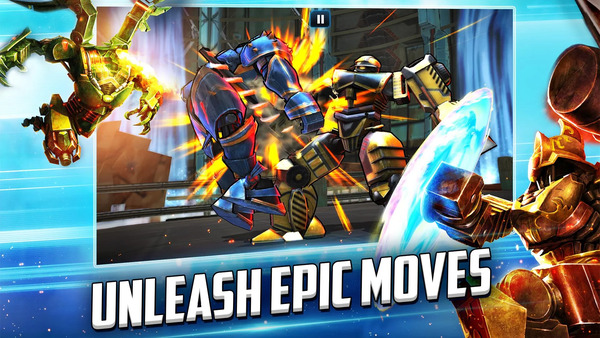 A sentient, self-aware bio-machine is more complex than any computer system man will use in the next 200 years. Fly, fire a barrage of bullets, configure yourself to any nearby machinery, and take on its properties. Yes, just like the transformer movie, in ultimate robot fighting 2022, you will get access to breathtaking 3D machinery and sentience like never before.
As a war master, build an all-powerful team of the finest and toughest war machines to boost the overall growth of the robot. Train, upgrade, strategize and launch into the 3-on-3 arena to see how well your upgrades, skills acquired, and strategy works. Most of the game depends on your knowledge of auto-bots classes, especially your enemies.
Knowing their strengths and weaknesses would help you form a winning team that capitalizes on their weakness and eliminates the advantage their strengths merit them. This knowledge creates an ideal fighting scenario for you and your avatar.
Game Description
Made by Reliance Entertainment studios, UK PVT Ltd, ultimate robot fighting is an exceptional game of war wrought by sentient machines in a quest to determine who the greater team is. It is an interesting sports combat game filled with action, fighting, and a single-player feature that allows players to play how they see fit.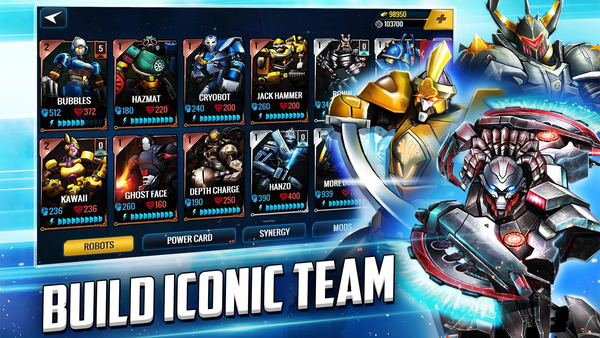 Having been launched on the 17th of December 2014, the game has since gathered an impressive 4.2-star rating from a total review of 225,000 comments from gamers. This figure roughly estimates the actual amount as it keeps increasing daily. With an estimated download record of 5M+,
Ultimate robot fighting is an impressive 3D game for all, especially among fans of the award-winning movie Transformers.
Gather a team of robots and train them from juveniles to terrifying monsters bred for war and combat with any class of robot.
Gameplay
The game takes place in an otherworldly machine environment with no carbon-based biological life forms, just machines and sentient fighting bio-robots made of steel and iron.
With the title war master, you are tasked with building the most powerful army of robots fit to take over the world.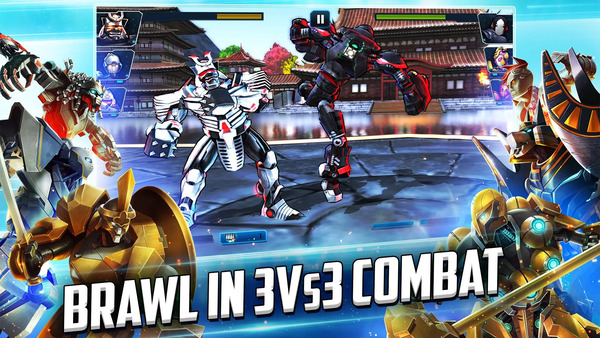 Train, coach, upgrade and strategize as you see fit, and finally launch into battle the terrifying auto-bots. Strengths you have fully understood and weaknesses you have complemented with genius team play.
Watch them blast off a devastating series of skills and moves that quickly overwhelms the enemy resulting in inevitable victory. Becoming God of Steel is no easy feat, and you will not be able to defeat champion-level bots and take on that title without a proper combat system.
Enter the arena and face-off against enemy bots in a fierce rival for power and acknowledgment.
Features
Some of the most well-known features of the game include;
The game adopts a beginner's tutorial where on loading the game, users of the game's latest version (ultimate robot fighting latest version) can turn off the tutorial system in the game's settings.
The game is readily accessed on android, iOS, mac, and windows operating systems. Seeing as this is the case, one can expect to get a result for a search like; ultimate robot fighting free download or ultimate robot fighting 2022. This accessibility is another reason for the game's fame all over the world of loyal Transformers fans.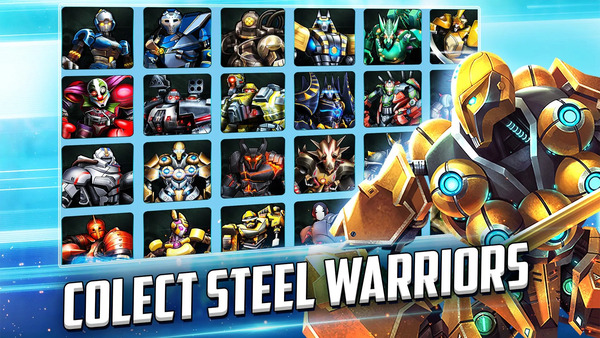 Ultimate robot fighting has an interesting cache of goods lined up in its inventory for players to access and use for a more immersive game session easily. As expected, the game's shop has a lot of special high-grade resources that require payments to be made not in the game's typical currency of money but rather in fiat. This in-app purchase feature has led a lot of players to make potentially harmful downloads of apps that promise things like; ultimate robot fighting unlimited gold and ultimate robot fighting unlimited money.
Take part in a fierce 3-on-3 royal match of sentient auto-bots that revolves around the unanimous desire to become the god of steel in this world of 8 living, breathing steel and circuits.
Power up cards and upgrades
Upgrade your war machines by collecting power-up cards that take your bots to much higher and deadly combat levels.
In the 2nd person view, the game still adopts a dynamic system of multi-directional open world view. It means the player can now adjust, slide and zoom in and out of the environment while shifting focus to different objects.
The game has an interesting set of rewards awaiting players when they login to the game every 24 hours and complete missions and achievements in the campaign/story mode of the ultimate robot fighting game.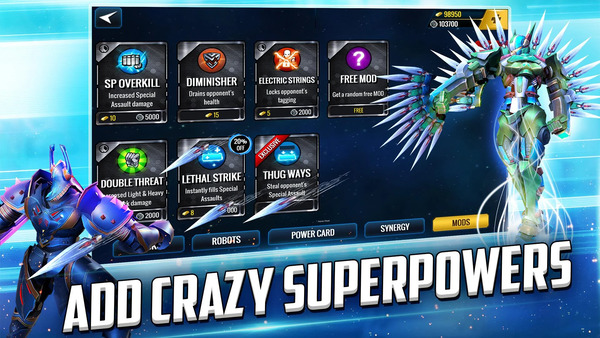 Huge Roster to choose from:
Over time, your command and army size grow much larger and more powerful with war machines bred, trained, and existing for combat in the fight of die 3 -on-3 arena tournament rounds. Hungry for the title of god of steel, they will readily assemble under the command of a true leader, leading all-powerful figures in the auto-bot sentient war machine world.
Conclusion
Ultimate Robot Fighting game is an interesting way to spend one's time as you revel in the awesome moves and devastation wrought by your army on the poor unfortunate foe before you. It would seem the player is faced with insurmountable enemies if they refuse to upgrade and train their war machines to a status befitting warriors of the god of steel.
Play the ultimate robot fighting game, a game fit for individuals of all ages above 12, and enjoy an interactive and immersive training set in a transformer-like universe with living machines. Its fighting blend of actions and a large army of sentient war machines are ready to do your bidding and make you the fearsome God of Steel


Join Telegram Group
Download Ultimate Robot Fighting APK and enter the mind-blowing 3D world of sentient war machines and auto-bots. Fight and battle for control in this universe of steel.