Download Rocket League Sideswipe APK, a car football game that allows you to play online and challenge friends or players from around the world – drive to victory!
An In-Depth Description of Rocket League Sideswipe
Rocket League Sideswipe Android is a car football game you can play with friends or random players worldwide. In this game, football meets car games, and players have to score goals to win in the two-minute fast-paced car football matches. Rocket League Sideswipe is from the makers of the hit game, Rocket League. So, if you loved that game, you should definitely try out this multiplayer car action game.
Rocket League Sideswipe 2022 has taken car games to another level by combining action-filled soccer and fantastic cars. The game was developed and published by Psyonix, one of the most popular E-sports for Android users. It has been specially made for touchscreen phones, and players do not need to experience the major Rocket League game.
Rocket League Sideswipe 2022 does not have the usual third-person perspective like most car games (your car is in the center of the screen). Instead, it uses a side perspective. With this perspective, you will enjoy your gaming experience better because it allows you to see better using your smartphone. The controls can also be simplified, making everything easier for players.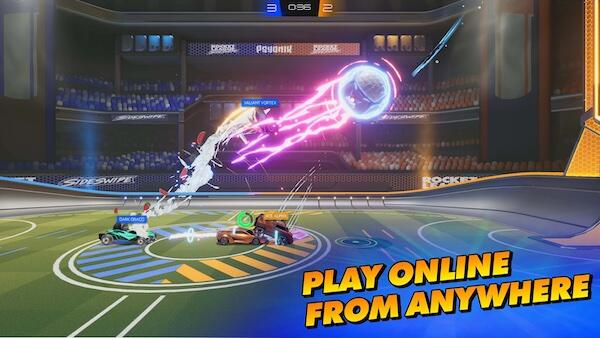 In the Rocket League Sideswipe latest version, the games are 1v1 and 2v2 – this means that there are a reduced number of players on each team, so you can easily find a game to play at any time. The maximum time of every match is two minutes, as stated above. So, you can play this game anywhere and whenever you want due to the shortness of each level. The major reason for these two features is to improve the mobile experience.
The Rocket League Sideswipe latest version was created to allow users to enjoy an amazing game experience on their mobile devices the same way they enjoy the original title on consoles and PC. Players can compete online to put their skills to the test – play friendly matches against friends and competitive matches with players from around the world. Players can buy in-game items and elements that they can use to decorate their vehicle how they want.
Dive into a world of boosted cars and action-filled football games with the Rocket League Sideswipe game. Our site offers a straightforward Rocket League Sideswipe free download process so players can get right to it!
How to Play Rocket League Sideswipe
Rocket League Sideswipe has a multiplayer function that allows players to play with friends. So, to enjoy your gaming experience, you need to have a stable internet connection. Now that you know all about Rocket League Sideswipe, follow these few steps to understand how to play the game.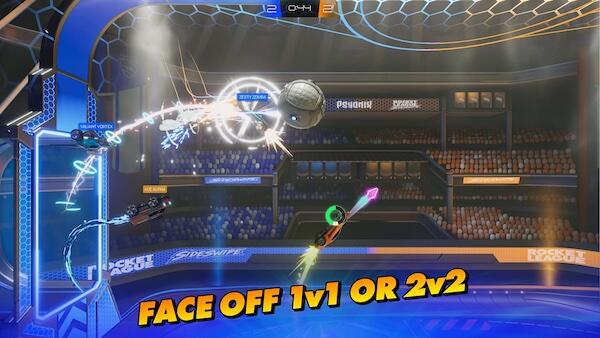 Download the game; hit our Rocket League Sideswipe download for Android button.

Launch Rocket League Sideswipe.

Log in to play online.

Click on the play button.

Select the game mode of your choice – Mutator Madness is a new game mode where all the game settings are completely randomized.
Features of Rocket League Sideswipe
Rocket League Sideswipe is an exciting game that allows players to relax and have fun. You must dive the ball into your opponent's net to score goals and win the match. The race cars in this game allow players to pull off trick shots and fly into the air to score crazy goals. Do you think you can dominate the pitch and make it to the top of the car football leaderboards?
Let us look at some other exciting features you can enjoy when you download Rocket League Sideswipe.
Online and Offline Matches
One of the best features of Rocket League Sideswipe is that players can enjoy both offline and online matches wherever they are. You do not need to be connected to the internet to enjoy a car football game.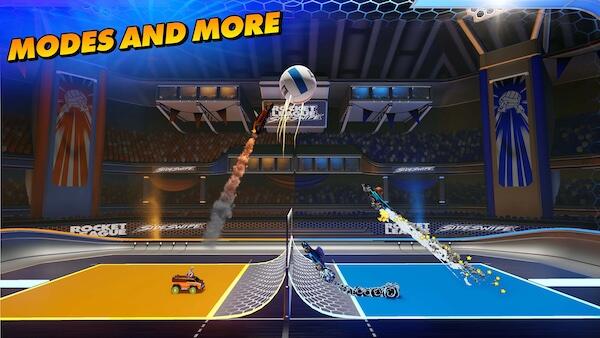 Players can enjoy Rocket League Sideswipe without an internet connection – play offline matches to test your skills against bots.

Play against your friends and show off your different skills in private matches.

Participate in competitive games with random players worldwide and see if you have what it takes to be number one.

You can enjoy online games in the Casual game Mode, which allows you to play games online without affecting your rank.

If you are new to sports games and do not know what to do, not worry, as Rocket League Sideswipe will start you off with a tutorial to give you the controls you need.
Customize Your Cars
Players can customize their cars with different items and stickers to make them look unique.
Drive in style with customized cars- players can customize their cars to their taste to give them a unique look.

There are over one thousand customized combinations of cars for players to choose from.

You can customize your car with different items – wheels, decals, and many more – that you will unlock as you play.
Fast-Paced Car Football
Compete in two-minute multiplayer games for free anywhere and anytime you want.

You can hit the pitch to play a car football game either as a novice or professional.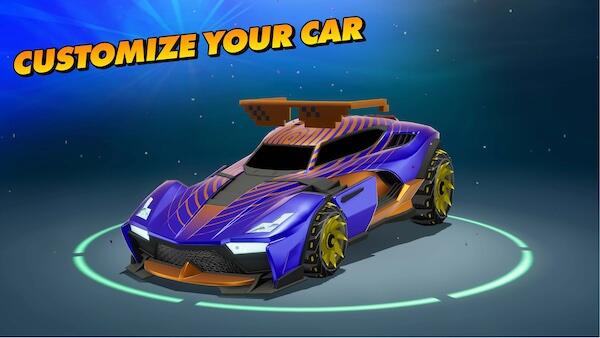 You can either compete in 1v1 or 2v2 car football matches.

In Rocket League Sideswipe, players, do not need any experience to win matches – you can play online games anywhere.
Redesigned for Mobile Games
Rocket League Sideswipe is a redesigned version of the Rocket League game for a mobile experience.
The game is designed for touchscreen devices with only three buttons needed to control your vehicle.

The side perspective allows players to see better using their smartphone, giving them a fantastic gaming experience.

Play games with friends and communicate with them while playing using the quick chat stickers.

Rocket League Sideswipe has easy gameplay, allowing players to perform freestyle stunts.
Conclusion
With all that is written above, there is no doubt that Rocket League Sideswipe is an exciting game that you do not want to miss out on. Race to the goalpost, score goals, play against friends and players worldwide, and become a car football hero. Hit that download button now! Our Rocket League Sideswipe is straightforward – what are you waiting for?