Download Mini Football APK and experience an epic football tournament. Discover new talent and train your team to gain world recognition in this 3D football game.
Mini Football
Mini Football simulates real-world soccer, showing the normal side of a sportsman's life and what it means to rise to the top as a footballer. In this fun game of soccer, various tasks exist to keep the player engaged and occupied for the duration they desire to play. The game rests on your ability to accurately recognize talent, build a stronger team than others, upgrade players from one level to another, and customize your squad to suit your requirements. Play with real-world players or custom players.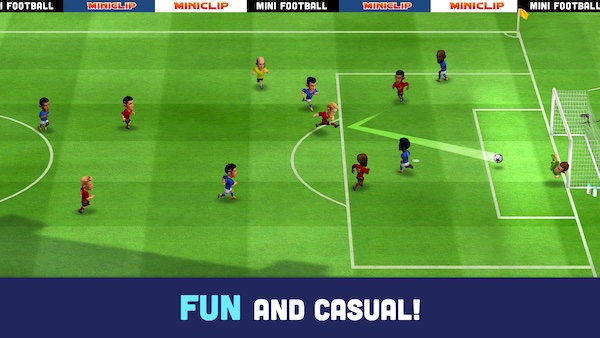 Mini Football has a very smooth control and gaming system. There are three common control buttons: Sprint, pass, and shoot! And no floating D-pad to move players.
Mini Football Game
With a straightforward approach, the game design is simple to play and very easily understood by players of any age. Players are awarded to you at the start of the game, and even more can be bought (or hired) at the store when you have acquired enough Mini Football tokens. Occasionally, epic players are rewarded for winning matches and defeating tough opponents in games. The best part of getting players is that they can be further upgraded to frightening levels and make them achieve legendary status on the pitch.
The game is played, just like traditional football/soccer, but with one striking difference. With just a team of six players (goalkeeper inclusive) and a pitch half the size of a standard soccer field, it becomes evident why it is called Mini Football.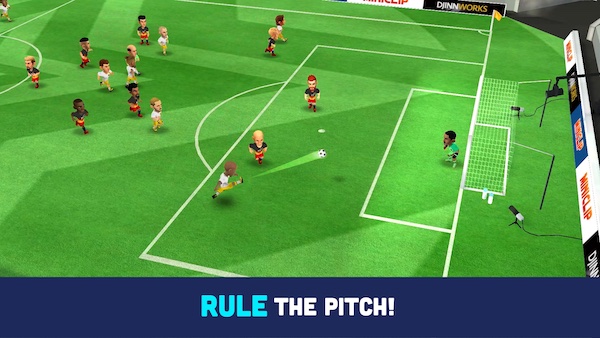 Another shocking occurrence is the drastic turn the game takes at first thought. With a reduced size in pitch, smaller team size, and rules remaining the same, the result is an astonishing fast-paced, impossibly frenzied gameplay - as the ball moves from post to post more times than it would in a conventional eleven-man football game. A tense atmosphere is created for the player because he has to toggle from defense to attack at a moment's notice - while defending his post. Hence the need for monstrously skilled players
Mini Football Customization
Two main factors separate this game from other soccer simulation games of its kind.
The incredibly fast-paced gameplay it possesses and,
An incredible number of customizations can be done in its 3D environment.
All manner of customization can be done on your team, pitch, and even controls. From having access to unique logos, and styling names on jerseys to designing the jerseys, boots, guards, and socks included. Boasting an impressive 100+ customization option, you are bound to encounter in-game accessories like Mini Football helmet and Mini Football helmet display case - which grants your players protection from injury, saving you tokens spent on treating injured players.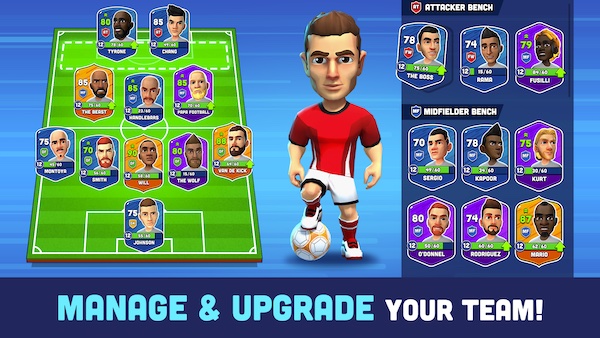 Mini Football Tokens
Gadgets, services, accessories, and customization tools are all accessible in the in-game shop and purchased with real-world money or Mini Football coins. Mini Football coins can be earned by playing games and receiving rewards when you win a match, completing the in-game tasks, and also from achievements you have met. These coins can also be referred to as Mini Football tokens and can be bought when players spend real money purchasing them.
Mini Football Table
The Mini Football table is the real-world counterpart of the Mini Football game, with the same number of players (usually 5 to 6) and a reduced pitch, anyone who has experienced the ferocious speed and frenzy of the Mini Football table game knows what to expect in a 3D mobile Mini Football game.
Mini Football Tournaments
As real-world football, the game also has a series of leagues that engage in tournaments consisting of eager teams vying for the world's greatest club position. These tournaments can be set to any difficulty level the player wants, but as with mobile games and all games in general, the first few matches would be relatively easy. The next levels, however, would be almost impossible to clear without investing tokens in buying new players, upgrading, and winning new ones. Tournaments act as a form of career mode where you are a manager, club owner, and player.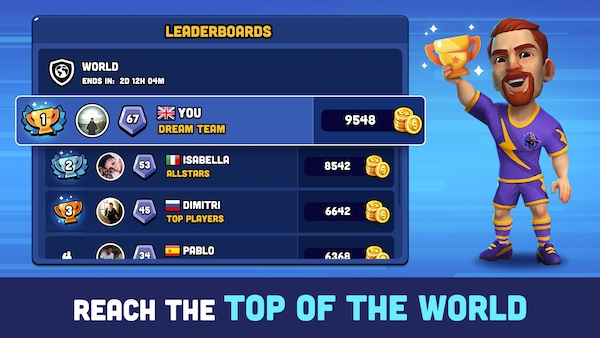 Mini Football Lucky Shots
Going further to replicate those moments when a player makes an impossible shot, the game has a feature called the Mini Football lucky shot. This feature is activated, and the player is rewarded for it when a series of difficult moves have been performed and a shot is made under very unfavorable conditions. These lucky shots may be difficult to pull off at the start of the game.
However, as the player gains full mastery of the game's controls and the game, with a well-trained team who have been upgraded to fair levels, these shots and their corresponding token rewards would come rolling in. Lucky shots are a sure-fire means to earning needed tokens during a game, which would later be spent on customization, hiring new players, training, and upgrading players.
Mini Football Tips
Seeing as the game is set in a 6-on-6 half-court 3D environment, lots of rapid movements and shots would be made. Hence to ensure the player enjoys the best of what this game has to offer, below are a few tips to aid you to become no 1 in no time.
Master the controls; if everyone is going to be moving fast in a much smaller field, having full knowledge of how to move players easily and maneuver around the field would no doubt be an advantage.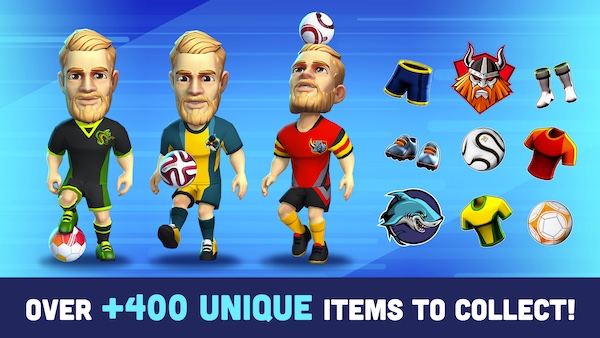 Sell/Terminate low-level players in the shop in exchange for higher-level ones - as this helps your team grow stronger at a faster rate while saving money to be spent on upgrades
Perform lucky shots when you can, using your knowledge of the controls
Upgrade players' natural strengths before focusing on their weaknesses
Be conscious of players' position at all times. The tournament is an excellent place to learn the gameplay while having fun. However, new challenges, complex levels, and consistent defeat is bound to result in frustration. Being fully prepared in team control and player level is fundamental to becoming the best team.
Conclusion
Mini Football is a thrilling sports game that effectively immerses you in its gameplay. Exploit this opportunity to act as the wealthy club owner, dedicated coach, and talented football player from the convenience of your mobile phone. It requires no internet access and plays in single-player mode. Enjoy football at its finest!