Download Head Soccer APK and enter into the challenge of lethal shots. A combination of soccer and fight - score the hard way, compete and outscore your opponents.
Game Description
Head soccer is a fun, energetic, exciting, and super interesting soccer game requiring you to bully and outscore your opponent with fancy lethal shots within 60 secs. Developed by D&D dream games, the rules to win a game are "NO RULES" you need to get the ball in your opponent's goal post in any way possible.
The game is available for android and IOS users with an updated version of 6.15.2 and a required OS of android 2.3 and above. It has upgraded features; You'll have to be more lethal and ferocious to conquer your opponent. Although it is possible to win by playing "clean" and focused on scoring more goals than your opponent, it's most likely not feasible. Especially if you have a ferocious and blood-thirsty opponent, you both will end up bleeding quite heavily. The reason is that the game comes with the ability to play dirty- you can kick, head butt, and hit the opponent as much as you can to score goals and win.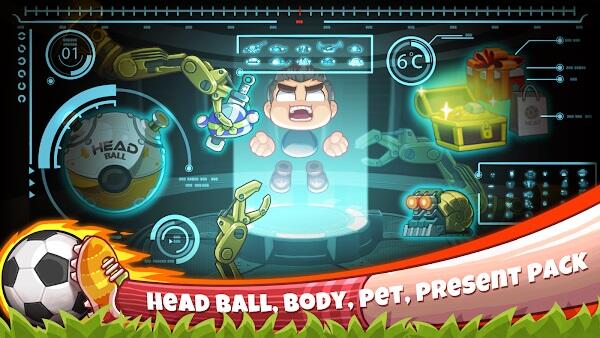 The game is free for all soccer games featuring – 93 unique avatars designed with big heads and special shots. Two super big-headed (avatars) are required to compete against each other, participating in exciting one-on-one matches and putting all efforts to outscore themselves.
Main Features of Head Soccer
The game has seven play modes, each leading to the gameplay. You can decide to try your luck on some intermediate stages that are automatically unlocked or follow the algorithm of games, conquering your opponents and unlocking several new characters, and getting access to other stages with tougher avatars.
The several modes are;
Arcade: The best game mode to play as a beginner so that you can unlock stronger characters. It is the easiest way for you to earn points and upgrade your stat easily.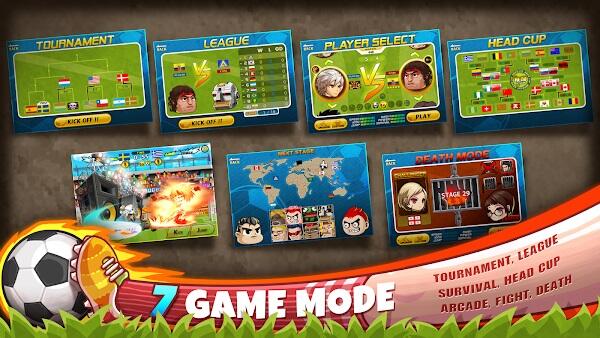 Tournament: A game mode of 3 knockout matches. You can use any characters garnered from the arcade mode to play. It gives you a chance to unlock 14 new characters and also practice a mini head cup.
Survival: This mode requires you to play matches of 3-10 balls. The other will lose a ball when you or your opponent scores a goal. The player that loses all his balls first loses the match. You can earn points in a fast way and also unlock costumes to strengthen your team.
League: The league mode requires you to play 18 matches. However, you would have to unlock all characters on the arcade mode to qualify to play the league.
Head Cup: The game format is like that of the world cup. To participate, you must pay 5000 points to join. You have to qualify from your group to the knockout stage, where you face opponents from other groups. You have to be very good in the game to defeat your opponents at this stage.
Death Mode: You are required to play matches with obstacles. This model has 30 rounds. At intervals, you will be required to play against henchmen and then boss till you complete the game.
Fight mode: You will be required to defeat opponents randomly selected for you on a boat. You would have to beat your opponent by a knockout. Preferably use characters with more substantial power button effects or multi-hit effects like India, Serbia, and Belgium.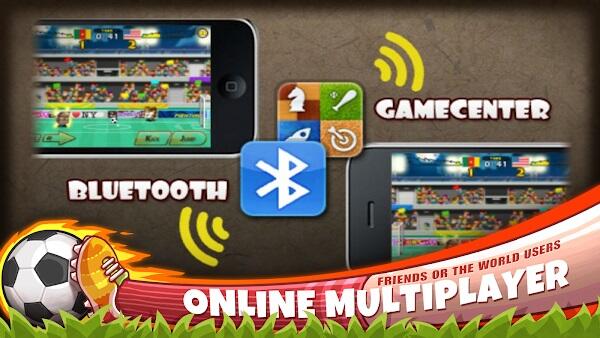 Each mode has its daunting challenges to make the game more adventurous when you are playing.
Offline mode: The game is played seamlessly anywhere you find yourself because having an internet connection is not a prerequisite to playing the game.
Multiplayer Mode: Head soccer allows you to play online, interacting with players far away from you. You can even easily play against friends and families from anywhere in any part of the world through BlueTooth or GameCenter.
Characters: With the recent upgrade, the game features 93 unique avatars with different capabilities allowing you to make a selection of characters you would use while playing. However, you would have to unlock most of the characters as you play by defeating them in various game modes or preferably unlock them by purchasing them with your points.
You can use the name of any country to denote your character.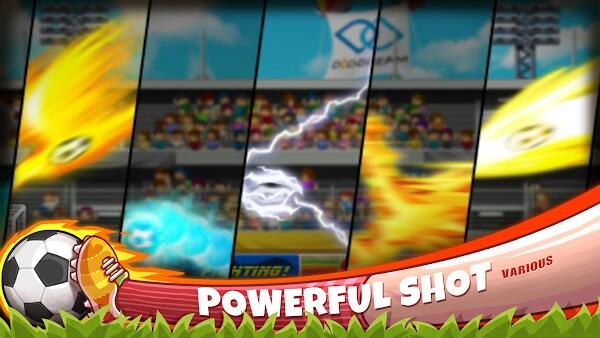 Easy to use buttons: Head soccer has a simple control concept and is easy to use compared to other soccer or action games. All the functions to play the game are available on your screen. So you don't open a separate page to access any of the functions. Five individual key buttons are assigned to play the game, which are used for directing your avatar and shooting or defending the ball, making the game realistic and more fascinating.
Difficult stages in the game: Head soccer being unique, is designed to challenge you. The game challenges players with various difficulties by contesting against some characters that look impossible to defeat. As difficult as it sounds, it makes the game more fun and challenging for gamers.
Fair graphics: Head soccer offers pretty beautiful graphics. You can enjoy good game mechanics and excellent concepts considered suitable for a smartphone game, making it not lethargic.
Compatibility: The game is compatible with android and ios devices. The developers did an outstanding job of ensuring it is compatible with lower android versions of 2.3 and higher.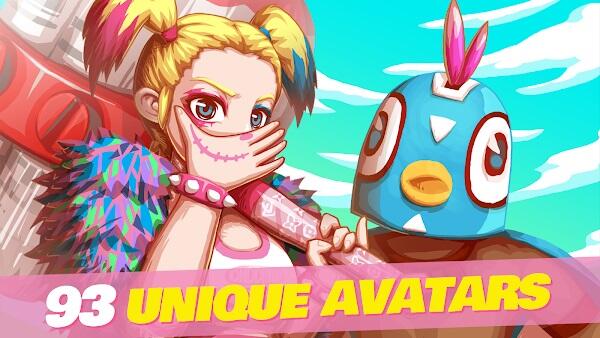 Data safety: Head soccer privacy policy ensures that appropriate measures are implemented to protect gamers' data from other companies or organizations. The app doesn't collect or share user data, so your details are well protected. .
Gameplay
The game has updated features such as including pets and bodies. Pets are dangerous characters that can fly and block some of your power shots, stopping you from scoring or leading to an own goal for you or your opponent. You must be on the lookout if your opponent has a pet assisting them. While bodies help gain more prowess to boost your stats against your opponents, especially if you don't have a good costume. You have to ensure you get the latest bodies. If you do not, your opponent might use them against you.
Conclusion
Head Soccer is free to download. Already it has over 100 million downloads on the google play store, especially since it's a combination of action, horror, and soccer all in one place. As a game that has evolved over a century, the challenge keeps getting more demanding. If you want to challenge yourself as a gamer, head soccer awaits you.