This quirky baseball game takes you to the pitch for a fun game. Control your own baseball league team and all its players when you download Baseball 9 APK.
Baseball 9
Baseball 9 is a mobile baseball game, vaguely similar to the popular MLB The Show, but in its own league of fun. The game features a baseball team where you create and design your characters and realistic games. With Baseball 9, you get the fun ad thrill of a baseball game in the palm of your hands, alongside the experience of running a team.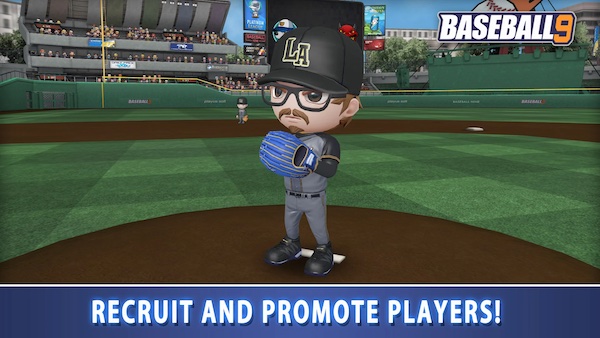 With Baseball 9, players do not only get to play the game but they also get to create and customize their team. Baseball 9 stands out from many other sports games due to its unique features and attributes.
Detailed description of the game
Baseball 9 is a baseball simulation game available for download that lets players take part in a baseball league as well as create their own team of players. It combines the action of baseball and baseball games with the creativity and excitement of roleplay games by allowing players to create unique looks for each member of their team.
Baseball 9 is a casual game without a rigid structure. This means that people can open the game anytime and play full matches as often as they want. Players can play multiple games in a day or resume previous games. With Baseball 9, you do not have to stay glued to your phone for an entire 9-inning game. In situations where you have to carry out real-world activities or leave the game for any reason, your game progress is saved. This allows you to return to the game you were previously playing, even if you close the app and leave for a while.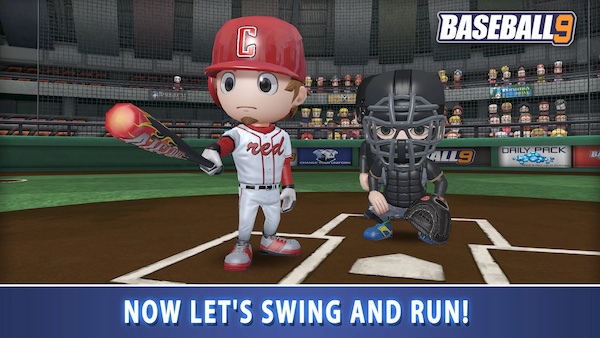 The game also features in-game purchases such as skills for players and aesthetic changes to improve the looks of team members. In-game currency can also be used to speed up different processes in the game but are not compulsory.
Baseball 9 features a cartoonish art style with some quirky additions such as exclamation parks appearing over players' heads when they miss a pitch. These features add to the fun element of the game and make it more exciting to play. The game has faced some complaints over the realism and randomness of its gameplay such as players moving at the wrong time or missing hits they should have made.
With Baseball 9, players control one team and are set up against an AI team. The game difficulty can be set to different levels to allow for tougher competition if a player has higher skill levels. The highest difficulty level is called the Pro League level. While some parts of the game are not designed to be realistic such as the actions of the AI, some parts capture the essence of a baseball game well such as the crowds present in the background of the game.
Baseball 9 features
Baseball 9 is rich with exciting features to keep players engaged as they play.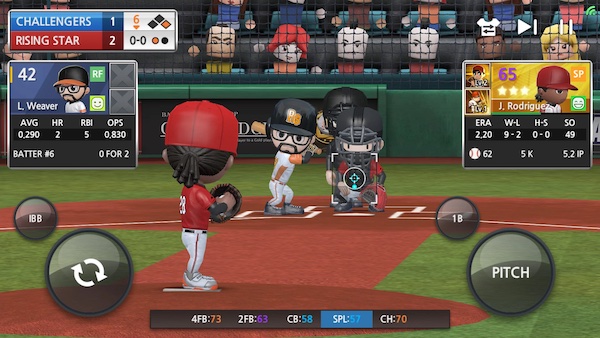 Gameplay
The gameplay of Baseball 9 focuses on realism without being tedious or boring. Playing Baseball 9 requires a baseline knowledge of baseball as well as a degree of skill that can be built upon. The gameplay focuses mostly on batting and pitching during the game. Fielding is automatically carried out, letting players focus on the more engaging and entertaining aspects of the game.
Players have to choose which base they throw the ball to when pitching. This can be done by using on-screen controls to select the angle of throwing and selecting a type of pitch to throw. The game is intuitive so that pitching runs smoothly on the touch screen. Batting is also similar to pitching. Players get to choose the type of hit and then tap the on-screen controls to make the swing. Timing matters when playing as swinging too early or late causes a strike.
Art style
The art design of the game has a Japanese-inspired look. This can be noted from the chibi style of the characters. This design style features larger heads on players and smaller bodies. The chibi style of art is very popular and very attractive. It is a fun style that gives the game a flair of originality. Straying away from realism in this way also lets players know that the game is mostly for fun and they do not have to adhere strictly to real-world players or themes.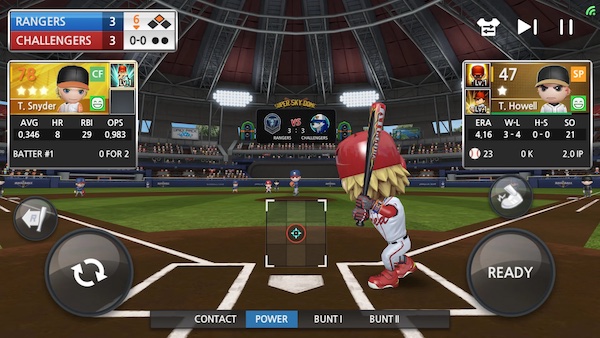 Customizable players
Where many other sports games tend to feature real-world teams and professional players, one big feature that sets Baseball 9 apart is that the players are completely customizable in this game. You get to create your roster of players however you like. This goes from naming players to choosing their strengths and skills. You can choose to make your team full of excellent batters, make a balance of pitching and batting, and any other type of skill you want. You can also alter the appearance of your players, from their facial hair features to their batting stances. These customizable elements make the game unique to each player, ensuring that no two people have the exact same gaming experience.
Currency and purchasing
Baseball 9 has an in-game currency that can be used to purchase new players or perform upgrades to existing ones. Because players are customizable, the game doesn't work with sets of real players with foxes statistics. The player gets to determine what strengths they want their characters to have by purchasing these upgrades. There are also in-app purchases that require real currency, however, they are not compulsory.
Conclusion
For people who love baseball and are looking for a fun and easy way to play on the go, Baseball 9 is an ideal game. The game is not designed to be overly challenging, but rather, to focus on the most fun aspects of baseball and give players creative liberty with their team. Baseball 9 allows players to enjoy not only the joy of strategic baseball playing but also the fun of creating your team and leading them to play different opponents. It is an exciting game that is ideal for people who love baseball.