Download 3D Pool Ball APK and enjoy this realistic mobile version of pool. Enjoy playing against opponents in this recreational game with a three-dimensional view.
Brief Description of 3D Pool Ball
3D Pool Ball is the mobile gaming version of the popular billiards game pool. Pool has always been one of the most entertaining games, whether at parties, bars or a quick game between you and your friends. This lifelong game is now brought to you in a different way, the mobile version, where you can enjoy the fun billiards experience by using any device you own. Play against other talented players globally in 1v1 matches or compete for trophies and rewards in tournaments.
3D Pool Ball was released on the 10th of March, 2017, by CanaryDroid. It is rated E, meaning that anyone of every age can play this game as it contains no violence and is recreational. The game has seamless gameplay and easy controls that any player can use. On the screen, use your finger to position the cue stick in the right direction of where you want the ball you hit to go and drag the cue stick backwards to regulate how much power you want to use in striking the pool ball. Once you have positioned the cue stick in the right place and targeted the ball you want to hit, release the stick and fire. You can also choose where precisely on the ball you want to shoot in cases where you need to use angles.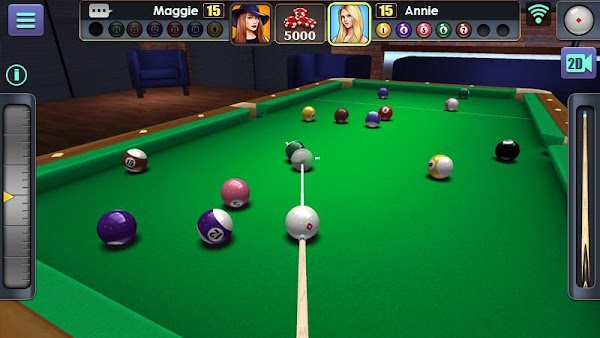 The main aim of any game of pool is getting your opponent's balls into the pool table's pockets, and once you do, you finish off the game by pocketing the black ball. A game of 3D pool ball is won as soon as your opponent's balls are entirely pocketed, and you get the black ball in as well.
3D Pool Ball is a fun recreational game with many game modes and opponents that you can face so that you will have a long way ahead. The game has a beautiful layout with lots of colours and vivid graphics.
Fun gameplay and concept
3D Pool Ball is an entertaining game to play. Your job as a player is to play against other skilled players, play 1v1 matches, and partake in competitions for rewards and trophies. This game is very dynamic as it contains a lot of game modes, it has over eighteen game modes that you can play, and each one has unique gameplay that makes it more intriguing for players.
Those unfamiliar with the game of pool and its rules can learn and practice by playing against the computer in an offline practice match. Doing this gets you familiar with the plays and concepts of the game and prepares you to take on individuals that will look to beat you in competitive matches. These practice matches can be set to whichever difficulty you find suitable for you, and they can be easy or hard, depending on how ready you feel you are. You can also set up the make of the match. You are allowed to choose the colour of the table and which cue stick you want to use, as well as select the patterns of both the table and the cue.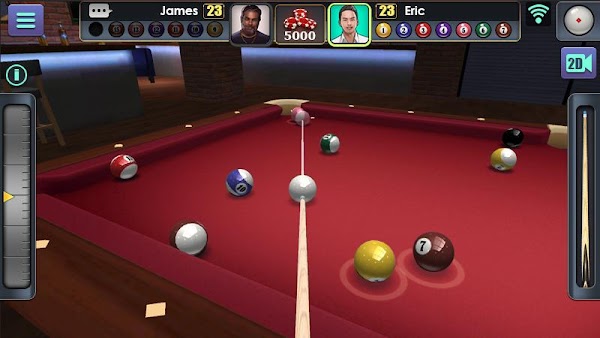 This game has very realistic gameplay. Playing this game gives you the feel of an actual real-life game of billiards with its diverse three-dimensional view of different angles of the pool table. You can choose to either view the game in the first person or look at the entire scene of the game from above. Regardless of how the game is considered, it appears realistic with its beautiful pool table, well-defined cue sticks and shiny pool ball. 3D Pool Ball also has great physics that makes the gameplay feel real. When a ball collides with other balls, it gives off slight recoil effects and smacking sounds which is similar to the real-life game
3D Pool Ball follows the simple gameplay of the usual game of 8ball, with sixteen balls, seven striped balls, seven solid balls, one white ball and a single black ball. The game is won as soon as one of the player's pots his opponents' balls entirely and proceeds to hit the black ball accurately into the pocket. The more you play against opponents, the more you get used to the format of 3D Pool Ball.
Download 3D Pool Ball and enjoy this realistic recreation of the beautiful game of pool.
The game features to look out for
As you play 3D Pool Ball, you can look out for these different features that will enhance your gaming experience.
The game has beautiful graphics that appeal to the eyes of its players. With the use of many colours, this game's layout is stunning.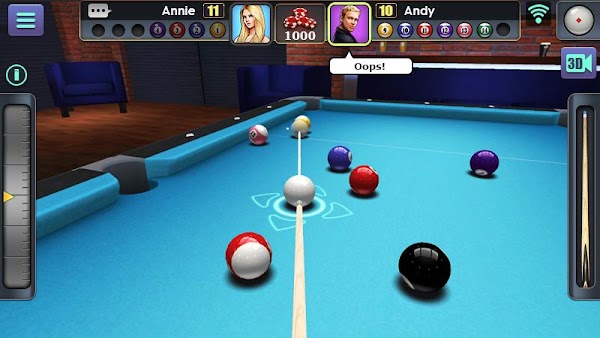 This game also has straightforward controls which are easy to understand. Both children and adults can play with ease. Once you keep playing, you'll get used to it.
3D Pool Game has authentic gameplay that gives you the feel of playing an actual game of pool.
There are different game modes that you can play to keep you engaged. This game has over 18 different game modes that control players' interests.
Tournaments and competitions:
Play against skilled players like yourself in competitions and win trophies and rewards. The more tournaments you win, the more trophies you win.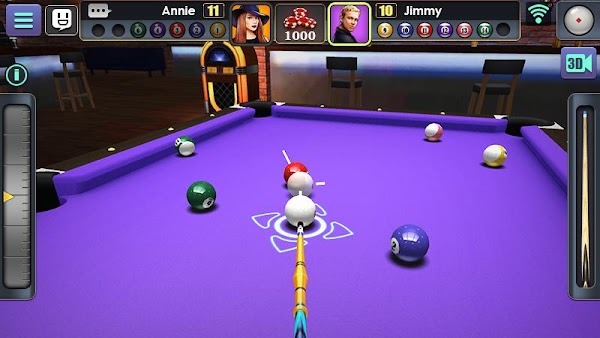 Tips and tricks
Before you start playing 3D Pool Ball, some tips and tricks will make your gaming experience more convenient. First, playing the offline practice mode against the computer is the best way to learn how to play better. You can set the difficulty to whatever is good for you. This helps you as you can compete better against better players. Again, avoid hitting the black ball into the pocket as it will automatically mean you lose. As well as the black ball, avoid the white ball entering a pocket as it lets your opponent place the ball wherever they want in the next round
Conclusion
3D Pool Ball is an exciting recreational game that lets you experience the fun of pool in a three-dimensional view on your device.


Join Telegram Group
Download 3D Pool Ball APK and enjoy this realistic mobile version of pool. Enjoy playing against opponents in this recreational game with a three-dimensional view.