Download Talking Tom Pool APK to enjoy awesome gameplay with Tom and his friends. Hone your shooting skills as you target rubber rings to clean the pool.
All You Need To Know About Talking Tom Pool
Talking Tom has become very popular in decades with many downloads. There've been lots of spin-offs with Tom or his friends (other game characters). Talking Tom Pool is another franchise from the Talking Tom series, and this time, it features Tom with all his friends; you sure know it's going to be twice the fun. It was released on November 22, 2017, by Outfit7, a video game developer reputable for the Talking Tom series and other games. It is available for all Android and iOS devices.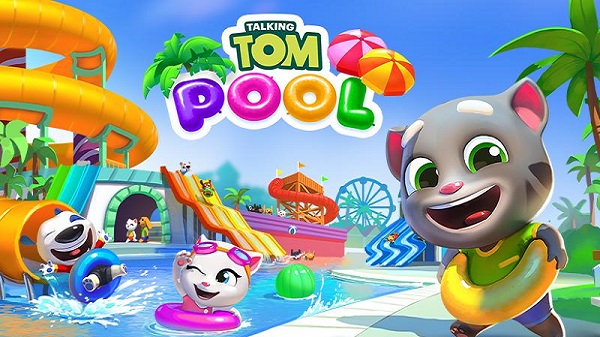 Talking Tom Pool released the trailer to usher in a new game. The trailer initially featured Tom and Angela's rubber ring that loses control. With air gushing out from the rubber ring, it violently takes them to other parts of the pool, destroying the slides. Finally, they move up above the pool and land peacefully, making them realize all the fun they have. The trailers captivating and gives a general overview of what to expect in the game. It's no surprise many are addicted to the game today.
Storyline
The Storyline is related to the trailer. Talking Tom pool features Tom, Angela, Ben, Hank, and Ginger. It was a very hot summer with no fun and more heat. So Tom bought an abandoned water park to keep them cool and create fun for the group. However, the place is old, with no fun.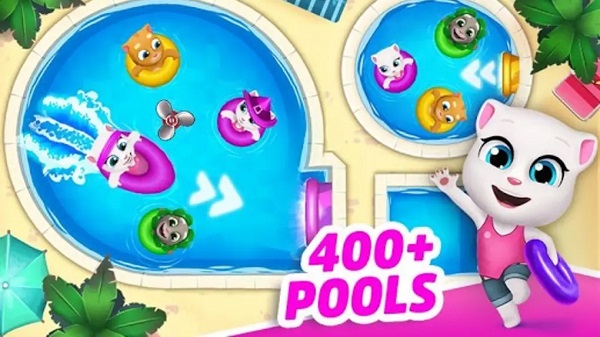 After the incident between Angela and Tom, they realized a new game opportunity where they could have loads of fun. The game was to shoot at each other with their rubber rings. They soon began to play this game, eventually attracting many people to join in on the fun. Tom's water park became increasingly popular as many players were added to the game. With this, Tom was able to make money to repair and build new areas for the water park.
Gameplay
Talking Tom Pool offers very simple gameplay for many players to understand easily. Your mission is to clear all the rubber rings from the pool. You can do so by shooting the rings with yours in the pool. However, here's the catch, to clear off a rubber ring, it has to be the same color as yours. If their colors are not the same, they rebound and move haphazardly around the pool. You must pull back or stretch the rubber rings in the opposite direction of your aim. The more you stretch, the more power you acquire. As you pull the rings back, release at your target and let them bounce around the pool.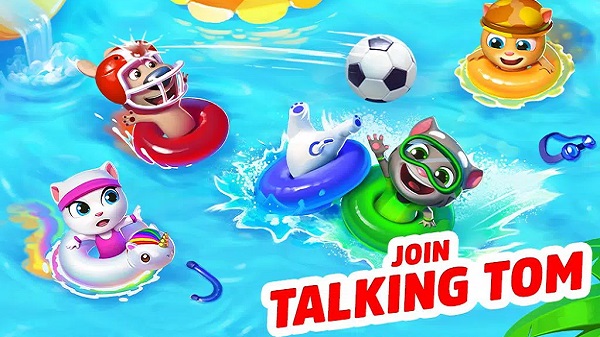 There are several levels to win in this game. Each level is different from the others as they have specific requirements to pass before you can complete them. Some requirements include limiting the number of shots, getting three stars, cleaning all the boxes, etc. The more you advance, the more challenging the requirements will be.
Expand Your Water Park
Your mission goes beyond shooting at rubber rings, although that's where it all begins. Just like the story, Tom just bought an old water park, and he needs to expand as his game is becoming more popular. You can participate in more games and play more levels to unlock new pools in the park. Several other parts of this large water park are yet to be explored. You can build your custom water park by acquiring keys. The keys can open new worlds of pirates, dragons, water rides, and fantastic features.
Achievements To Tackle
In Talking Tom Pool, there are up to 500 levels to play. As you advance through these levels, you will meet achievements you can win. These achievements have specific criteria to meet them. In total, there are 28 achievements all through the 500 levels. These are different from the challenges of each level. These achievements will require you to do things out of the ordinary, take on new approaches, launch rockets, and other dangerous challenges. In return, you'll gain more experience and win experience points.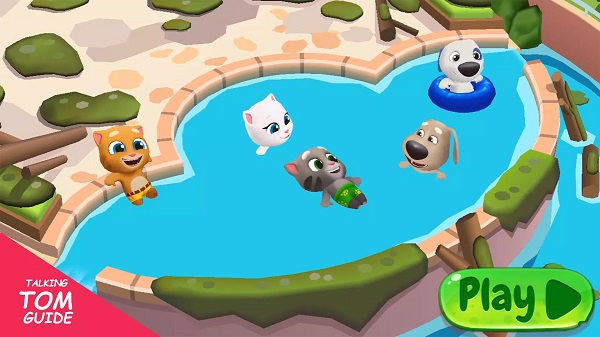 Awesome Power-ups
There are awesome power-ups you can get hold of to boost your actions during the game. There are three major power-ups: the rocket, the chili, and the unicorn. They all have different use cases and help you get all the rubber rings in no time.
- The Rocket helps remove all the rubber rings of one color
- The Unicorn makes your rubber rings multicolored for one turn
- The Chili makes your shots super fast to clear off all the rubber rings
Graphics
Outfit7 or Talking Tom has a unique cartoon style and colorful graphics that are pleasing for its players. Talking Tom Pool adopts this type of graphics as well. Tom, Angela, Ginger, Ben, and Hank have the same characteristics as the other game series. This makes the game more familiar and engaging for players to join the pool party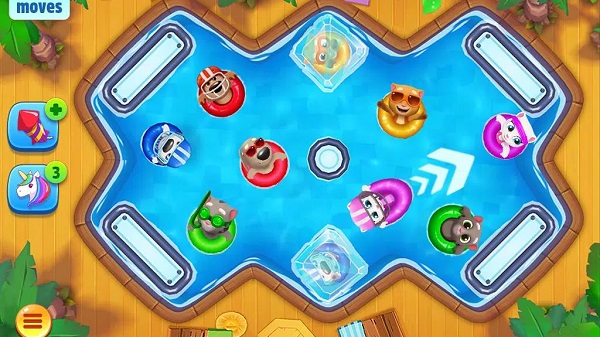 Other Features of Talking Tom Pool
- You get to shoot rubber rings in pools of different shapes and sizes
- Play more and be on top of the water shooters' rank in the world. Stretch as much as possible, make use of power-ups, and hit all your targets
- You can share your score online with family and friends through social networks
- You can acquire new and special powers through in-app purchases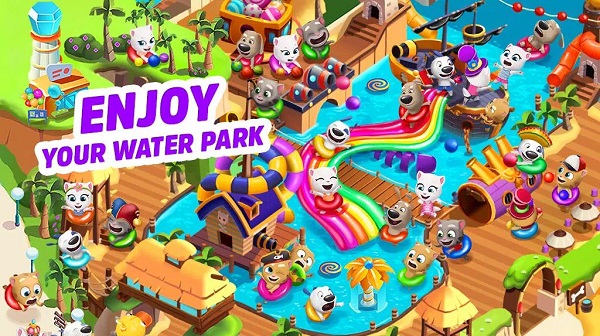 Conclusion
Talking Tom Pool is an intriguing puzzle game for everyone, both young and old, to play and have loads of fun. There are lots of cute characters to play and interact with. It offers very easy gameplay, shoots colorful rubber rings, and gets creative as you expand your Water Park.
Tom has this pool party going on, and there's no better time to join in on the fun than now!


Join Telegram Group
Download Talking Tom Pool APK to enjoy awesome gameplay with Tom and his friends. Hone your shooting skills as you target rubber rings to clean the pool.