Download Fishdom APK for infinite gaming possibilities. It offers puzzle adventures in a beautiful, colorful environment with dynamic and enjoyable gameplay.
About Fishdom
Fishdom is a thrilling puzzle/logic game that tasks players with the decisions to feed, breed, and manage fishes in an aquarium. It's a game designed by Playrix and has been around for many years on multiple devices. Fishdom is also free to download and play, with over ten languages available and rated for anyone above three years old.
One of the game's superpowers is the color and ability to decorate your aquarium to suit your taste. Then, of course, you can insert different fishes in the tank and add other decorations, which makes the game more enjoyable and the aquarium more pretty and adorable. It's an addictive game for kids because they play around with color and take care of their virtual pet, but it's also nostalgic for adults.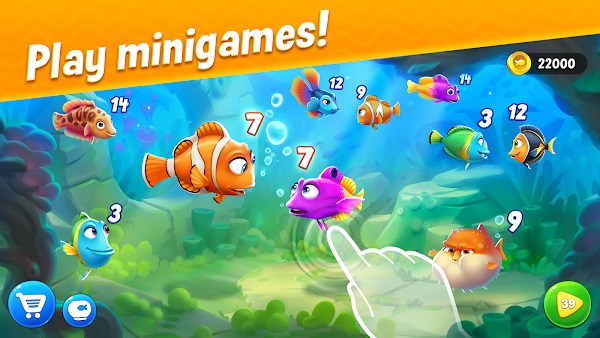 Since its release in 2008, Fishdom has continued to set the stage for match-3 games with additional features added frequently. However, the game has been available for years and has an advantage.
Players still enjoy it after many years, so it's such an impressive game. There are thousands of levels to play on this game, with additional levels added weekly, which means you continuously get new content and never-ending fun.
Fishdom's Gameplay
Like every match-3 game, Fishdom's gameplay revolves around solving puzzles by matching different colors. However, the aquarium is additional features that give it an edge over other match-3 games. Your main objective on Fishdom is to solve puzzles, earn coins as rewards and create a beautiful aquarium that matches your preference.
You will use lives to play the following puzzles, and every time you get the in-game currency, you'll be able to purchase any of the available fish species and decorations. You can also buy items that boost the fish's comfort. There are gauges (three meters long) on the screen that measure your progress; you unlock treasures in bronze, silver, or gold when you fill the gauges.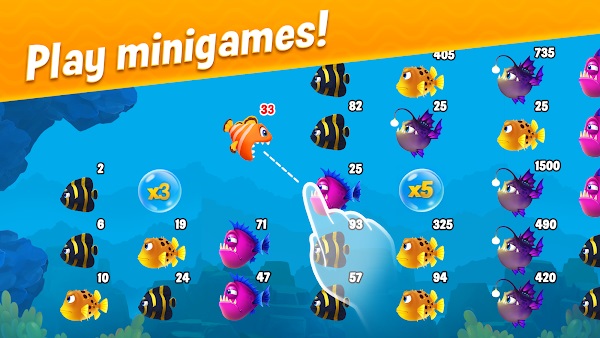 During the puzzle games, you have to swap two adjacent gems to create a match of 3 or more colors. Each game takes place on different grids and difficulties, so you never get tired of playing the same mode. You'll also get lightning, firecrackers, depth bombs, or dynamite charges when you match 3 or more items simultaneously. However, you must clear the puzzle before the countdown finishes, or you'll have to return to the old aquarium and not the next level
What more? Fishdom allows you to save your adorned fish tanks and use them as your screensaver. So, you can get more creative with your tank if you wish to get a better screensaver. And there are minigames, tournaments, and holiday-themed upgrades available once in a while to break the routine and boost your gameplay.
Take Control of The Aquarium
Of course, the aquarium is not the main gameplay, but it's an excellent relaxation spot after a tricky puzzle and an avenue to take care of your favorite fish. When you get to higher levels, dozens of fish roam your installations.
It's a must to have extra lives before accessing each game level. So you can't continue playing if you don't have enough lives. Unfortunately, this feature regenerates over time (so you must wait 30 minutes to get a new life). You also can't get more than 5 lives at once, so you might find it difficult to advance to stricter levels because you'll run out of lives much faster.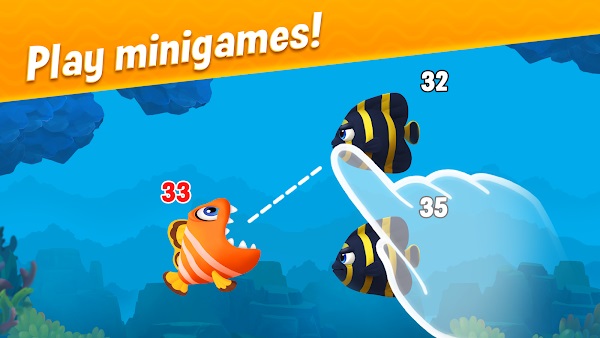 The game allows you to add fishes or decorative elements only when you have enough coins, which is where it gets challenging. You need to complete puzzles at the bottom right corner of the screen before you get coins, so you won't enjoy the game without solving these puzzles. When you solve, you win a prize, and the faster you can solve it, the higher your rewards. To win each puzzle, you must match three or more items of the same color.
Why Play Fishdom?
Being one of Playrix's most popular games ever developed, Fishdom has had an impressive career. So check out some of the features that have kept the game running over the years:
Colorful Appearance and Impressive Graphics
The main game appeal is not from the gameplay but the appearance and game designs. Many players keep at it because of the colorful appearances anytime they open the game. Although most puzzle games have bright colors, too, Fishdom has a gleeful level of graphics to match its appealing colors. You can always expect a clean and smooth appearance regardless of device type.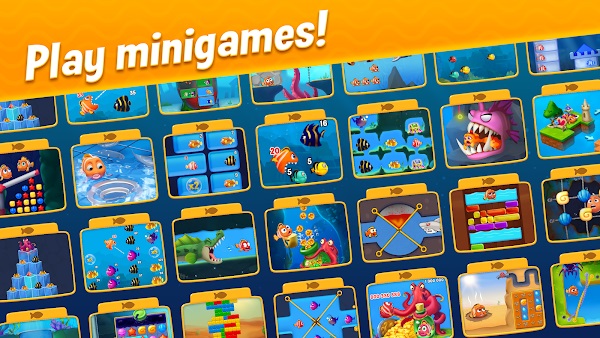 Puzzle Stacks
There is an unlimited stack of puzzles on Fishdom. However, unlike puzzle games that run out pretty quickly, various factors ensure you don't get to play all the puzzles offered by Fishdom. The game has a pool of over 6,200 puzzles, and more puzzles are added weekly as players advance to higher levels.
Unique Environment
Players can create a unique environment when they play. Even though you can't determine what your puzzles look like, you can determine how your aquarium looks, how many fishes it houses, and what decorations should be added to make it even more comfy and appealing. This part of the game has significantly contributed to its success.
Game Levels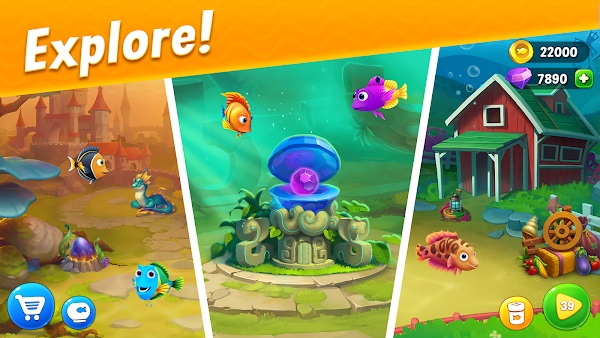 There are thousands of levels on Fishdom, and you can't advance to higher levels until you complete the tasks in the present one. You must remain at that level when you lose a game and replay. Unfortunately, you also lose a life out of the 5 lives available. So when you run out of lives, you'll have to wait a while before you can attempt to play again.
Conclusion
Fishdom is one of the best puzzle games you can play on your PC and mobile devices. The game has been around for many years, so you can rest assured of excellent player satisfaction. Fishdom will keep you wanting more with its quality graphics, dynamic gameplay, and great controls.


Join Telegram Group
Download Fishdom APK for infinite gaming possibilities. It offers puzzle adventures in a beautiful, colorful environment with dynamic and enjoyable gameplay.