Download and install The Wolf APK to play as a wolf character hunting other animals in the jungle to survive. There are several game modes and the chance to level up.
Description of The Wolf
In George R.R. Martin's book A Game of Thrones, the Wolf is the sigil of the House Stark – a united, strong, and loyal family. This family is always ready to help and protect everyone around them. Eddard Stark once said: "When the snow falls, and the white winds blow, the lone wolf dies, but the pack survives". For many, many years, wolves have represented many things and have been worshipped in religion and culture. The wolf symbolises both the good and the bad sides – but the wolf is mostly recognised as an element of success, solidarity, perseverance, and strength.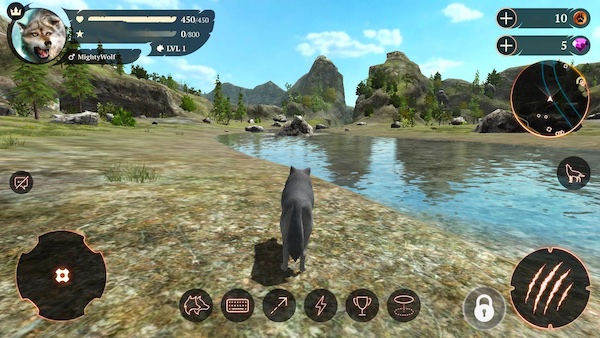 This game (The Wolf) is a role-playing game developed and published by Swift Apps. Unlike many other role-playing games, the character you assume is not a witch or a warrior but a wolf. This game is also multi-player. Your mission is to hunt other animals, find food and water, or even fight against other animals when your territory is invaded. This game will make you experience what it feels like to be a wolf.
Gameplay
There is no plot to the game. Your major task is to control the wolf's actions and find a way to survive on the steppe. While it is common for wolves to follow packs, your challenge in this game is that you are alone. You are a wolf with all your bloodlust and instincts. Deep yourself into the world of nature, feel the power of sharp fang and fast legs.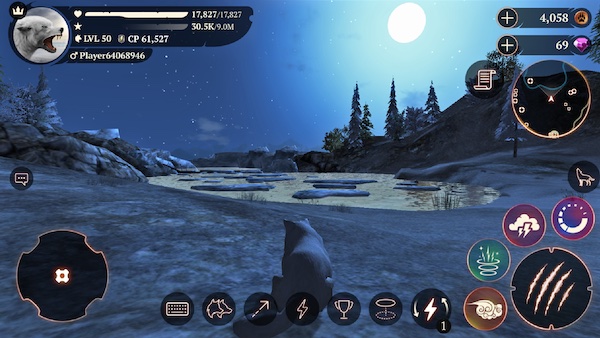 There are several other animals in the forest that you can hunt, such as deer, sheep, rabbits, and so on. You can also hunt buffalo flood, but you must follow the flock to hunt them to keep yourself from getting killed. In addition, you have to be extremely careful because you may be confronted with an animal above you on the food chain, such as lions and tigers.
Upgrade Your Wolf
You may customise your wolf stats, such as Speed, Defense, Attack, and Health, if you want. After hunting and eventually killing an animal, you will go up in the level, enabling you to upgrade your stats. Wolf's skills and attributes have three divisions Basic (health regen, normal attack, and so on), Aura (regen after death, crit damage), and Special (poisonous skin, frost spike, and so on). Besides, you can choose from several types of wolves, such as Dhole Wolf, Gray Wolf or even the common Black Wolf. Fight, hunt and take the steppe alpha wolf's position.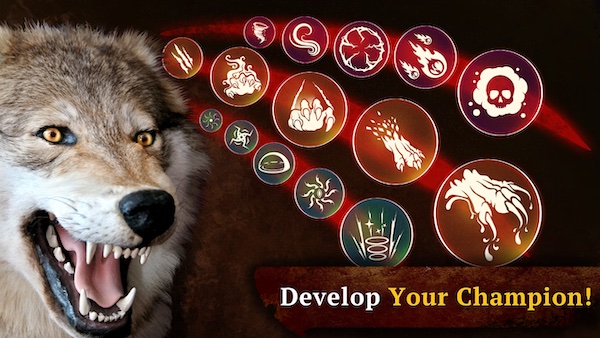 With impressive 3D graphics, this game provides a great visual experience. The wolf's appearance, hunting style, behaviour, and movement are carefully simulated. Besides, the world has many beautiful outlooks of the steppe and old forests. Finally, there is a Christmas version where all the wolves in the game wear Santa Claus hats.
Understanding the Wolf's Mind
You are playing as a wild wolf, and understanding what they see and think is an important aspect of the game. Interestingly, you will be more sympathetic to the wolves, where you will see them in a positive light rather than wild, dangerous animals. First, however, you have to be familiar with their wild behaviour.
You will have the chance to pick the wolf you want to play, whether an excellent brown wolf or an aggressive one. There are several wolves for you to choose from. The interesting aspect of this game is that you will have the chance to explore the wild world on your own. You will be delighted by this strange world of the jungle, and it won't take long before you get used to the life of a regular wolf.
Become the First Wolf
Staying in a nice environment will breed good characters. In some cases, the wolf's instinct is decided by the environment. This game always provides players with interesting scenes, and each scene is a strong point you can utilise to become the leading wolf. Rising to become the pack leader is the kind of aspiration you are looking forward to having, and it also serves as the driving force for your efforts.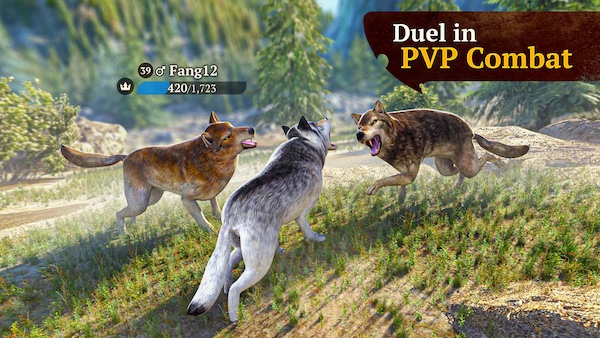 However, several other wolves will attempt to take the top position from you. With great ambition, you may have to give up some relationships, such as your relationship with the pack. You must be able to display the quality of a leader because how else do you intend to become the alpha wolf?
Increase the Character's Strength
The Wolf possesses a mechanism that allows players to spend a lot of time orienting and researching characters. You will have to pass through different match stages to get specific support and resources for upgrading your character. At the same time, you must agree that animals in this world are not easy to kill. So as you kill each animal, your stats will level up. Each of the animals you attack also has its unique attack and strength effects, so you have to be careful about the kind of animal you choose to attack. Do not attempt to attack an animal that is on a higher level than you. For instance, you can get knocked off by a bull and become stunned. So, you must be careful and pay attention to the animal you are attacking.
Online Multiplayer
The Wolf is an online game where you dive into a world of wild wolves and other animals. You can play this game on either your Android or iOS device. A gameplay mode will attract you to try playing the game.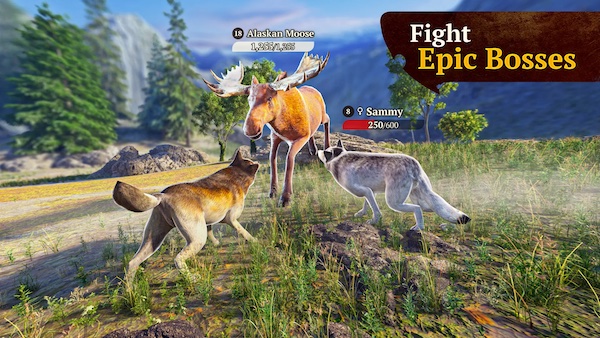 You can compete with other players around the world. There is never an empty wilderness. Confront other wolves in real time, defeat them, and conquer the forest.
Final Thoughts
If you love nature games, The Wolf is a wonderful game that explores nature. While you play as the wolf character, you will be immersed in the wonderful world of wild animals and their nature. You can get this game on Android and iOS operating systems, which is pretty easy to download.