Download TeamViewer APK for Android, an app that you can use to control other devices remotely. Wherever you are, use this app to remote into another smartphone.
An In-Depth Description of TeamViewer
TeamViewer Remote Control is an app that can control other devices from your device, just as the name implies. This app provides fast, secure, and easy remote access and has over one billion downloads, which greatly shows its trustworthiness. While you are on the road, wherever you are, you can use the TeamViewer app to control other smartphones, tablets, and computers.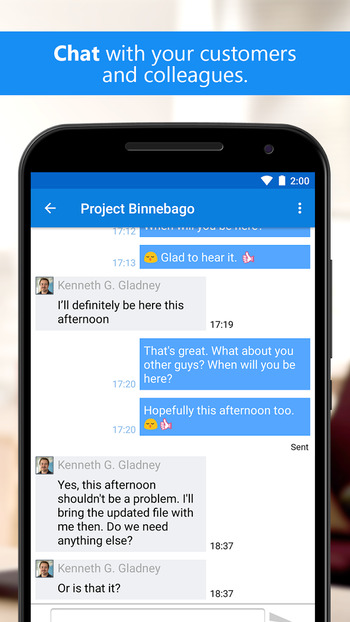 TeamViewer will connect computers, smartphones, IoT devices, robots, and servers with fast, high-performance connections through its global access network. It does not matter if you are in outer space or a low bandwidth environment; TeamViewer will enable secure remote access to your device.
Remote control and remote access computer software that is free for non-commercial use. TeamViewer was first released in 2005, and its functionality has expanded. Now, with TeamViewer for Android, users can control computers and send files to and from the remote computer all within seconds.
You can use TeamViewer to control computers (macOS, Windows Linux), and it would be like you are sitting right in front of that computer. It will also provide or administer spontaneous support (servers), and lastly, you can use TeamViewer to control other Android devices. Users will also have access to meetings and remote video help if they upgrade to TeamViewer Pro, and these are some interesting features to look forward to.
TeamViewer is easy to operate, free for personal use, and offers every feature that one should expect when using remote-control software, a chat option and a file transfer button. You surely do not want to miss out on this reliable application; luckily, the TeamViewer download process is simple so that you can get right to it.
How to Use TeamViewer App
Now that you know all about TeamViewer Remote Control, the next thing on your mind will be how to use the TeamViewer app. As stated above, this app is quite easy to operate, so once you are done downloading, you can follow these steps.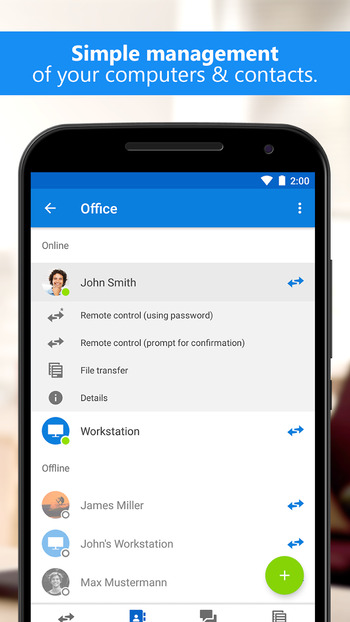 Install the TeamViewer app.
Download TeamViewer QuickSupport on the device you want to control (connect) from your device.
Put the ID you get from QuickSupport into the ID field and connect; then, you are good to go!
Features of TeamViewer Remote Control
As explained above, TeamViewer lets you connect to another computer as if it were your own. This is handy as you can always help older relatives achieve some things on their computer without being physically there. Written below are some of the features of TeamViewer Remote Control.
TeamViewer Pro
TeamViewer is free for non-commercial use, that is, you and I, but that is not the case for small to medium businesses. TeamViewer is free, but if you use it frequently, you will be offered a paid version. TeamViewer has three different subscription plans; Business License (single user), Premium License (multi-user), and Corporate License (for teams).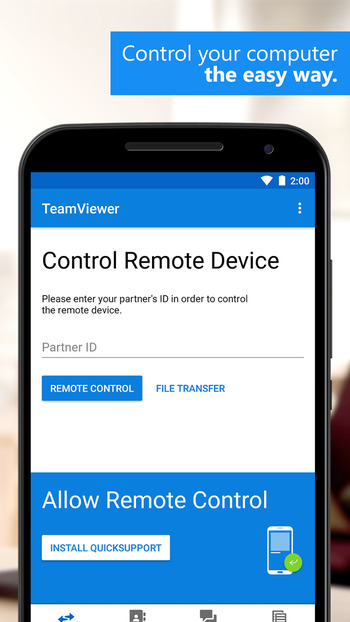 Business License: this allows one user to initiate a device connection a session at a time. Its features include – users can access and control computers remotely, file sharing, cross-platform access, a number of ten meeting participants, one channel included, up to 200 managed devices, secure unattended access, tech support via phone, and remote printing for Mac and Windows (on any printer).
Premium License: this includes fifteen users and allows one user to open a remote session at a time. Its features include all the features in the Business plan and some additions – up to 300 managed devices, customized device information, and user access reporting. It has one channel, but you can add up to five,
Corporate License: this includes thirty users and allows three users to open a remote session at a time. Its features include all the features in the Business and Premium plan and some additions – up to 500 managed devices, device access reporting, mass deployment, third party integration, and includes three channels, but you can add up to ten.
Control Other Devices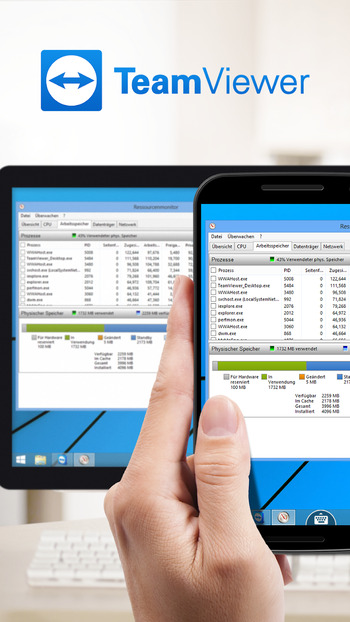 TeamViewer for Android allows you to control other devices from your Android device as if the device is right in front of you. If a relative or someone you know is having problems achieving something on their device and you know how to fix it, you can simply do it from your phone without having to be physically there. With this, you can easily achieve anything anywhere without going through so much stress.
All you need to do is ask for their ID and password, log in from your phone, and fix the problem for them. You can choose to set up unattended access, so the login process is not repeated, or you can leave it disabled if you are security conscious. You can also choose to run the program for a single session.
Easy and High-Performance
TeamViewer is very easy to set up; it only requires a few steps to achieve what you want, and these steps are highlighted above. It performs very well in low bandwidth environments, and most data never goes outside the LAN, so it is easy to control. Also, TeamViewer Remote Control functions perfectly well all the time, and over one billion downloads prove that.
Other Features of TeamViewer Android Include: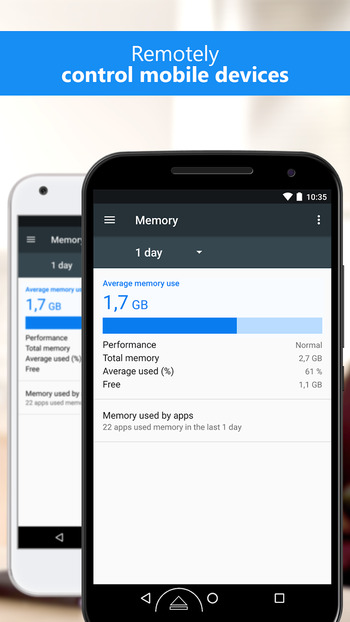 There is a chat option.
Users can transfer files in both directions.
TeamViewer features intuitive control gestures and touch.
Through TeamViewer, users can share their screens and have total control of other devices.
Users can manage computers and contacts.
It features HD video and sound transmission in real-time.
TeamViewer is highly secure; 2048 Bit RSA Key Exchange and 256 Bit AES Session Encoding.
Conclusion
TeamViewer Remote Control for Android is the best application for Android users when they want to access another device easily. You no longer need to leave the comfort of your home, just input the ID and password, and you are good to go.