Download Foxit PDF Editor and edit your PDF documents on the go! Never worry about how you can change the details on your PDF and get other advanced features.
Description of Foxit PDF Editor
Foxit PDF Editor is an app that allows you to view and annotate PDF files on your Android device. PDF files are documents you can only view, and many other apps change the content and structure of the files when you try to edit them. This is where Foxit PDF Editor comes in.
With this app, you can view and edit your PDF files while keeping them in their original condition. You can also purchase a subscription to get extra services like protecting your PDF, exporting the document, and editing tools. Even if there's a paid plan, the free version is still feature-rich.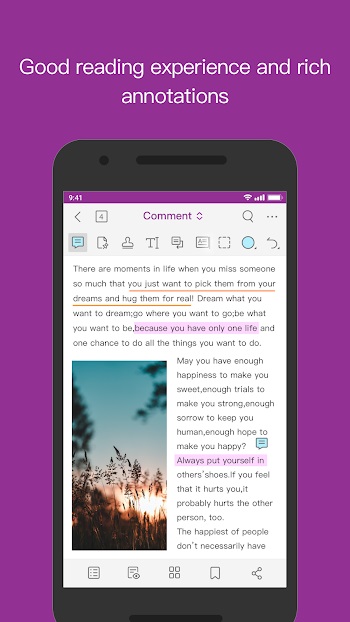 Foxit PDF Editor was created by Foxit Software Inc and was first released on the 17th of January, 2013. The app complies with your PDF ecosystem, so you don't have to worry about errors when loading your file. It is also light and won't take up much space on your Android device.
The Foxit PDF Editor also loads quickly, eliminating long waits to open large PDF files. Plus, it gives you full control over your files. The app is highly secure and protects your files against unauthorized access, which is helpful for those loading sensitive PDFs.
The app is also available in more than ten languages.
What Can You Do with Foxit PDF Editor
There are a lot of PDF-related tasks that you can carry out with the Foxit PDF Editor. Remember that some of these features are accessible with a paid subscription, while others are free. These include:
Edit Files: Foxit PDF Editor allows you to edit your PDF files. With this app, you can add text or edit the existing text on your PDF. You can also do the same with your image objects. The app also allows you to insert audio, hyperlinks, and videos into your PDF document. Then, you can edit the document properties, optimize the document, and even reorganize the PDF pages based on your needs.
Manage PDF Files: On the app, you can view your PDF files and easily navigate the document with the bookmark management features. For easy viewing, Foxit allows you to reflow your PDF files. You can also search for text within the PDF document or set it to read the PDF out loud if you're multitasking. Plus, when using a tablet, you get a tabbed document interface and can rename, copy, move, or delete files.
Easy Collaboration: Foxit PDF Editor also allows you to collaborate with others and share your PDF files. You can add stamps and annotations to your PDF files or share the files as documents and screenshots from within the application. The app allows you to share multiple files across your desktop and device over Wi-Fi. Then, you can save, sync, and access your PDF file on the cloud from Foxit PDF Editor.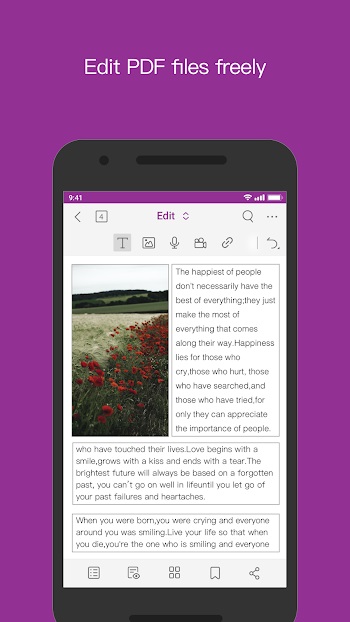 Create PDFs: You can also create your PDF. The app allows you to make blank PDFs from scratch or convert other documents from Microsoft Office, text, image, and HTML files to PDFs. The app also allows you to scan and convert your paper documents to PDFs. On the other hand, you can convert PDFs to other documents, text, images, and HTML files. Plus, you can combine PDFs to create a new PDF document.
PDF Forms: The Foxit PDF Editor also has settings for PDF forms. You can fill out your PDF form and save it within the app. The app allows you to import and export data from the form and submit these forms through HTTPS, email, and FTP. Plus, you can work on XFA forms.
Protect Your PDF: The app also allows you to add handwritten signatures to PDFs and protect your files with passwords and Microsoft Information Protection. You can also sign your PDF documents with an existing digital certificate or protect them with redaction if you share them with outsiders.
Foxit PDF Editor comes with a 7-day trial for the advanced features, and you can get this by creating an account and subscribing to the app.
Easy User Interface
The Foxit PDF Editor is designed with a user-friendly, clear Ribbon-style toolbar. This makes it easy to get around the app and access the settings and functionality. From the get-go, the app is ideal for everyone since it is easy to navigate. It is quite similar to the user interface of Microsoft Office.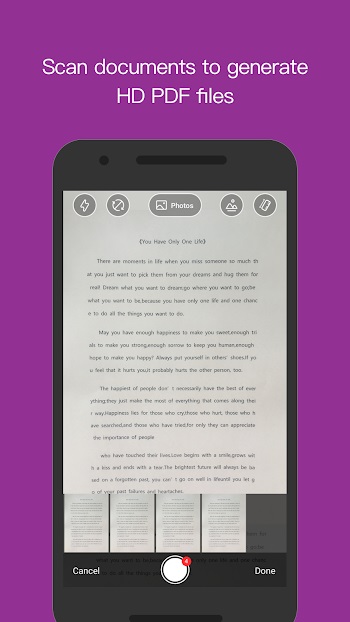 You can also migrate from Adobe easily and deploy a wide range of customization tools. Anyone can use the app with the intuitive interface and short learning curve. It will integrate seamlessly into your systems.
Who Needs Foxit PDF Editor?
If you deal with documents regularly, you need the Foxit PDF Editor. The app is ideal for editing and making changes to your PDF document, and it also works for people who want to work with others. You can keep your documents in the cloud and access them anytime.
Even if you don't work with documents often, it's a good app for filling and signing forms that you might have or scanning paper forms to send to people digitally. It's a helpful app to have on your device, as it has a wide range of functionality that will help.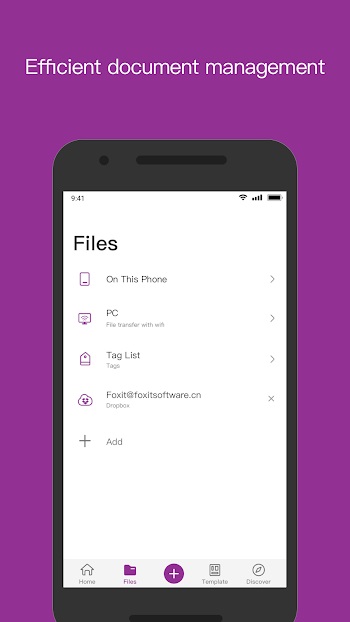 The app also has great customer support for its users, so it's easy to ask questions and learn how to use it. The app provides efficient document management and allows you to create a customized toolset. You can choose what tools you want to use the most in your toolbar.
Conclusion
Foxit PDF Editor is a reliable app for PDF editing and management. You can view, annotate, edit, and even create PDF files while on the go. With the free and paid plan, you can access a wide range of tools for using PDFs. Since this app is pretty useful, you don't have to worry about the stress of using PDFs.