Download AVG Cleaner APK now to clean up, optimize, and boost your phone's speed and keep it charged for longer periods. AVG Cleaner is a multi-optional application that lets you clean your mobile phone with a single tap.
A Crisp Analysis Of AVG Cleaner
Don't you just hate when you are working on something important on your mobile phone, and it suddenly hangs up? Well, that is because of high amounts of cache stored in your mobile phone, which slows down the system and sometimes hangs up the phone.
With the brilliant features that AVG Cleaner provides you with, you can say goodbye to the slow speed of your phone and introduce your phone with longer battery life. This application also improves the performance of your mobile phone by cleaning the cache or RAM.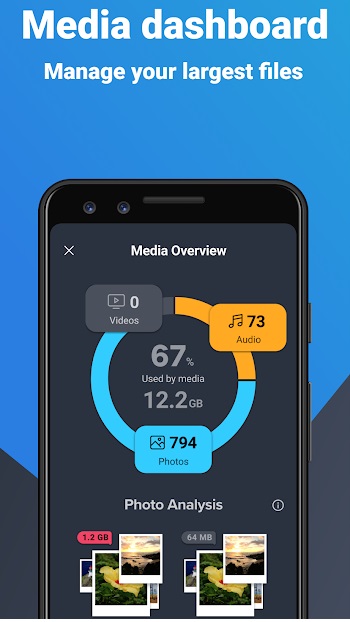 By downloading AVG Cleaner, you can even increase the free space in your mobile phone as it helps in removing junk files or files that have not been used for a long time. It also assists in deleting unwanted or similar photos or videos from your system, thus providing you with more free space.
Dark Theme
AVG Cleaner is a multi-functional application that keeps your mobile phone healthy and decreases the strain on your eyes. It offers a dark theme, which helps reduce the light emitted by the screen so that you can reduce the blue light exposure that comes from the screen, thus reducing the eye strain.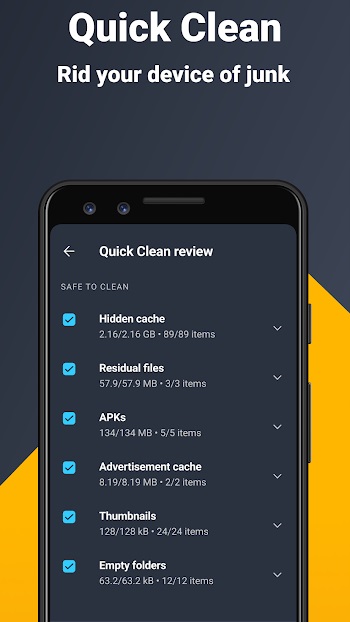 If you use the dark theme, you can reduce the risk to your eyes, making the longer screen time feel easier. You can use AVG Cleaner with the dark theme to clean your phone just before sleeping at night so that you don't strain your eyes in low-light conditions.
Easy And Automatic Operation
AVG Cleaner is easy to use and has an automatic operation with many exciting features. This application is the best cache cleaning application and just what your mobile phone needs as it has one tap analysis and optimization, which cleans your device with a single tap of a button and performs device scan and analysis with a single tap. How convenient and easy!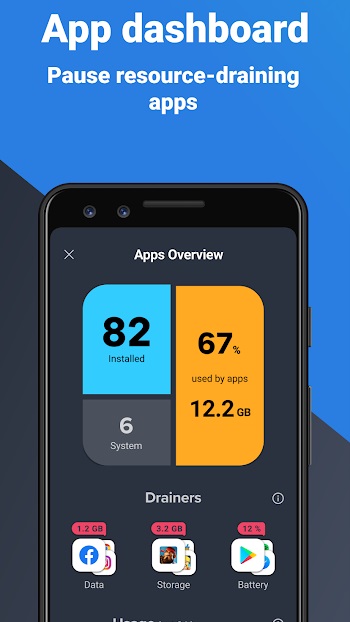 This application allows you to easily clean your photo gallery and find out bad quality or duplicate photos. This is an all-in-one cleaning application with easy-to-use and automatic operation.
Keep Your Phone Optimized
AVG Cleaner keeps your phone clean and helps you clear out the cache that builds up in your phone. It helps keep your phone optimized, thus, improving efficiency and avoiding any crashes.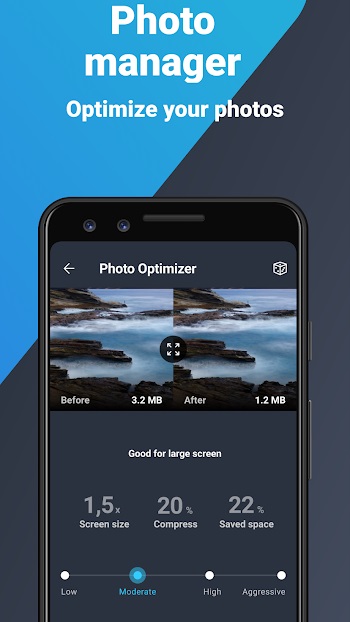 Keeping your phone optimized and clearing out cache regularly results in an increase in the speed of operations of your device and a comparatively longer battery life. AVG Cleaner keeps your mobile phone healthy and clean by clearing out cache and removing junk and harmful files or applications.
Quick Cleaning Solution
AVG Cleaner is different from the other cache cleaning applications as it has unique features. With AVG Cleaner, you get a single tap clean which saves your time and clears the cache within a few seconds, thus, optimizing and improving your device.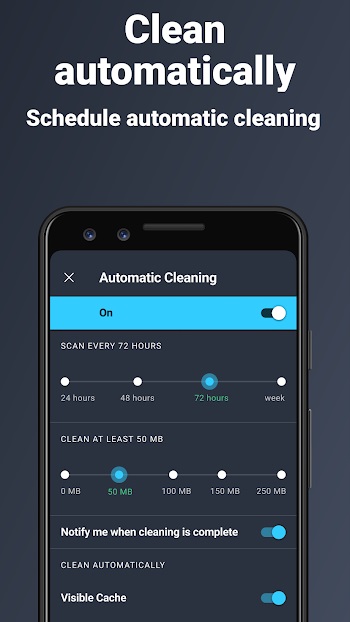 With this quick cleaning solution, you can avoid spending time cleaning your mobile phone when you can just do it with a single tap. You can save even more time by adding an AVG Cleaner widget on your home page, which helps you clean your mobile phone with a single tap and without even opening the app!
See How Much Space You Recovered Per Cleaning Session
You can increase the storage space on your mobile phone by using the AVG Cleaner application. It assists in removing junk files, uninstalling apps, and deleting bad quality, unwanted, or duplicate photos or videos. It also helps in clearing out the applications or files in your mobile phone which have not been used for a long time, thus increasing free space.
App Dashboard
On the application dashboard, you can access some of the major features. That includes draining apps analysis which will inform you about the applications which have been draining your mobile phone or making it slower. You can also access usage statistics, app size growth analysis, and notification analysis on the app dashboard.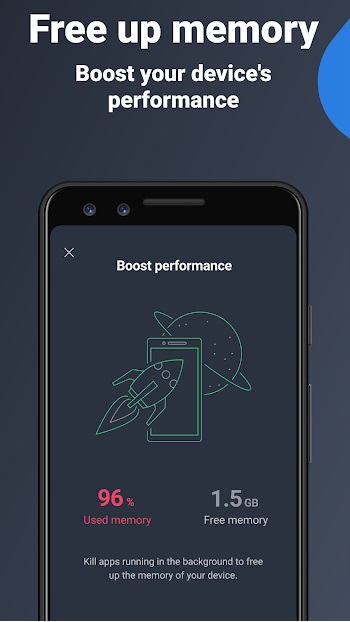 The quick boost feature, which clears out the cache or RAM on your mobile phone with a single tap, is also included in the app dashboard. AVG Cleaner believes in saving time while making the most of it by providing you with the app dashboard with its major features.
Media Dashboard
On the media dashboard, you can access image analysis results, optimize pictures to save space, and sort media by source folders. All the large video files can be accessed on the media dashboard in one view. Basically, the media dashboard is all about the photos and videos on your device.
Accessing all the large photo or video files on the media dashboard can remove the unwanted ones to increase the free space.
Manage Phone's Photos
You might be thinking that it is possible to manage your device photos in the photo and video gallery. But with AVG Cleaner, you can manage your files quite efficiently by saving time and getting more done.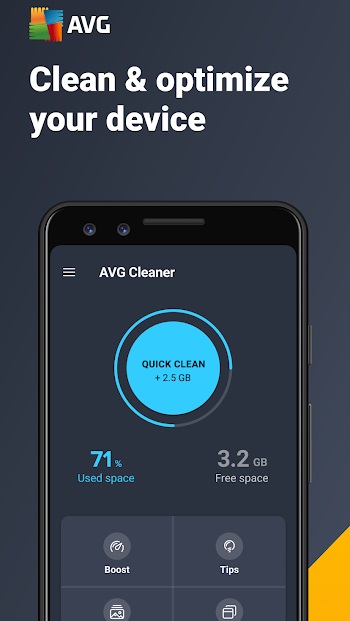 The features of AV Cleaner include a deep analysis of your media and listing out the heavy media on the device. It also acts as a File Manager, which analyzes your pictures, files, and applications, and even tells you about the duplicate ones to help you maximize your device's performance.
Lightweight App
AVG Cleaner is a lightweight application. Therefore, with just a few megapixels, you can get yourself a deep clean of your mobile phone and so many more exciting features that this application provides without even taking up much space. This application is the ideal cache clearing application that does the most in a little time and improves your mobile phone experience.
Doesn't Conflict With Other Phone Apps
Some applications can conflict with other applications on your device and remove their data or add unwanted files. Fortunately, there's no need for worries about this problem because AVG Cleaner doesn't affect other apps.
No Bugs & Doesn't Crash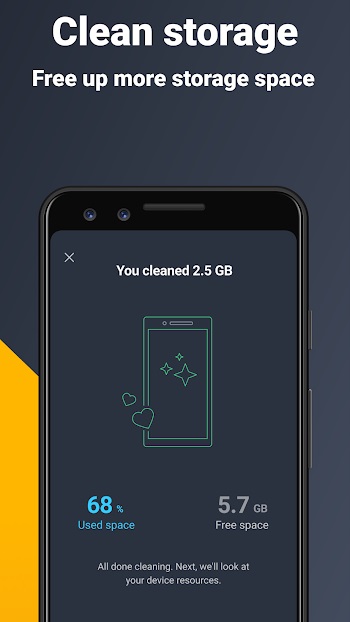 With this application's smooth performance and easy yet amazing functionality, you can do several things. You can clean out the unwanted cache, remove junk files, and uninstall unwanted applications on your mobile phone. No need to worry about hanging up your phone while using this application.
Conclusion
To conclude the article, it is safe to say that AVG Cleaner is the best cache cleaner and junk files remover application. It also acts as a smart File Manager for your device. It has some amazing features like hibernating applications, which are using up much space, etc. Thus, this provides you with longer battery life for your device and improved performance!