Download Stardew Valley APK to get immersed in the rural farming lifestyle. This farming simulation game lets you build a tight-knit community and grow daily.
Stardew Valley
Stardew Valley is a farming simulation game developed by ConcernedApe gaming. The game is set in a small community where players carry out different farming and fieldwork activities to contribute to the community and sustain themselves. The game has been praised for its relaxing nature as well as its realistic simulation of wish-fulfillment. Stardew Valley is available on Nintendo Switch.
Detailed description of the game
Stardew Valley starts with the main character speaking with their dying grandfather. The character works in the cold and lifeless Joja Corporation, and the grandfather leaves them a piece of farmland. The main character decides to quit their job at the corporation and move to Pelican Town to tend to the farm. The farm starts as a small patch of land filled with weeds and it is up to the player to develop it to a better state.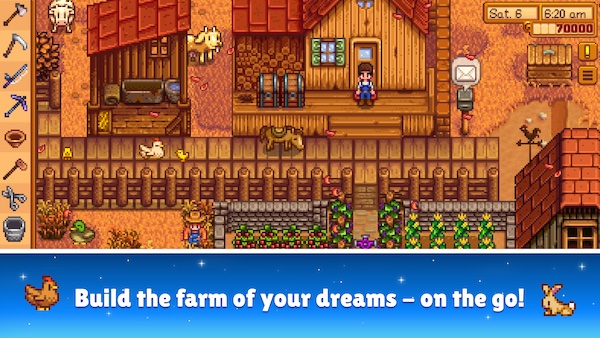 When you first move to Pelican Town, the village is also in a bad state. The daily goals of the game are all aimed toward helping the town to grow and develop from its destitute state to a fun and loving community. The town community center is where most trade takes place. The game is filled with non-playable characters for players to interact with. Character interactions are one of the most interesting parts of the game as each character has their routines, story, and life that you get to learn about as you play.
The game's activities are divided into different work tasks such as farming, fishing, and more. To carry out activities, players have to go to different locations on the map and tap on different tasks to do them. The game has a day and night structure with each day lasting ten minutes. The game also has season changes of 28 days each. Some mini-games pop up during different activities and players can trade, save or make things with the harvest of their farm.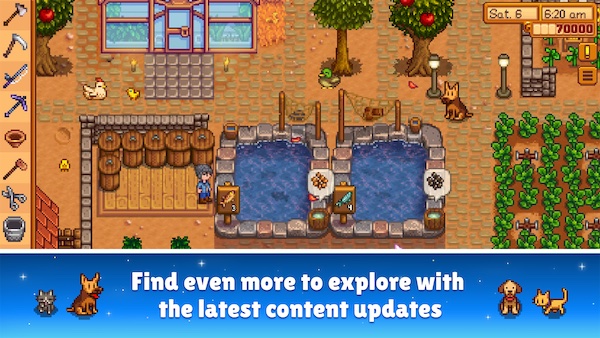 Stardew Valley is mostly focused on giving players a world where they can get lost in. The gameplay is open-ended so there are rarely ever pressing tasks to take care of. Rather, players can create their own routines daily as they log in and tend to their farms, friendships, and business. The game doesn't necessarily have antagonistic forces, but the Joja Corporation is the closest the game gets as their lifeless industrial practices directly rival the peaceful and simple way of life of Pelican Town.
Features of Stardew Valley
Stardew Valley focuses on different tasks and routines that players can carry out to build their farm, life, and business. There are many unique features to the game.
Gameplay
When you first start playing Stardew Valley, you are given a small tutorial that covers the basics of the game. However, the expansiveness of the activities included in Stardew Valley means that you will have to learn how to do many tasks yourself. This is part of the appeal of Stardew Valley, though. The open-ended gameplay gives you a chance to play the game however you want and do things as you like.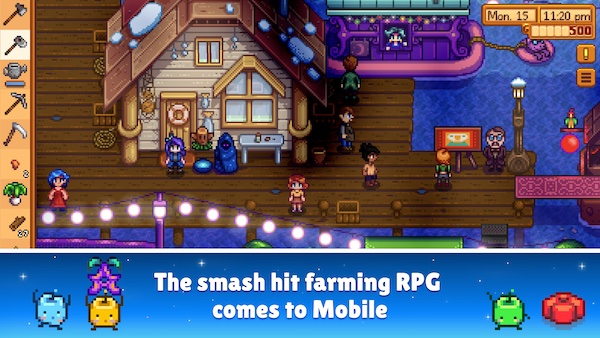 There are five main activities in Stardew Valley which include farming, fishing, foraging, mining, and fighting. Farming can be done by buying crops and planting them. Crops have to be watered and harvested on time to prevent them from rotting. Fishing can only be done on a strict schedule when fish are available. Mining and fighting are combined because there are enemies in the mines that players have to battle. Each of these activities can be done with simple controls.
Relationships
Stardew Valley has the exciting feature that allows players to form romances with non-playable characters. Players can romance and court multiple characters, regardless of gender, and eventually marry a character who then moves into your home and helps you with your farm. There are up to 12 characters available for dating and it is fun to learn about their interests and preferences. Characters can be courted by bringing them gifts. If they like the gifts, you win their favor but if they don't, you lose favor with them.
Daily goals
While Stardew Valley doesn't mandate that players play the game a certain way, there are accomplishable tasks that let players feel like they are making a difference. The Community Center features bundles that players can donate to and receive rewards.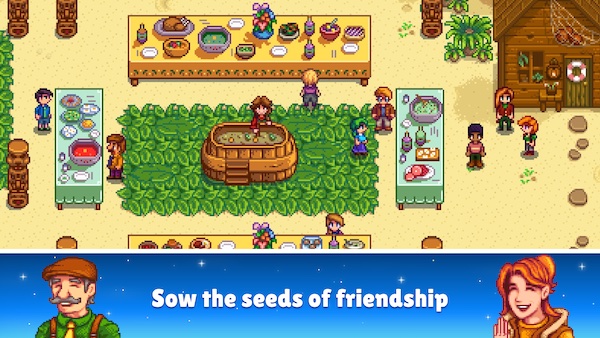 Players can donate the fruits of their labor such as crops or fish to the bundles and these result in improvements for the town such as access to locations and repaired infrastructure. The Community Center also serves as a guide on how to play the game, what kinds of crops to plant, when and where to fish, and many more.
Unique art style
Stardew Valley jumps on the recent resurging trend of retro art styles in games. Pixel art is an appealing and simple art style that many recent games have adopted, pulling on the nostalgia of older gamers. Having another pixel art-styled game may seem like a bore but Stardew Valley manages to provide a unique and heartfelt design to their game.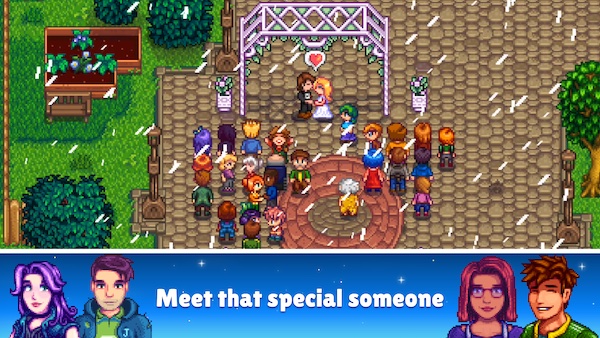 The art of the environments, characters, and details in landscapes speak to an attention to detail and appreciation of the style. There are small animals, cute and quirky additions, and moving plants swaying in the wind to make Pelican Town feel real and beautiful.
Conclusion
Stardew Valley is a game that is packed with rewarding activities. The game is not only focused on giving you tasks to complete but focuses on allowing you to build a life and community. The option to make friendships and relations is a standout feature because it makes the gaming experience much more immersive. Players can build their farms and relationships however they want and form a routine that works for them.
Stardew Valley does not only engage you physically but emotionally. It is a game that emphasizes the importance of environment, connection, and simplicity.


Join Telegram Group
Download Stardew Valley APK to get immersed in the rural farming lifestyle. This farming simulation game lets you build a tight-knit community and grow daily.