Download Solid Explorer APK today and begin to enjoy the unique features the app offers. You can now manage your files in an easier and more fun way!
What is Solid Explorer?
A key feature of android mobile phones is the file manager app they all come with. These apps allow phone users to easily access, organize, and manage all files on their mobile phones. Unfortunately, while these native file manager apps perform the basic functions, they do not offer more features to enhance the smoothness of the file managing process. Aside from this challenge, many apps do not perform the basic functions effectively and leave phone users largely dissatisfied.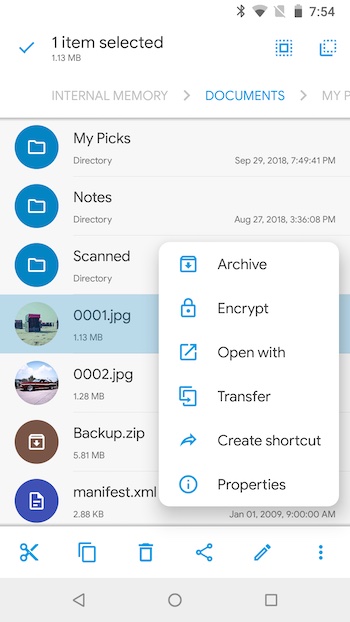 Hence the need for an external file manager application like solid explorer. This is one of the most efficient and powerful file manager apps any phone user can find. Ever since its release by NeatBytes in 2021, the app has risen in demand with over five million downloads on the play store. Solid Explorer is structured for easy use to help phone users manage files on the phone's memory or an SD memory card without the usual challenges of most native and external file manager apps. This app gives users access to a wide range of customization options, double panel browsing, advanced security tools, and many other amazing features. All these functions are carried out without annoying ads to give users the best experience they can get from any file manager application.
Features
Efficient File Organization and Easy Management
The solid explorer app's high quality allows users to easily manage and organize the various texts, images, audio, and other files on their phone's storage or SD card. On this app, files are neatly grouped into suitable and easily accessible compartments, and users can also create new folders and add files to them.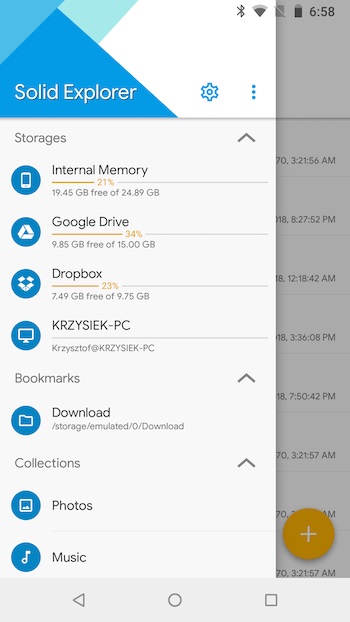 Along with these functions, important operations like deleting, editing, and file transfer from phone storage to SD card or folder-to-folder transfer can all be carried out on the app. Users can also open/view the various files through the app and search for files they can't find at a fast rate using the search icon.
Due to its easy operations, users with even the most basic tech knowledge can use the solid explorer app without any challenges.
Dual Panel Browsing
The solid explorer app stands out from other file manager applications with its dual panel browsing option. This allows users to move files or folders from one panel to another on the same screen. For devices with large screens, this feature automatically comes up. Users can also automatically access the dual panel navigation option when their screens are rotated horizontally. Separate operations can also be carried out concurrently on each panel.
Storage Analysis
The solid explorer app gives phone users a sufficient storage analysis. This way, users can know what app takes up the most space on their devices. In addition, phone users can also know the amount of space each folder occupies on their devices through the storage percentage displayed on the app.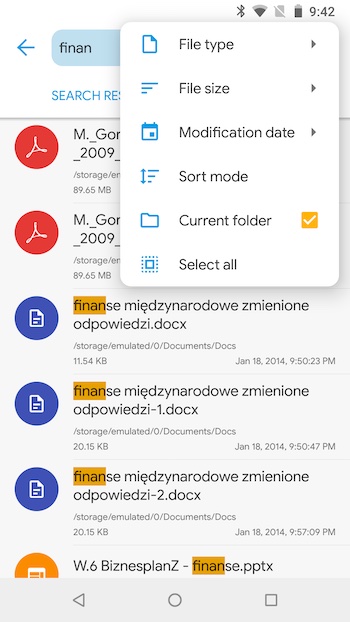 Using the file size filter, users can easily search for the large files they need to access on their devices. Asides from this, the app also carefully sorts files according to the file type (documents, music, images, etc.) or according to recent downloads or uploads.
Secure File Managing Platform
Users can confidently rely on the Solid Explorer app because their files are protected with powerful AES encryption. Folders on the file manager app can be locked using strong passwords. Users with advanced smartphones can use their phone's fingerprint and face recognition feature to secure their files. Archived folders can also be password protected on the solid explorer application.
Archive Option
Files can be archived on the app in the form of Zip or 7Zip, and users can encrypt these files using passwords as already stated. Users can highlight the file they want to archive to archive a file and tap on the "archive" option listed on the overflow menu. After this, users can simply pick a name and create a password to encrypt the archive.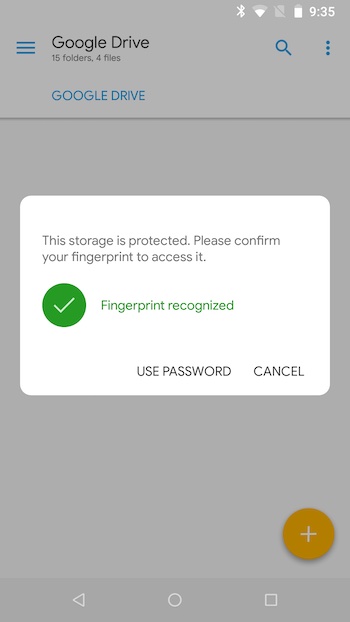 The option to extract the archived file(s) is also available, and they can easily do this after imputing the password used to create the archive.
External File Management
Aside from managing the files available on the user's phone storage and SD card, the app also allows the user to manage files uploaded on storage clouds. For example, files uploaded on Dropbox, Google Drive, FTP, or OneDrive, can be accessed on the solid explorer app. In addition, the app provides a list of storage clouds and allows users to move files from one cloud to the other.
Customization Option
Users can access a wide range of customization options on the Solid explorer app. The app's layout can be customized according to the user's taste. Users can have fun while managing their files by deciding what colors or themes they want the interface to have. Different folders can also be categorized in personalized formats- according to entertainment, study materials, work, etc.
Chromecast Streaming
With this feature, media files can be cast to a different device by tapping on the cast icon on the app. This way, media files on the solid explorer app or the various storage clouds can be displayed on a much bigger screen.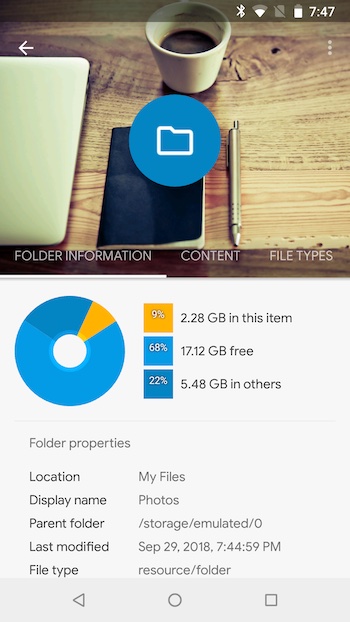 Pros
Easy-to-operate interface
Advanced security
Zero ads
Personalized app layout
Dual panel navigation
Cons
Users have to pay to access the services this app offers.
Limited folder collection. Unlike solid explorer, other file manager apps provide other folder collections like ringtone, screenshots, etc.
Final Take
Solid Explorer is an amazing app for those looking for something more than the regular file manager apps out there. It carries out more functions than every phone's native file manager app and gives users a seamless and fun experience. Other external file manager apps do not stand a chance when placed with the solid explorer app.