Download Shortcut Run APK, a fun game that involves racing against opponents while stacking up all the floorboards you can pick as you make it to the finish line.
An In-Depth Description of Shortcut Run
Shortcut Run is a casual, fun game released on the 26th of September, 2020, developed and published by Voodoo (a French game developer), and is available on Android and iOS devices. This game is different from the typical races you play due to its impressive and intriguing gameplay. Also, the Shortcut Run game was downloaded over 200,000 times in June 2022, which goes a long way to show how much of a favorite user game it is.
This online racing game aims to get to the finish line before your opponents. To do this, you have to stack up floorboards which will help you create shortcuts, making it easier to reach the finish line than others. Sometimes, it pays to use tricks; this has never been explained better than in the Shortcut Run game.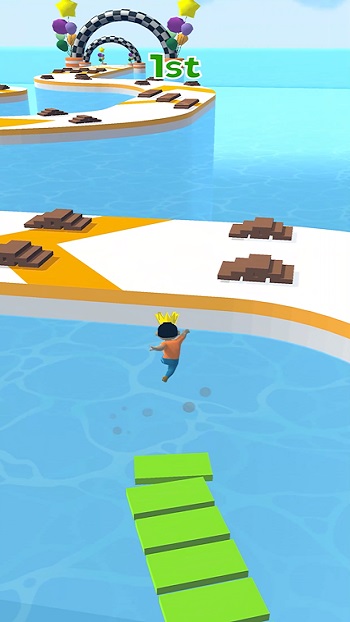 The floorboards that should be stacked to be the first to get to the finish line are used to cut through the water surrounding each track. Therefore, you create shortcuts on the water using the floorboards instead of the track like every other opponent, which helps you to be the first to get to the finish line.
Shortcut Run is quite simple to play; you do not need instructions as it is as simple as swiping your finger left and right across your device's screen. Since the gameplay is also quite easy to achieve, users should have no problem playing and enjoying this game. Although, despite the game's simplicity, there are still some effective strategies that gamers should be aware of if they want to reach a high score.
In the Shortcut Run game, your character will always run; you cannot stop your character from running except exit the game. It is up to you to control where your character goes by swiping left and right on your screen. You should ensure that your character remains on the right path; your character falling off the edges because there are not enough floorboards to make a path will lead to a game over.
Yes, Shortcut Run is a fun and simple game, but it is also quite tasking as it is different from your everyday racing game. Do you think you have what it takes to be the character who gets enough floorboards, creates efficient shortcuts, and makes it to the finish line before anyone else? Download Shortcut Run to find out.
Features of Shortcut Run
Let us look at some of the features of the Shortcut Run game and how they contribute to a better gaming experience. You can choose to play this game online against other players or choose to settle playing against bots. Whenever you load a match, your character will be put on an obstacle course with three other players, and the game begins.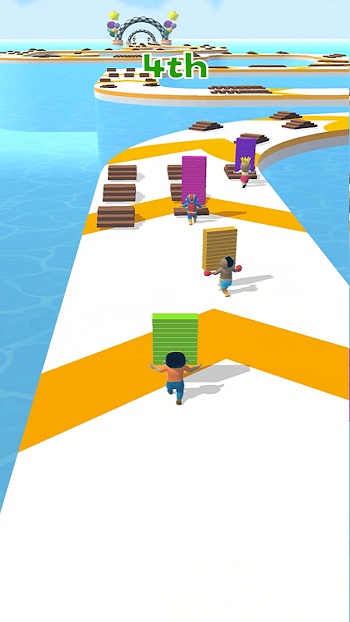 This game has different levels, and they will only become more challenging as you progress. Each level becomes more exciting so you will never have to worry about getting bored. But to emerge as the winner, you must pass all levels and stages.
Controls
The first feature on this list is access to the easy controls; playing this game has been made easy through the easy-to-learn and easy-to-use controls. Shortcut run does not require excess thinking as it has simple gameplay and efficient controls to make this work.
If you are playing the Shortcut Run game on your mobile device, you must swipe left and right to control the direction you want your character to move. Remember that your character does not stop running, so you must always be alert.
If you are playing the Shortcut Run game on your PC, you only need your mouse and keyboard to control the game effectively. You can use your mouse to stack the floorboards and your keyboard to make your character jump and move (left or right). Your character will always run independently, so you never need to worry about controlling speed.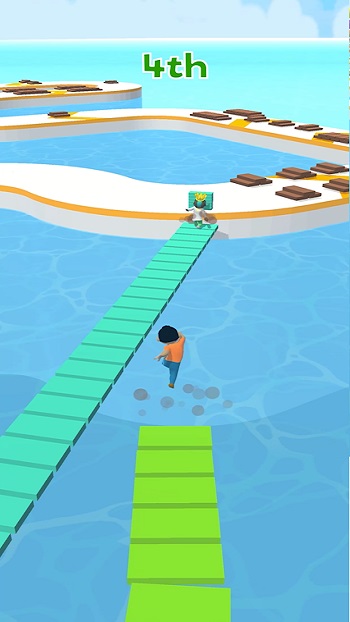 Competition
There is no better way to enjoy the Shortcut Run game than by playing in competitions. Luckily, this game allows for a four-player competition. So, you can participate in a four-player race and see who the fastest and smartest player is. This feature will not only improve your gaming experience but will also give you a chance to enjoy a thrilling competition.
Obstacle Course
One exciting feature of the Shortcut Run game is the fun and interesting obstacle course; you have to race against opponents and make it through the obstacle course to win that round. You can stack up floorboards to help create a shortcut and give you an advantage, but you will also have to make it through the unique obstacle course.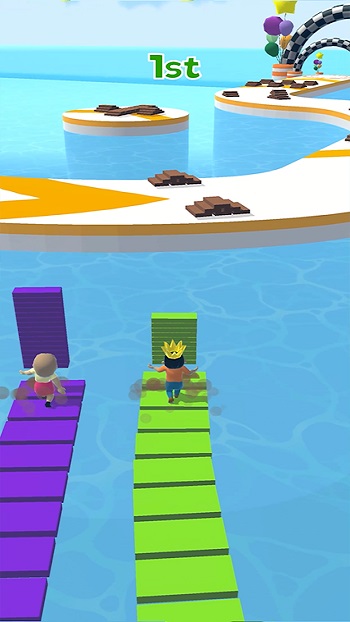 Evade Your Way Through
And, of course, the most exciting feature of the Shortcut Run game is to elude your way through to emerge the winner. Nobody can give you a hard time about this in the game because this is the ideal method to win. You have to play dirty to be the first person who makes it to the finish line. Keep it in mind that other characters can play dirty too.
You can overtake the opponent's floorboards with your path, which will cut off their Shortcut. You can use another opponent's Shortcut to get to the finish line (but you will not get a speed boost), eliminate an opponent by hitting them from behind and knocking them off the path, and steal their tiles because when you run out of tiles, your character will leap forwards.
Shortcut Run Money
As a player, you also get access to Shortcut Run money; this helps you to purchase floorboards for every game you play. Whenever you start a game, you only have a limited number of planks that can be used to make shortcuts, but you can buy more planks through the money you have in your game. When you use a version of this game, you can access Shortcut Run unlimited money and Shortcut Run unlimited tiles.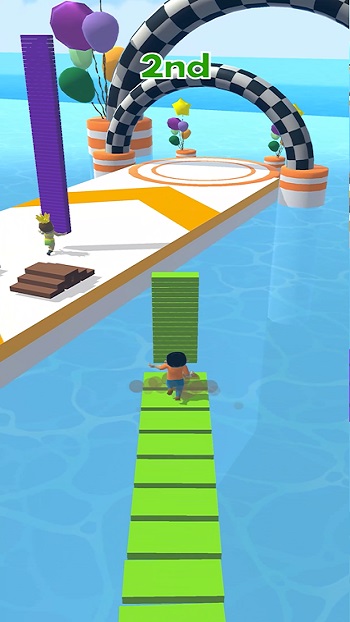 Conclusion
Playing the Shortcut Run game is one of the best ways to eliminate boredom; you may eventually find yourself playing for hours. The Shortcut Run download process is quite easy to achieve, just like how easy it is to play this game. Download Shortcut Run game today, an untypical racing game that guarantees to keep you on your toes.