Download the Fun Race 3D APK game to run around obstacles, heights and barriers while beautifully colored people block your path in this 3D cartoon-style game.
Fun Race 3D
Fun Race 3D is an action, platform racing game where you run on a narrow surface with deadly cold, deep and unforgiving water on all sides. To win the race and reach the finish line, you must avoid all obstacles, including the 3D cartoon-colored people who occasionally step in your path.
Run, jump, duck, pause, accelerate, leap and parkour over obstacles to reach the finish line before running out. Fun Race 3D is an interactive, simple, yet surprisingly hard game to play as one discovers with each level. Fun race 3D download is sure to keep the player focused on their device for a considerable time, trying to pass a stage using the right combination of tricks.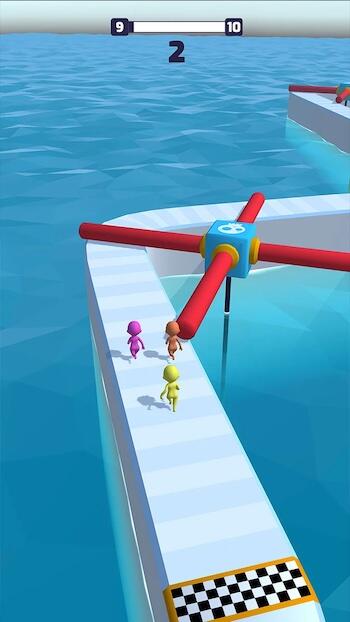 Knowing when to run and pause is the most important part of this parkour-themed game. Certain obstacles require you to run at great speeds and leap over, using a series of aerodynamic twists and turns. Others need you to stop and climb over to avoid getting trapped mid-air.
About the Game FUN RACE 3D
Fun Race 3D download was made possible by the Good Job Games studios on the 6th of June 2019, created to be available to everyone regardless of age or device operating system. The game has;
No violence in it that could be unfit for children to see

3D brightly colored cartoon theme

It is completely available in the Android and IOS operating systems for all mobile devices

Support businesses by promoting ads

Completely free.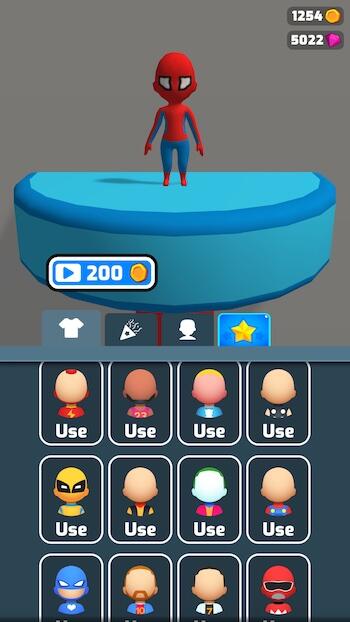 Fun race 3D latest version was released on the 21st of January 2022 to correct the telltale complaints of bugs and malfunctioning of the game on some devices. Well, with an impressive 100M+ downloads and the game being free to all platforms and operating systems, problems are bound to be discovered; hence updates are released to counter these problems.
For an abstract game, Fun Race 3D has acquired an impressive 4.3 stars rating from a not surprising 2M+ review. The game is easily famous among children and adults who want to pass the time in a fun way. Language seems to be the only shortcoming of Fun Race 3d, as it only supports two languages; English and Russian.
Gameplay
Become one with the highly acrobatic stunts in Fun Race 3D, turn on your competitive streak, and leave others in the dust. Fun race 3D is a thrilling game that centers around activities that require your quick reflexes like jumping, running, and even pausing. Your agility and responsiveness will be tested in this abstract world.
With Fun Race 3D themes revolving around parkour, race, platforms, and arcade, players are assured of an immersive experience filled with exciting challenges.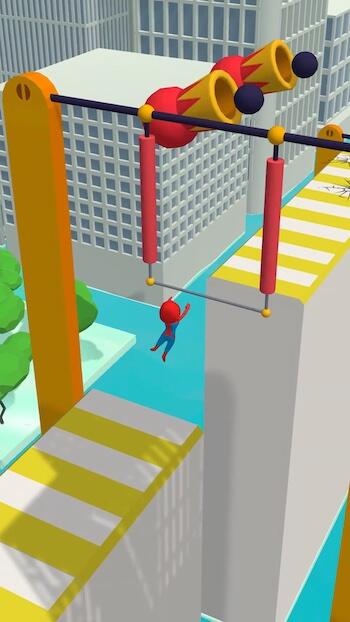 Immediately you load the game, the in-game tutorial kicks in, and you are taught the basic layout and control of the game. In a single-player game, players are advised to ignore their opponents but, focus on the next hurdle while avoiding falling into the water.
As you advance to more levels and unlock more bonuses, you'll be granted more access to new locations and enjoy different sceneries that stimulate your running skills. When players hit certain achievements, the next bonus levels become unlocked, allowing players to earn more money and ultimately get essential resources.
Bonus levels are scattered throughout the game's tiers, so leave no stone unturned when racing to maximize their present opportunities. In this game, your obstacles range from flexible hurdles and moving hands to huge hammers. Players are allowed to overcome these hurdles with any trick at their disposal.
New levels unlocked, equates to new characters opened as one would expect. These new characters are more agile and skilled in gymnastics, offering the player improved performance and new ways to overcome hurdles easily. However, as the saying goes, "With great power comes great responsibility" the challenges become much higher with each new character unlocked.
Game Controls
Fun Race 3D uses non-visual controls like; hold to stop running, release to run, and swipe in any direction or style to perform the skill allocated to that motion.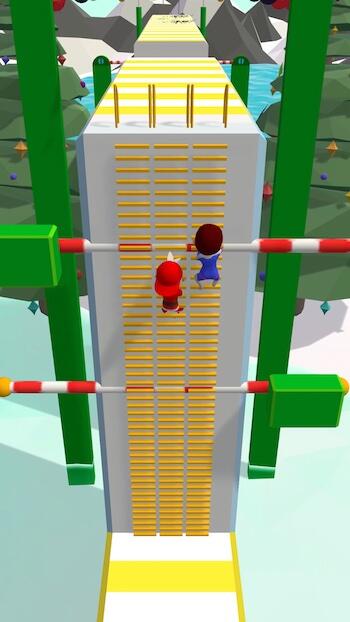 Progress from level to level, acquiring parkour points as you do so. These points, when accumulated, will further boost the gameplay by revealing new moves. Fun race 3D is all about a racer overcoming hurdles and traps set on his way, the ease and style with which he surmounts them makes the game interesting.
Game Features
Racing games are known for their extensive features that spice up the game. Fun race 3D is no different in this aspect, as it also has an interesting array of perks that make it more than meets the eye.
Shop: The shop has a reasonable amount of resources and services that further help for better gameplay. For example, Fun race 3D supports businesses by running ads that millions of its viewers watch.
However, these ads may interfere with the user's experience so, to counter this effect and make it beneficial, the shop has a unique package that places a "fun race 3D no ads" command on your account, automatically ridding it of all ads. Sadly, this feature isn't free and requires a small sum in real-world currency.
Bonus level: The game has an interesting 217 to 228 levels for the player to advance further. It was designed to take a long term before completion.

3D Graphics: With solid 3dimensional graphics and gameplay, this running/parkour simulation game adheres to real-world physics and motion.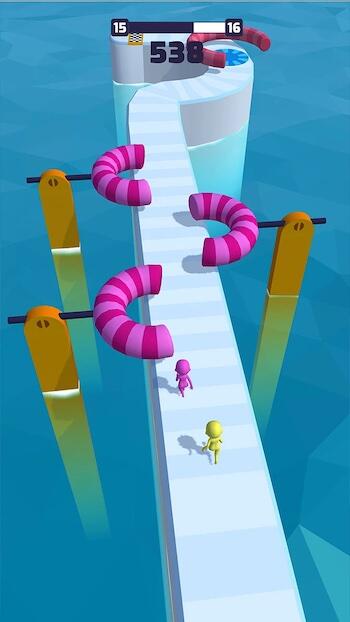 Bright colors: Fun Race 3D avoids using strenuous graphics and visuals by adopting basic cartoon-like colors and graphics to keep the player relaxed and at ease.
Good gameplay: With the release of the fun race 3d latest version, the lag that seemed to abound in the previous version has been considerably eliminated.
Offline game: Play anywhere and anytime, even with no internet service. To avoid the ads in the game, players can use the simple trick of turning off their internet connection when playing.
Conclusion
Fun race 3d is an exhilarating game that is sure to keep the player grossly immersed in it as it looks easy but, quickly ramps up the difficulty to higher levels where, the player is forced to put in more time, effort, and thoughts if they must clear the current level they are in.


Join Telegram Group
Download the Fun Race 3D APK game to run around obstacles, heights and barriers while beautifully colored people block your path in this 3D cartoon-style game.