Download Drift Max Pro APK for the ultimate drift racing experience, variety, and comfort. What's more, you can play from wherever you are. Don't miss out!
Facts About Drift Max Pro
Drift Max Pro is a 3D driving game that focuses on improving your drifting skills. Here, the aim is not only to get to the end; it's also to make as many drifts as possible during your race. As you play, you learn the secret to proper drifting; how to balance speed and brake usage.
Drift Max Pro is an offline game. After you install the app, you don't need an internet connection to play. This means it does not have the cloud save feature. If you delete the game, you lose all of your game progress. It is also free to play, but there are in-app purchases. The game is playable on iOS and Android devices.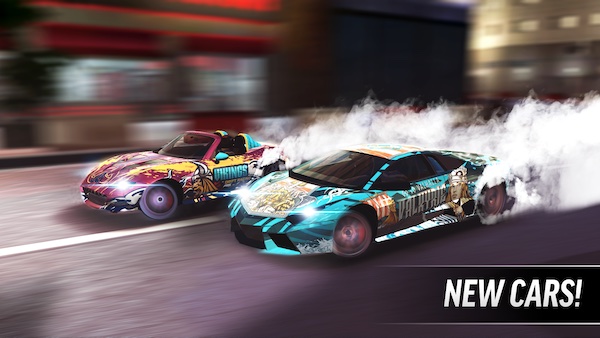 Drift Max Pro was released for AndroidOS in December 2017. Tiramisu Studios power it. It is an easy game in which longer drifts translate to better scores for you. In addition, the game offers a unique blend of game content.
It's not miles away from what you see in most racing games, but the features are outstanding. From the graphics to the controls, scenes, and vehicles, it's all enough to keep you hooked for hours.
Game Features and Gameplay
From the name, it's obvious that Drift Max Pro is solely for drifting. The quality of your drifts judges the races. The features are aimed at helping you get better at drifting, and they include: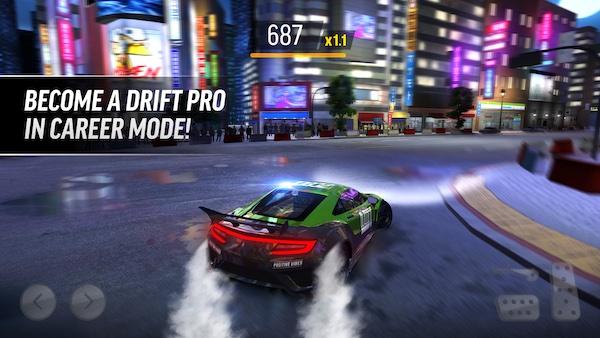 Drift Controls: There are two control mechanisms you can pick from. To make a drift, tilt your smartphone or make use of buttons that appear on your screen. Again, pay attention to timing and speed as you drive.
Career Mode: Grab cash wins as you drive and upgrade your vehicles to build the garage of your dreams. Drift Max Pro's career mode features ten driving seasons and more challenges than you can finish in a short while. But, of course, when you go through all of them, you can always repeat them to improve.
Real Racing Simulation: Drift Max Pro gives you a representation of real-life races and situations. The locations have breathtaking scenery and look just like the real deal. You get to assume total control of your car and drive in places representing Tokyo, Moscow, New York, and other big cities.
Multiplayer Mode: Drift Max Pro offers a 1v1 multiplayer game that can only be played online. Battle other racers for a climb up the leaderboard by racing and winning your games. Beat your opponent in racing or drifting in the two modes that can be played here.
Configure Your Vehicle: Take advantage of the extensive customization options, and create your dream car. Paint your vehicles, tint your windows, adjust wheel angle and caliper color and use all the options available. Get started with the tuning upgrades as well. Choose one of the tuning modes and apply it to your vehicle.
Game Modes: You can race on the asphalt in different modes. Cone Toppling is perfect for people who love to crash into things with their vehicles. Free Ride is a freestyle in which you can practice and record your drifting for future reference.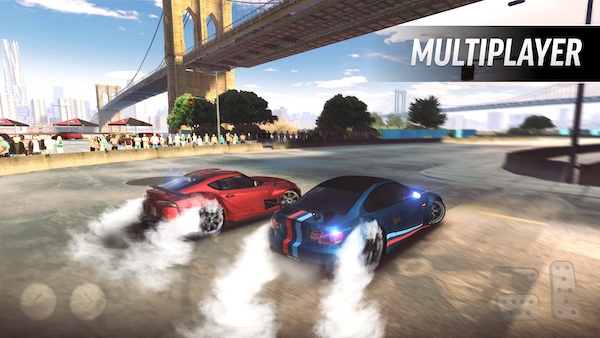 For some, the most exciting part of racing is the skid marks left while drifting, the drift into sharp turns, and the high that comes with it. With Drift Max Pro, you have a way to get better at drifting, so you can even apply the knowledge in other racing games. Complete daily objectives too for some extra money. More cash has never hurt anyone, has it?
Other Mobile Racing Games
Although most of these games don't have a sole focus on drifting, they're famous for the rot themes and features. Racing games will always rank high in the market because they never fail to provide the excitement players seek. Some top mobile racing games are F1 Mobile Racing, Asphalt Nitro, Real Bike Racing, and CarX Highway Racing.
F1 Mobile Racing is a racing game with a Formula 1 World Championship theme. It features teams and drivers from the 2021 season. You get to compete against these players and earn prizes.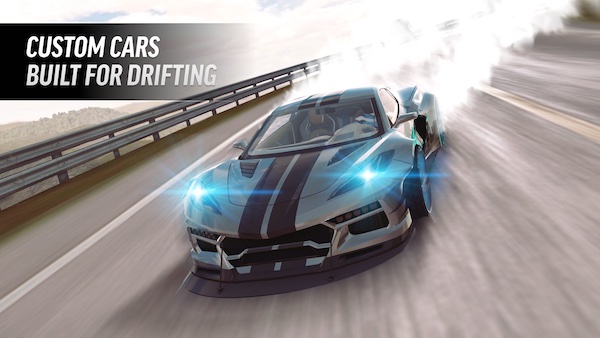 Asphalt Nitro is very popular among Android users. Race through the streets of Italy and Nevada in supercars, including the Ferrari and Lamborghini. Real Bike Racing is a motorbike racing game that offers a collection of ten bikes for your races. It can be played in Virtual Reality mode.
CarX Highway Racing is another racing game for Android and iOS devices. Like Drift Max Pro, it features a Free Ride mode in which players can drive without restrictions. It also has a Time Attack mode in which you race to beat the best scores for that lap.
It's A Tiramisu Game!
Drift Max Pro is the sequel to Drift Max City. They are both games developed by Tiramisu Studios. Since its establishment in 2015, Tiramisu has produced many games. So the decision to specialize in drifting games was a welcome one. The games are amazing, from Legendary Drift Max to Drift Max City and Drift Max Pro.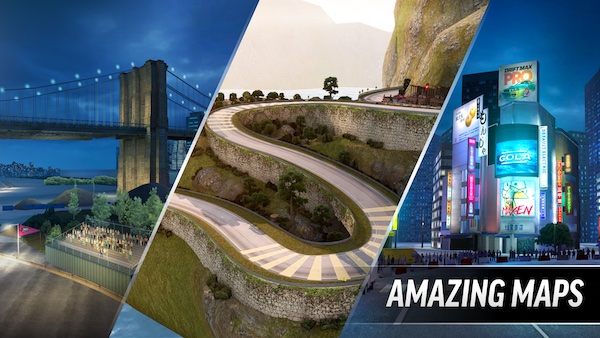 With over a hundred million game downloads, this company remains a reliable gaming software supplier. In addition, Tiramisu uses mobile-friendly technology to create games compatible with your mobile devices. From Android tablets and phones to iPads and iPhones, all these devices can handle a Tiramisu game.
Conclusion
Drift Max Pro is not just a racing game; it's a drifting game. The control systems are precise and easy to understand. However, the gameplay is not the only good thing about the game. Its graphics are high-end too. The only obvious problem is a large size. Drift Max Pro is almost 1.5GB in size. That's a lot of memory space.
It's understandable because great game content does not come cheap. Since the game is free, its great consumption of your device's memory is how you're paying for it. It's worth it. If you love a good racing game that has the element of simplicity, you'll love this one. If drifting is your favorite part of racing, this is a must-have.


Join Telegram Group
Download Drift Max Pro APK for the ultimate drift racing experience, variety, and comfort. What's more, you can play from wherever you are. Don't miss out!