Download Offroad Outlaws APK today and enjoy amazing trail rides with your friends. The Offroad Outlaws game is one mobile experience you'd be glad to have downloaded.
Offroad Outlaws
Many of us have a long bucket list of fantasies we're too rigid to try out. For some, it's skydiving, ocean diving, and several other activities (the list is endless) we'd rather pretend not to love for reasons we'd rather not admit.
For a brave few like you, it's off-road trail rides like the ones you only get to see in movies. But quiet, unfortunately, many factors tend to limit you from doing this in real life. So, you're often forced to repress your desires and divert your attention to new things, which, in the real sense, are not as satisfying as doing the activities your heart desires.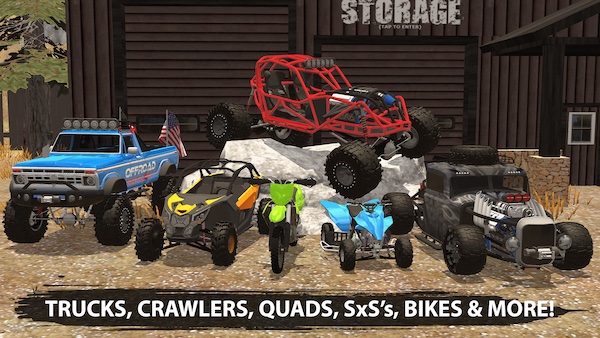 But what if I told you,that with Offroad Outlaws, you have another chance at checking off one out of your bucket list and reaching more self-fulfilment as an individual? Well, yes, Offroad Outlaws gives you what you need in trail rides and allows you to enjoy it as much as you can with your friends and family.
Offroad Outlaws - An Overview
Before you go off for your Offroad Outlaws download, It's important that we first discuss all you need to know about the game and why it might be a worthy download on your smartphone.
To start with is Offroad Outlaws' gameplay. Unlike many games like it that you might have come across, Offroad Outlaws allows you to enjoy car racing simulations that you'd otherwise not be able to enjoy in real life. One fun part is that you don't get to enjoy it alone. The game allows you to play in 4 different modes and enjoy it with your friends. You can play as a single player who wants to pass away time, a multiplayer who enjoys a real one-on-one challenge, a bounty trail, and also as a trail runner.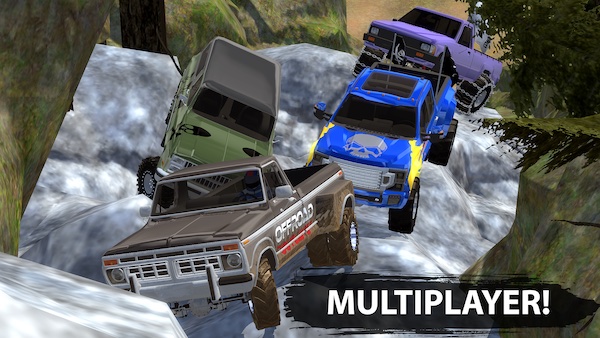 What makes Offroad Outlaws more stimulating than real-life trail road races is the fact that it gives you all the control you can get over your races. In the Offroad Outlaws game, you're your rig builder, chassis assembler, and rig customizer. That's how fun the game is; you get the chance to impossible customizations and retrofitting that make your race more interesting for you and your friends if you decide to play with them.
Offroad Outlaws takes rig road drive to the next level with the different open world maps you'd get in-app. You can either take a rough ride over hills and rocks or slippery rides through desert sands. If this gets boring, Offroad Outlaws allows you to take your rig into stunt and rock parks where you can take easy test drives through ramps and rocky planes to test that your most loved rig is in great shape and can take all kinds of rides. You can even choose any type of ride you want, ranging from trucks to crawlers, and bikes.
Offroad Outlaws' Gaming Graphics & Controls
Mobile game lovers love a good game with smooth controls and graphics that allow them to have an enjoyable experience every time they interact with it. Offroad Outlaws is one of those games. Aside from its 100% enjoyable gameplay, the game also has realistic graphics to complete the gameplay.
Too scared to do a trail road in real life? No worries, here comes Offroad Outlaws to help you check that fantasy off your list.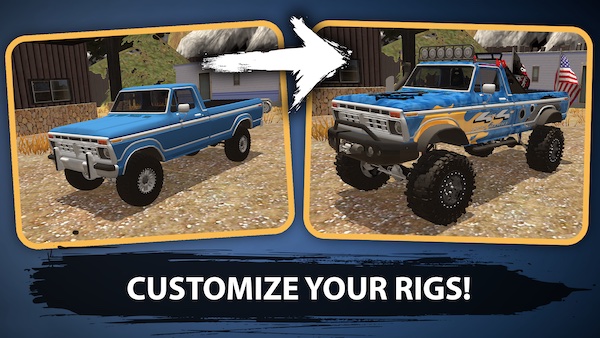 Offroad Outlaws' controls are just as fantastic too. You can't have a great game with great graphics and then end up with bad controls. That would be too bad for you. But fortunately, this game is the ultimate dream of every trail road fantasy owner. The controls are just as smooth as the game, with all the control buttons with reach for a full-blown enjoyable experience.
Offroad Outlaws' locations are also something you'd come to enjoy, there are different locations with more to unlock, especially with the Offroad Outlaws new update 2022. In Offroad Outlaws' new update, you'd also gain access to new vehicles and features that you can purchase using your earned money and gold.
You'd also be able to find this app's version, and it comes with Offroad Outlaws unlimited money & gold that allow you to have unlimited fun playing the game. This Offroad Outlaws app unlimited money version allows you to play in any plane you want and with any vehicle you like without having to stress over making money before any purchase can be made.
FAQS
1. How to Get Money in Offroad Outlaws?
Want to know how to get free money on Offroad Outlaws? Pretty easy. Play the game. There is a lot of money lying around in the game, and not playing it may leave you broke, technically. Just run and win races. The more races you win, the more money you'd be able to make to buy more vehicles for your rides. You can also pick up crates as you race through the trails.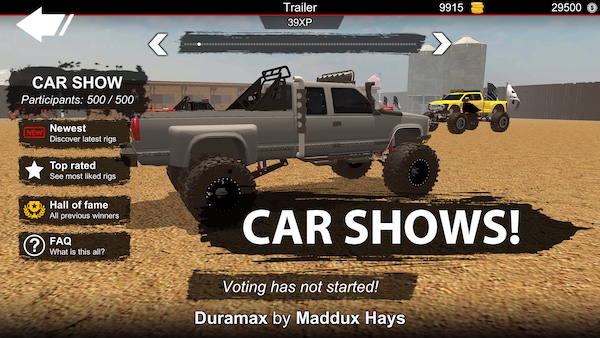 When you, however, become a subscribed member, your money is multiplied by 3, so you have as much money to enjoy the game so well.
2. How to Get Gold in Offroad Outlaws?
The same way you race to get Offroad Outlaws money is the same way you have to race to earn more golds you'd need as you progress in the game.
Subscribed members also get x3 of their gold earnings when they race. You also get more money and gold when you unlock all the maps.
3. How to Get Cars in Offroad Outlaws?
At the start of the game, you'd be given a chance to pick and customize any vehicle of your choice. To get more, you'd have to use in-app cash to make payments and buy any vehicle of your choice.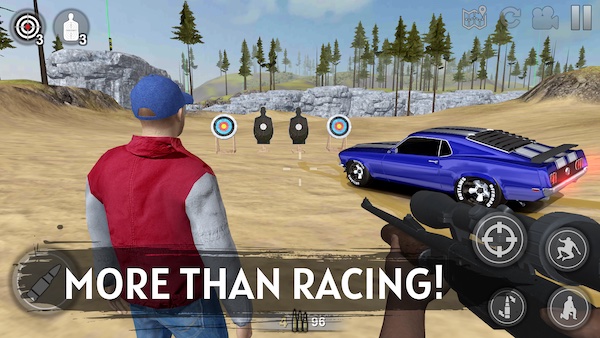 Offroad Outlaws update even opens you to different interesting cars that you can get for your immersive trail road trips.
Conclusion
Can't get to cross those trail road trips you've always wanted to take off your bucket list? Then why not pay Offroad Outlaws, an interesting game that allows you to realize your dreams without even getting out of bed.