Download this high-speed, high-intensity racing game and own the streets with Rally Fury APK. Race against your opponents to see who crosses the finish line first.
Rally Fury
Rally Fury- Extreme Racing is a fast-paced racing game created by Refuel Games. It is a mobile game developed for both Android and iOS operating systems. Rally Fury implements the popular tactics of most racing games, giving players a thrilling experience with fast races in different locations. The game delivers on giving players an adrenaline rush and allows friends to play together in the online multiplayer mode. Rally Fury is an exciting racing game with many cool and unique features.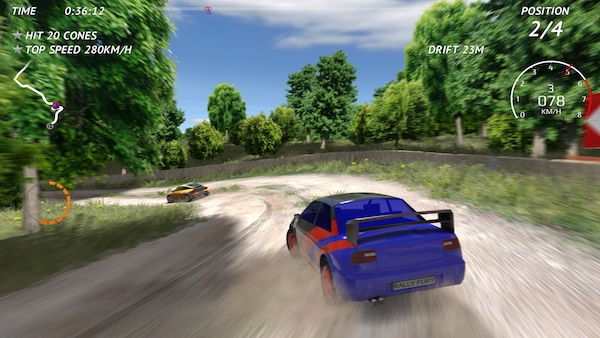 With Rally Fury, players don't only get to race their cars but can also customize and design their cars. The features of Rally Fury make it exciting and keep players interested in this racing game.
Rally Fury description
Rally Fury is a competitive racing game that can be played in either single-player or multi-player mode. Players can download Rally Fury on all sorts of mobile devices. The single-player mode is played alone offline against AI opponents while the multiplayer mode is played online against real people worldwide. The game is fun and intuitive.
The game first offers you free credits to buy a car. Credits are one of three forms of in-game currency in Rally Fury. You can take your pick of the cars available. The cars have different statistics and specifications. The more impressive the car is, the more credits it will cost. Rally Fury allows users to test drive each car before they make their choice. The test drive for each car lasts only 180 seconds.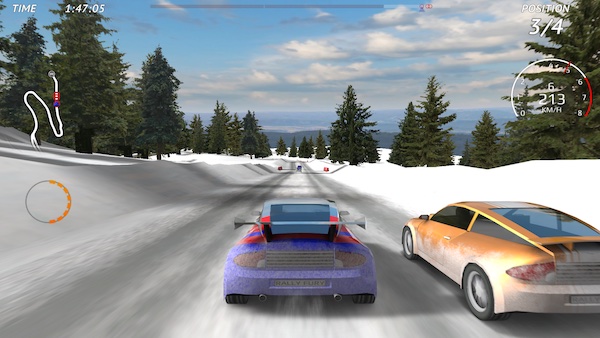 After a car has been chosen, players have the option to customize the car. Customizing the car is also done with in-game currency. The customization includes the car's color and other aesthetic decisions like the plate number or underglow lighting. Once that is settled, players are taken to a racing tutorial. This shows them how to play and how to control the car. Players can set their gaming preferences before they begin racing properly.
While racing, the game has different types of bonuses scattered all around the track. These include speed bonuses, lag bonuses, and 2x bonuses. These help by giving you an advantage in the race and also making the game more exciting. Different race tracks and locations have varying volumes of bonuses scattered around the tracks spontaneously.
Each time a player races and logs in daily, they are rewarded with bonuses on in-game currency. Winning a race helps players earn these rewards which can be used to purchase different things that help to give them advantages during races. With Rally Fury, there is never a dull moment. Cars can perform different tricks like drifting, activating nitro boosts, driving up ramps, and more.
Features of Rally Fury
Rally Fury features an array of exciting features for players to enjoy.
Setting preferences
When you start the game, Rally Fury allows players to set their gaming preferences for different aspects of the game. This includes the camera angle preferences and steering preferences. The camera angle preferences can be toggled between first-person and third-person perspectives.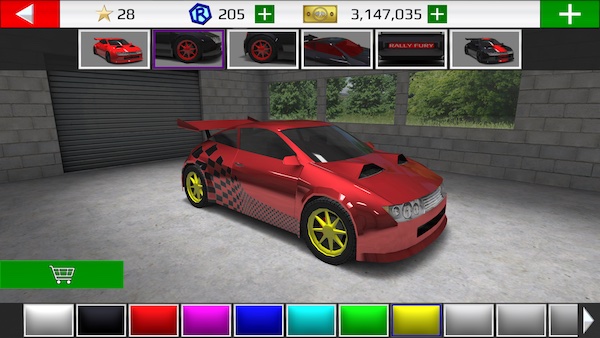 There are different options for how far zoomed in or out the camera will be. As for the steering settings, players can choose between tilting to control the car and tapping on different sides of the screen for control. Each of these settings has advantages depending on what the player is most comfortable with.
Locations
With Rally Fury, players do not only have to play in one terrain. The game starts with only one race track unlocked but, as players continue to race and get stars, they will be able to unlock the other locations. There are six unique locations featured in Rally Fury: The Test Track, The Circuit, Alpine Mountain, Tropical Beach, Green Fields, and Desert Canyon. The different tracks have unique features and random selections of bonuses on the race. The track locations are beautifully designed to encapsulate the settings they are drawn in. The backgrounds add to the atmosphere of the race as players zoom past mountain ranges and relaxing beaches. Race tracks also include different shortcuts and high-risk areas that are exciting to use and scale when mastered. The more you race on a track, the better you understand it.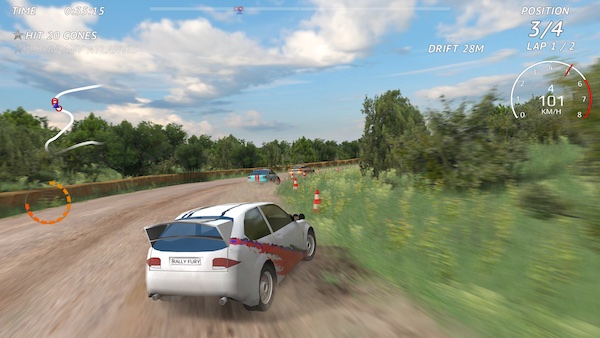 In-game currency
There are three types of in-game currency in Rally Fury. These currencies include credits, tokens, and stars. Each of these can be earned by completing tests within certain time frames and winning races or watching ads. The different types of currency are used to make different types of purchases in the game. Free credits are given at the beginning of the game to purchase a car. Credits are also used to upgrade your car's statistics such as the engine nitro boost, speed, and tires. Tokens are used to purchase aesthetic features for your cars such as paint, decals, and license plates. Stars are used to unlock different locations and race tracks.
Events
Rally Fury offers different racing events for players to partake in if they are bored of regular racing. These events include cone attacks, pursuit and skills tests, free drive mode, and checkpoint mode. Each of these exciting events offers players a chance to enjoy different types of driving that are not simple competitive races.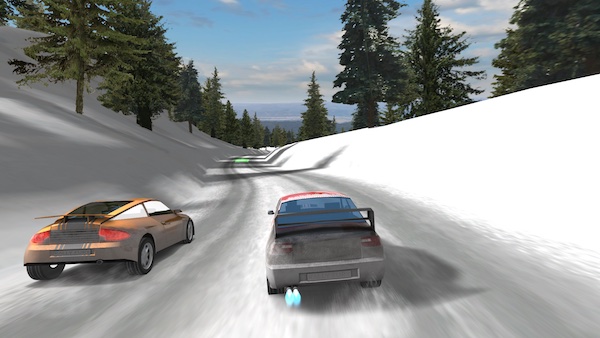 Events are always available for players to get a chance to explore different types of racing. Rally Fury events can also be played in single or multiplayer and the game offers over 100 events scattered over different locations.
Conclusion
Rally Fury is a thrilling and exciting racing game that allows players to enjoy all the best parts of car racing. The game is intuitive and player friendly with a great user interface that is fun to use. With Rally Fury, players do not have to repeat the same race circuits, but the different locations and events offer up diversity to the game. When playing in single-player mode, an internet connection is not required which makes the game more accessible to all kinds of players.
Rally Fury is fun and engaging, keeps players interested, and includes amazing features.
Word count: 1028