Download Hill Climb Racing APK latest version free for android and start making your car fly and bounce as you enjoy incredible hang times.
Getting And Insight Into Hill Climb Racing APK
Hill climb racing is an addicting vehicle driving game where you drive a vehicle on rough terrains just to achieve bounces and hang times. The sole purpose of the game is NOT to keep your vehicle restricted to the ground. Let it fly and remain in the air for a while as you move speedily over a rough and bouncy terrain that'll give a boost to your vehicle up in the air. You'll be controlling two pedals, collecting random stuff as you drive, seeing how much you've driven per level, and completing the goals in each level to advance to the next one.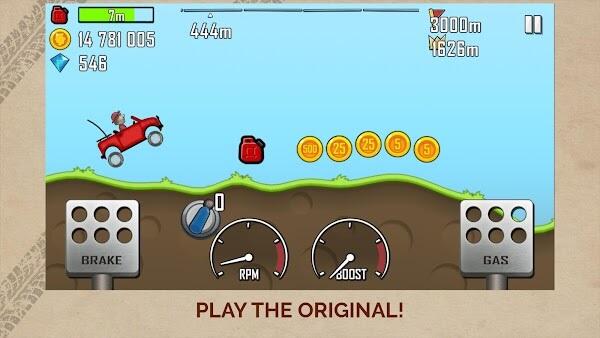 The game is set in a side view, so the gameplay experience will be kind of different from a regular racing game. There are several types of terrains in the game. You might be driving on a grassland, on rough terrain made out of wooden logs, or maybe in a snowy environment, and more. The game's got ample content to keep you engaged for hours without getting distracted.
2D Graphics At Its Best
Hill climb racing uses 2D graphics at its best to deliver a stunning gameplay experience. The graphics are in high-quality (high resolution) with sharp and crisp detailing. The entire gameplay uses several colors in order to enhance the viewing experience. The controls are well-placed on the screen to facilitate smooth and convenient gaming. Moreover, the game supports several refresh rates on various devices, so expect no freezing or sluggish behavior from the game's end.
Gas & Brake Is What You Care About
The primary objective for you as a gamer would be to control and master the technique of handling the gas and brake pedals to achieve an as high score as possible. The gas pedal is meant for acceleration, so you need to adjust according to the terrain to gain a high bounce up in the air to gain more air time. Air time is added to your overall score that'll help you head into the game. Brakes are necessary to avoid crashing and burning.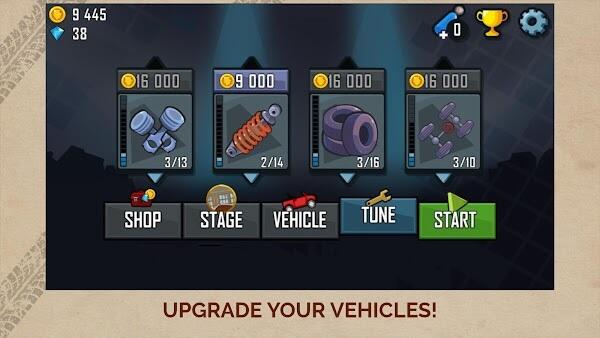 So when do you need brakes anyway? It's a common belief that brakes will slow you down, and that's not what's the objective. However, that's totally wrong. You need brakes to avoid getting out of balance. It'll help balance the kinetic energy of your vehicle to keep it on track for a long driving session.
Check out the RPM and boost meters that'll help you understand your speed in the game. Use boost for increased momentum, leading to high air time.
Collect Coins & Other Resources En-route
As you drive, you'll get coins and other random stuff like gas, etc., to collect. You might miss them while in the air, but these items will help you in the short run. Use coins to upgrade your vehicle or unlock the locked ones. Collecting gasoline will keep your vehicle's fuel tank full, which will keep your vehicle running at each level.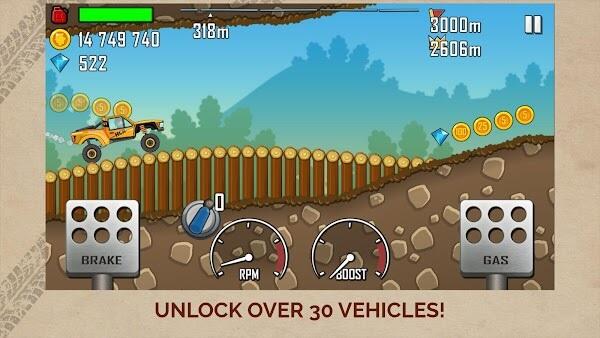 There's a target on each level regarding how much distance must be covered and how much area you cover while in the air. It'll be counted and added to your overall score.
More Than 30 Vehicles For You To Unlock
Not happy with the available vehicles? There are over 30 vehicles for you to unlock in this game. And how to do that? Just keep playing, or the in-app purchases won't fail to impress you. There are vehicles, including dirt bikes and mountain bikes, 4-wheelers, and more. Unlock and play each level with your favorite choice.
Once you unlock a vehicle, it'll remain available throughout. Moreover, certain vehicles are costly, so that explains the necessity of collecting the coins in the game.
Vehicle Upgrade Is Crucial
If having a hard time keeping up with achieving the goals, perhaps it's time for a vehicle upgrade. Depreciated vehicles will fail to keep up with the challenging changes in the game. So you can tune in your vehicle to increase the fuel tank capacity and mileage (so it uses less fuel and runs longer), and enhance for better stability, increased driving time, tires, shock absorbers, etc.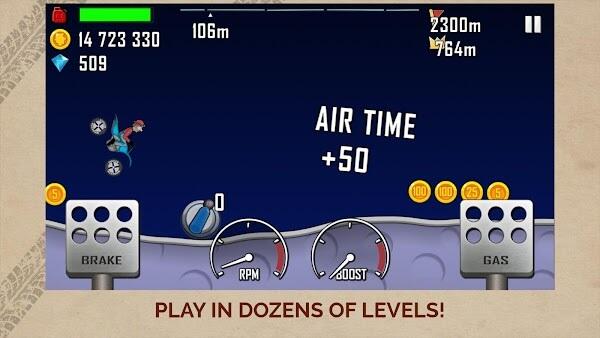 Again, these tweaks cost coins. There's a certain limit on how many times you can go for each upgrade. For instance, the maximum times you can upgrade the tires would be 16 to max it out.
Endless Levels To Play
Keep playing endless levels. You play as Newton Bill, who's out for uphill racing. The final goal is to race in the hills on the moon. You'll start from the planet Earth and keep going unless you reach the moon. Crazy yet interesting, isn't it? Now here's a catch. There are many gamers out there who suspect boredom in games with endless levels since the creators run out of unique ideas after a while and end up repeating the same levels with little to no modification. Hill climb racing remains an exception here. You won't get bored after a while and won't come across repeating levels after a certain threshold.
Daily Challenges For Daily Players
Mobile games are equipped with daily challenges to keep the users active. This game ain't no exception here. Daily challenges are different from the core gameplay, allowing players to get a different taste in the same game. Hill climb racing allows taking up challenges and completing them on a daily basis to earn some rewards.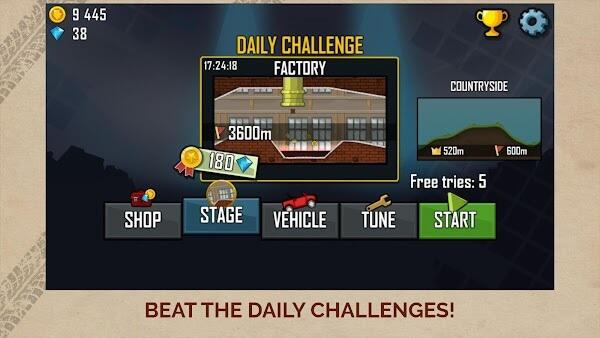 The rewards earned through daily challenges are aimed to make your core gameplay stronger than ever. You might get random items, freebies, coins, gas, or other items, depending on your luck. Daily challenges are optional, and you can totally skip them out if you're not into such kind of stuff.
Conclusion
By the end of this thorough review, it's clear that Hill Climb Racing APK is not inferior when it comes to fun and uniqueness. With endless levels, dozens of vehicles waiting for you to get unlocked, and challenging gameplay to keep your vehicle in the air as much as possible, you'll get a classy yet interesting gaming experience that'll keep this game installed on your phone for a long time.