Download Score Hero 2 APK latest version free for android and become a scoring legend. You will take several shots to test your accuracy and precision.
Critical Analysis of Score Hero 2 APK
Score Hero 2 is a sports game offered by First Touch Games Limited. It was designed for football lovers who want to experience what it feels like to be a professional footballer.
You must shoot the ball into the net to score goals and become a hero. There are different modes in the game, each with varied assignments. Ensure 100% execution to progress to the next level.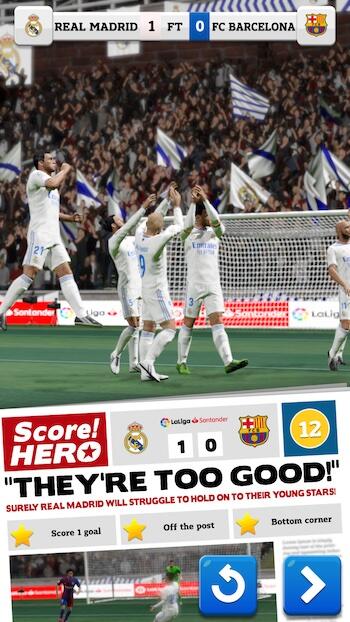 You will experience real-life football matches in the stadium and train to be the best footballer. The 3D graphics make the game more realistic, and the background music keeps you motivated throughout.
If you love football and want to be a star, download Score Hero 2 APK for Android. It is highly compatible with Android 6.0+ devices. It also offers optional in-app purchases ($0.99 – $29.99 per item) to boost your winning chances.
Highly Engaging Gameplay
This mobile game is based on the concept of real-life football. You will play as a professional footballer and take different shots to score goals. The more goals you score, the more chances you have of becoming a legend.
While that sounds easy, it is not. The game gets challenging as you progress to the next level. You must take long-range shots, beat the goalkeeper, and make difficult passes.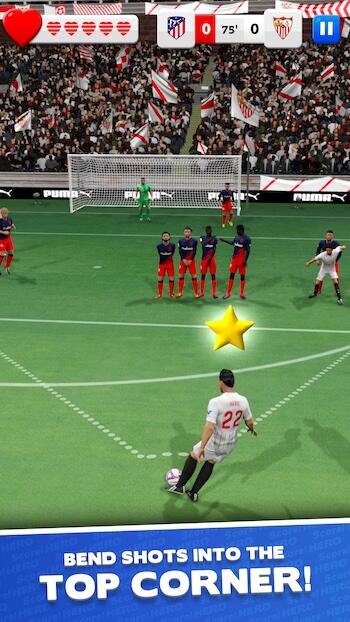 It tests your timing, tenacity, and dexterity. The controls are quite straightforward & highly responsive. All you need to control your player is on the screen. Simple touches and swipes will help you take the perfect shot.
Build Your Name
When you start this game, you will be unknown but highly talented. You will need to work hard and score goals to progress through the ranks. After every match, you will earn rewards that will accelerate your journey of becoming a hero.
You must always be careful not to miss shots. Take your time to align the ball with the net. The shot timer keeps ticking, and you should be quick but precise.
You will also have to manage your team well. Upgrade their skills and buy new players to form a strong squad. The better your team, the higher your chances of winning tournaments.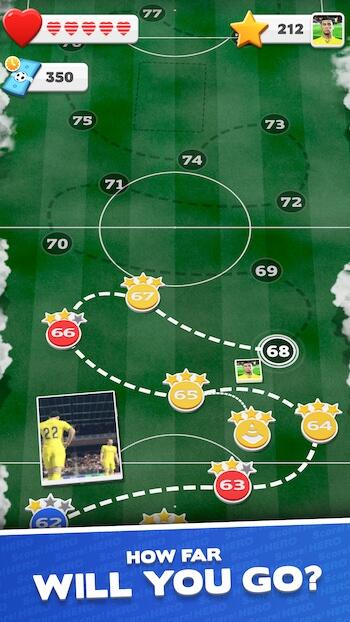 As you keep playing, you will slowly build your name in the football world. From an amateur, you will turn into a global superstar. Your fans will follow your every move, and sponsors will line up to sign you.
Outstanding Features of Score Hero 2 APK
Real Clubs.

This game features 90+ licensed clubs from around the world. You can play for teams like FC Barcelona, Liverpool FC, and Borussia Dortmund.

Genuine Leagues.

You will also find official leagues, such as UEFA Champions League, Europa League, Bundesliga, and LaLiga Santander. It also features authentic badges & kits.

Many Players to Select.

This game features real footballers. You will be at liberty to sign up any player you want. This way, you can decide the trajectory of your gameplay.

Vibrant Stadiums.

The game provides a realistic match atmosphere with vibrant stadium designs. You will feel like you are in the middle of a live match.

Regular Events.

New events keep popping up to keep the gameplay fresh. You can participate in these events to win exclusive prizes, such as playing cards and coins.

Make Undeniably Good Strikes.

This game is about scoring. You must pick your kicks and curls accurately to make the ball go into the back of the net. You can time corners, free-kicks, and volleys to make some truly great strikes.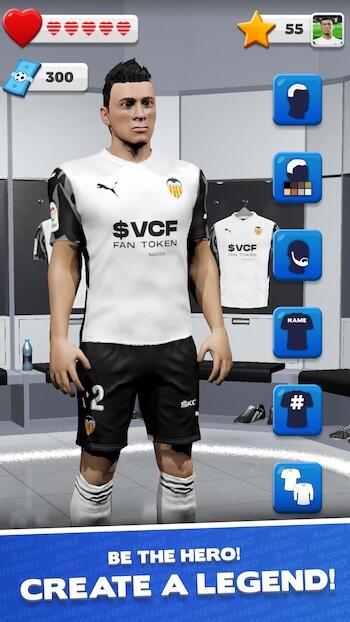 Live in the Moment.

Experience what it feels like to play football in front of a massive crowd. You will feel the pressure as the timer ticks down. The stadium will come alive with chants and cheers when you score goals.

Immersive Commentary

. This game features realistic commentary in multiple languages. The commentators will guide you through the match and provide insightful analysis.

Sync Your Gameplay.

This game allows you to sync your gameplay across multiple devices. You can start playing on your smartphone and continue on your tablet. This way, you will never lose your progress.
Customize Your Heroes
This game allows you to hand-pick your heroes and give them unique looks. You can design their hairstyles, accessories, and even tattoos.
You can also upgrade your players' abilities by spending coins. This will help them score more goals and run faster on the pitch.
Score Hero 2 APK Download
If you are a beginner on a low budget, it can be difficult to unlock prime features in the game. If you're in such a situation, the Score Hero 2 APK connection problem-free version will save your day. It has the following outstanding features:
Score Hero 2 APK full energy.

The APK will give you full energy so that you can play as many matches as you want without getting weary.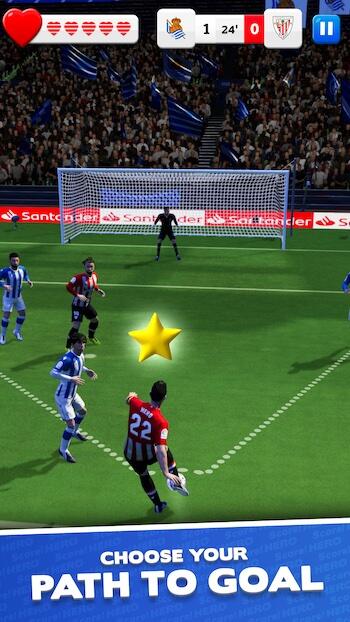 Score Hero 2 APK all levels.

The game has freely accessible levels, allowing you to play any level you want without earning it through gameplay.

No Ads.

The Score Hero 2 APK unlimited energy is ad-free. As such, you can be sure of a hassle-free gaming experience.

Score Hero 2 APK unlimited life and money.

If you want to access all the resources you need to unlock players and fields, you should get the Score Hero 2 APK unlimited hearts. This version will give you an infinite number of coins and lives.
Conclusion
Football is a sport that people from all walks of life follow religiously. This popularity has given birth to many football games, score hero 2 being one of them. It features licensed clubs, leagues, and players. The game also has many customization options.
You can use the Score Hero 2 APK to get full energy, and improved graphics. This will give you a superior start over other players.