Download Pokémon Quest APK, a roleplaying game featuring cube-shaped Pokémon – in a land where everything is a cube, you have to find awesome hidden treasures.
An In-Depth Description of Pokémon Quest
As stated above, Pokémon Quest is a roleplaying game that features cube-shaped Pokémon – the Pokémon you love and are familiar with has turned into cubes. In this game, you will go out on an adventure with your cube Pokémon to Tumblecube Island (everything is cube-shaped on this island). Your goal in this game is to find all the amazing treasures that are said to be hidden on the island. You will see your favorite Pokémon from Pokémon Red and Blue in this Pokémon Quest, so that is something to look forward to.
This free-to-play action-adventure game was developed by Game Freak and published by The Pokémon Company and Nintendo in May 2018. Within a week of the release of Pokémon Quest, the game reached over 7.5 million downloads which goes a long way to show how amazing it is. The game is not all about searching for and collecting hidden goodies on the island but also defeating enemies, adding new Pokémon to your collection, and collecting evolution stones. There will be danger lurking around every corner, so you will need the help of your Pokémon buddies to fight and come out victorious.
Pokémon Quest latest version has simple controls to make your battles against enemies fun and easy. All you need to do is tap the screen, and your Pokémon will attack any wild Pokémon that appears, knocking them out one after the other. Players have access to three Pokémon in each level and will move automatically – they are allowed to choose. Your job in the Pokémon Quest latest version is to manage the special skills of each Pokémon when you come across wild enemies. If you win these battles, your team (all three creatures) will become even more powerful.
A base camp – in addition to the action levels – serves as your home for this adventure. Since it is your home, you will have to manage it and spice it up however you want. You can construct tools and buildings that will give you an upper hand in the game. For example, you can make kitchen recipes that attract some specific Pokémon to your base. You can also design your base using fun and cute decorations. It is up to you to decide how you want your base to look, and the decorations can make your work on the island more beneficial.
Pokémon Quest is a fun and light-hearted game; the original concept of using cubes makes the graphics a lot more outstanding and unique. Players can use the items they get from their journey to make their Pokémon stronger for battles or befriend more Pokémon and increase their collection. When you befriend more Pokémon, you will be able to create a stronger team and head out in search of more goodies on the island. With Pokémon Quest, players are guaranteed a fun gaming experience – our site offers a straightforward Pokémon Quest download process so you can get right to it.
Features of Pokémon Quest
Now that you know about Pokémon Quest let us look at some of this game's exciting features.
Go On An Adventure In Tumblecube Island
In Pokémon Quest, you will take up the role of an animal trainer and go on a journey to find the awesome hidden goodies and the most powerful animals on Tumblecube Island. Players can use the items (wild Pokémon) they collect on their expedition to make tasty meals that will attract Pokémon to their base. With the help of your Pokémon, you can find hidden treasures and fight against any wild Pokémon you come across along your journey.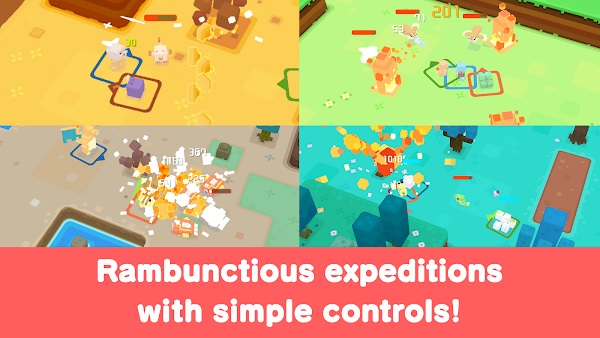 To complete the Pokémon Quest adventure, you have to make it through twelve different locations – all of which have three to seven levels. At each level, you will explore Tumblecube Island (it is enormous, so you will spend a lot of time here). On the island, you can collect incredible treasures that you can use to upgrade your Pokémon, making them more powerful. Every level is an excellent opportunity to collect new Pokémon, so you should take advantage of that.
As stated above, you can have your base camp, which serves as your home throughout this adventure – it is where you will cook and take care of your Pokémon. There are about eighteen delicious meals you can create, and every Pokémon has a dish they prefer depending on their taste. It is also never a bad idea to decorate your base camp with fun decorations, as this will make your Pokémon happy and a great way to show off your unique style.
151 Pokémon For You To Collect
In the Pokémon Quest latest version, there are 151 species of Pokémon for players to collect, and that is quite a large number. Each Pokémon specie has different special abilities and skills – some have more than one special skill but are challenging to collect. Explore the island of Tumblecube to find the most powerful Pokémon and make it your creature. Remember that you can use the gems you see on the island to upgrade your Pokémon, increasing their strength.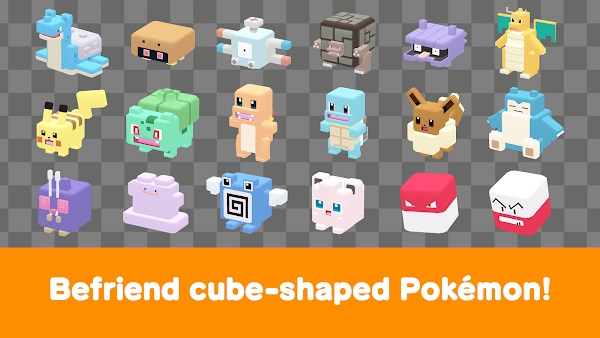 Graphics
As stated above, Pokémon Quest has an original concept of using cubes which adds to the visual experience – everything is cube-shaped, from the Pokémon to the scenery, bushes, castles, and lakes – and this is unique. The style in Pokémon Quest is a style you have never seen before in other Pokémon games – the graphic details are similar to the ones you see in old games, which is pleasant to experience.
You can always back up the data of your progress in this game. It is advisable that you do this so that if you ever buy a new phone or accidentally delete a game, you will still be able to start from where you stopped.
Conclusion
Pokémon Quest is a fun and relaxing game that does not require speed or critical thinking, making it a perfect game for children and adults. Dive into a world of cube-shaped Pokémon and explore Tumblecube Island with your Pokémon buddies. Our Pokémon Quest download process is straightforward – so what are you waiting for? Hit the download button now.