Download Pixel Art APK game – a game suitable for relaxation and stress relief. With the pixel art app, you get to create your art while easing stress.
Pixel Art
Pixel art color by number game is a game that uses aesthetics and graphics properties to create characters, art, or your world. The pixel art app was published by Easybrain. If you are a fan of retro games, then you will love the pixel art game. It contains several awesome features to choose from while you relax.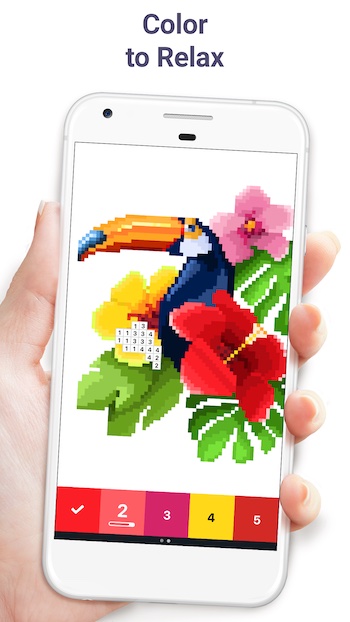 In addition, pixel art color by number games gets your creative abilities out as it engages you with activities. It is a totally fun game to reduce anxiety, helping you focus on the colors and other things. Images, worlds, and characters are built with the use and placement of pixels.
Pixel Art Description
There is no doubt that art games are an excellent way to reduce stress, anxiety, and relaxation. Pixel art color by number is a game classified as an art game. On pixel art, there are over 15,000 pieces of artwork you get to paint or color. However, aside from the artwork, you have the option to create your art through the pixel art camera.
Pixel Art is a single-player game, you get to choose the color you want, what to color, and when and where to do it. Therefore, it aids relaxation, there's no form of disturbance. Pixel art color by number game app is available on all mobile devices. The app offers sets of colors and canvas for designing.
By default, a grid shows up on the canvas. However, you can turn it off if you're not comfortable with it. Also, there are several grid sizes to pick from, that is, and you get to change them. The sizes range from small [20x20] to medium [30x30] and large [40x40].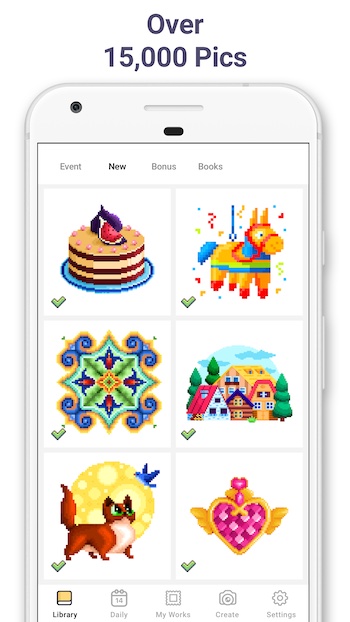 In addition, pixel art contains up to 20 different colors in its palette. You can choose multiple colors and switch between them as you color your art. Using the pixel art app, you can easily draw any character in pixels.
Furthermore, there are several artworks to work on the app. However, you can choose to create your art or character by uploading it from your media library through the pixel art camera. Pixel art color by number is a simple and beneficial game – all you have to do is browse/upload pictures or choose artwork, tap on a color number and start painting the image or art.
Pixel Art is a 2D and 3D coloring game suitable for young and adults with a full palette of colors to choose from. You can use a color booster in the app to finish a picture. Also, the pick color splash option to fill your artwork with colors as you want.
Features of Pixel Art Color by number
There are many great things about this app. Below are some of the features that make it a great app;
Setting Preference
There is a setting option on pixel art to help you choose your color, images, and others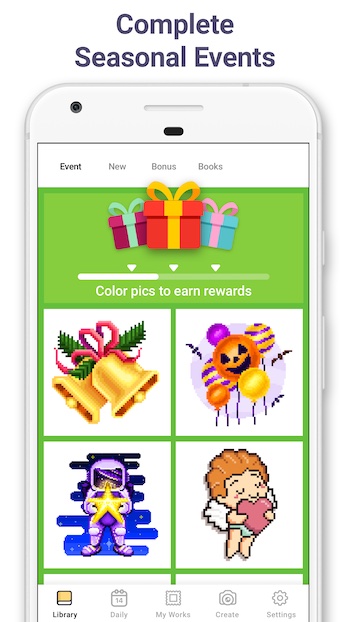 Brand New feature
This feature gives you a flower garden on the app. You will be able to build your garden to get rewards and also to color unique objects.
2D and 3D coloring
Om pixel art, you color both 2D and 3D images giving you an amazing coloring experience
Quick share
With this feature, you get to share your art videos with friends on social media or through emails with a single tap.
Coloring tools
There are over 20 different colors on pixel art to beautify and create your art.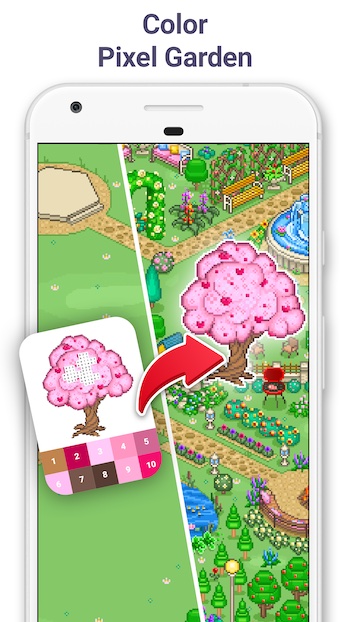 Pixel Art Camera
This feature enables you to upload your kind of art or picture, and from there, you paint your art
Others;
Daily updates of new images to color
Varieties of coloring pages to suit your tastes like Mandalas, patterns, animals, birds, flowers, food, places, and many other things
Events – some images are specially created for major seasons, festivals, and holidays. You can color some of it and get bonuses. Also, creating your event images is a great feature here. Events like Christmas, Thanksgiving, and birthdays can be created
Easy Coloring
Pixelate your picture
Online Color share
How to use Pixel art color by number game
Using the pixel art app is easy and simple. Here are the things to do;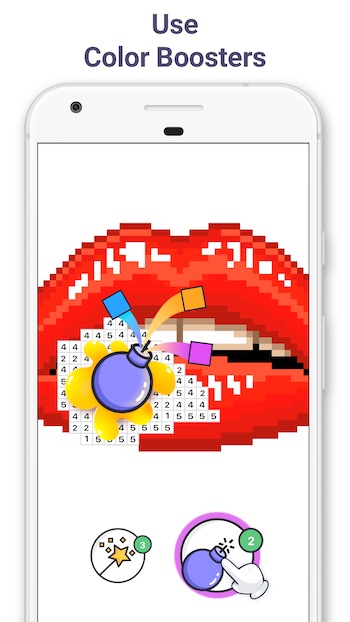 Choose a picture, it could be one of the artworks or your picture
Zoom in to see the grids to insert color
On the color palette, pick your preferred color whose number is indicated on the image
Use color boosters or color splash for fun
For perfect coloring, utilize magnifiers by holding your fingers on the screen for 3 seconds to activate the coloring tools.
It is that simple
Conclusion
No doubt, pixel art color by number game is a thrilling game. Aside from the fun of it, you get to relax while using it. That's such an amazing feature. You can use it at leisure, while tense or worried.
There are several color preferences to design. Pixel art game app is easy to use and simple; hence it's suitable for young ones and adults.
Fill up your day with so much fun by downloading and using the app.