Download Nitro Nation Drag and Drift APK to participate in fun races using realistic-looking cars. You can also create teams with your friends and compete in tournaments! Get started!
Introducing The Nitro Nation Car Racing Game
Nitro Nation is a drag racing game where all you have going for you is your vehicle and skill. The game offers an environment where you can freely show off your driving skills. There are many cars to choose from here.
Nitro Nation also introduces you to the world of drifting. There is enough space on the roads for you to practice your drifting using the vehicles that have been made available. While playing Nitro Nation, you'll see cars from popular real-life manufacturers.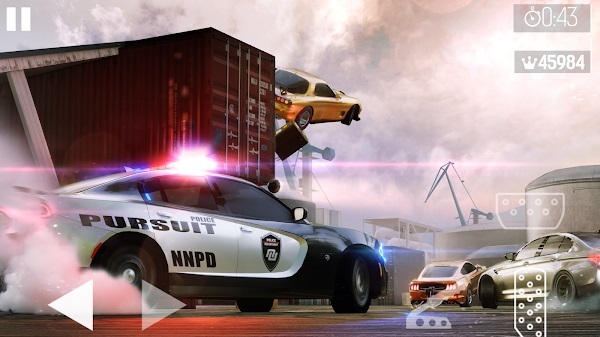 One of the fun parts of playing this game is that you get to experience what it feels like to sit at the steering wheels of these vehicles. You can also trade car parts with other drag racers to get your car closer to becoming your dream vehicle.
The game lets you customise your vehicle with decals, paint and finish. This gives your cars a personal touch that makes them even more visually appealing than they already are.
Gameplay Broken Down
Players drive different cars with unique designs and feel. Nitro Nation immerses you in an environment designed for racing. You can play the game in drag or drift mode. The first mode involves drag racing only. The goal is to be the first player to get to the finish line of the drag race.
In the drifting game mode, you must show your drifting abilities and earn points based on your performance. You control your car in the third person, but you can sometimes change your perspective. For example, in drag mode, the view does not change to the third person until you begin to move forward.
Unlike drag mode, drift mode has the player control the car in the third person for the entirety of the round. This game mode also has advanced control options. The two Nitro Nation game modes are very different, but they both offer an exciting gaming experience.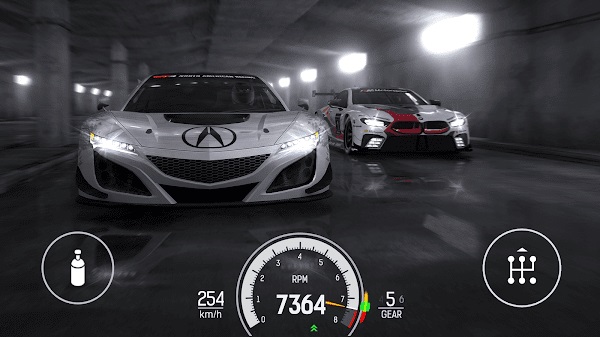 Drag mode is the first you'll see in the game. Here, two cars appear on different roads. You win here by finishing your race on your route in the least possible time. This mode also requires you to make specific shifts at the correct times to improve the speed of your car.
Drift mode is one where you get to focus on drifting instead of the usual driving. The gaming environment here is larger to give you more space to achieve skilled drifts. You must constantly drift while playing in this mode to increase your score.
Practice your skills alone in the test drive feature of this game so you can show them off in online matches. Your opponents will be skilled too, so you must be well-prepared to stand a chance against them.
Nitro Nation Game Features You Must Know
Although the drift mode is not the only one here, it is more complicated than the drag mode. The features are also complex, but this section breaks them down well. All the cars in Nitro Nation can handle drifting. You don't have to worry about the vehicle you choose. Just focus on skilling up.
The drift features you need to familiarise yourself with include: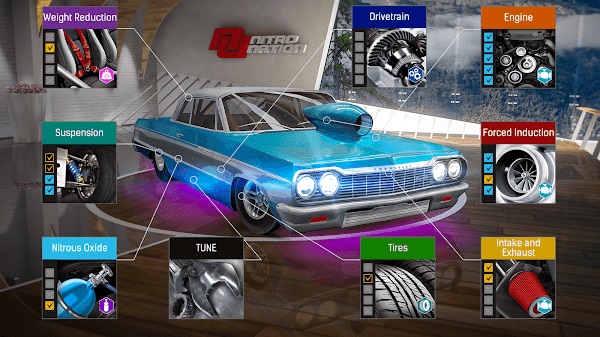 Acceleration Controls: Once you get the hang of the game, you can customise these controls to your preference. To adjust your vehicle's acceleration, you can use the pedal, slider or auto-acceleration option. Press and hold the pedal icon or slide to a level on the slider to control the acceleration. Auto-acceleration ensures your car accelerates without stopping, so you'll need to pay attention to your brakes if you use this.
Steering Types: There are four options: Steering Wheel, Arrows, Gyroscope and Slider. Rotate the steering wheel to steer your car. Next, click the arrows to choose a direction for your car to go in. When you turn your phone, the gyroscope option moves your car from side to side.
Drift Drive Modes: You can drift-drive in the simplified or realistic mode. Disabling AI control in the game's settings gives you more freedom in controlling your car. You'll no longer have assistance from the game's AI. This takes you into realistic driving mode. The traction control level is lowered, giving you the chance to achieve complicated drifts on your own.
Points System: Your goal in drift mode is to earn as many points as possible in the time provided. You must make professional drifts throughout your drive to get the highest points. Crashes and errors of any sort will deduct from your points or make you lose all the points you have earned in the drift you crashed. You can get bonus points by collecting special tokens and multipliers positioned strategically over the map. Note that these bonuses only count if you finish the drift where you collect them. You also get bonus points if you drift on special objects like road ramps.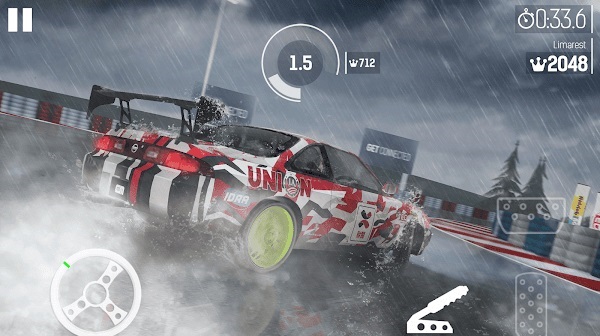 Most of the drift features are helpful in the drag mode. The steering assistant is one of these features common to both game modes. Six steering assistant options make your life easier as you play. Gas Pedal Return controls the speed of releasing your car's gas pedal.
The Sensitivity Of The Gas Pedal is closely related to the gas pedal return. It determines the speed of the accelerator pedal. Steering Sensitivity determines the speed at which the steering wheels will rotate. Return Wheels will control the speed of wheel rotation.
Traction Control Level determines how early your car's traction control will be triggered. Auto Steering is the last one; it just keeps your car in a drift. It does not fully drive the car.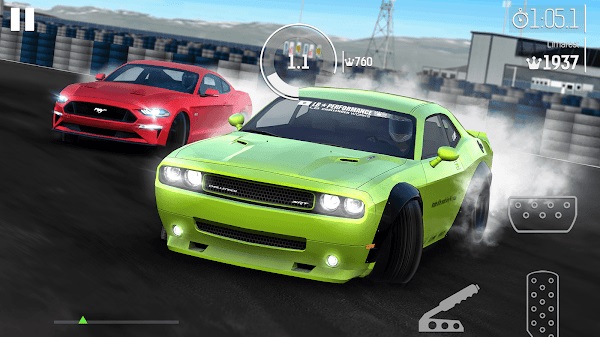 Conclusion
Creative Mobile Games is an independent game developer based in Northern Europe. The company was established in 2010 and has since developed excellent mobile games. Nitro Nation was released in April 2014. It's 2022 now, but the game still receives regular installs.
The numbers speak for themselves. The thrill of drifting is very attractive, and it just might be what draws you to this game. You'll never know if you don't try, will you? Download and play now!


Join Telegram Group
Download Nitro Nation Drag and Drift APK to participate in fun races using realistic-looking cars. You can also create teams with your friends and compete in tournaments! Get started!