Download Motorsport Manager Mobile 3 APK to create a formidable team of top riders. Recruit, assemble, train, and mastermind your team to glory on multiple venues.
About Motorsport Manager Mobile 3
This is an impressive motor racing game with many actions and excellent graphics. The game is a simulation of car races, and like most simulation games, it promises many elements of reality to boost gameplay. It's an ecstatic game designed for people passionate about speed and becoming a manager. So if you've been thinking about creating a career off the track and simply managing fast and experienced motor racers, here's your opportunity.
Like in foot manager games, you'll be able to take complete control of all the actions taken by your race team. So, there won't be any fast racing experience here, but rather a simple management experience which is quite relaxing when you watch your racers speed through the tracks with blazing speed and earn you the badge as the most tactical manager in the virtual world.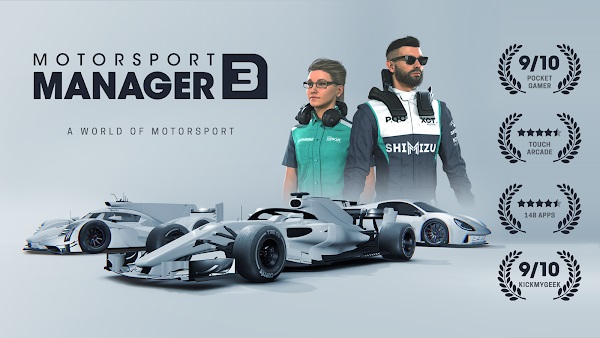 The game has various career modes; depending on your preference, you can decide which road your management career would lead. For example, you could set and break records at Formula 1 races with your riders and compete with the strongest teams in the world. So, the game combines lots of tactical actions such as recruiting skilled riders, assembling your squads, developing their potential, and various other steps to ensure you continue to win.
This beautiful game was developed by Playsport, which is one of the leading publishers in the gaming world. The game is a sports game that's based on strategic gameplay. It's available on various android devices and can be downloaded and installed for free. Anyone above the age of 3 can play the game, and with its current high ratings online, there's no doubt you'll also enjoy playing it.
How to Play
The game isn't a war or battle game, but you must be cunning to play well. You'll assume the role of a racing team and make decisions for the team. The first step would be to recruit a reliable team of top riders that will go into races for you. Once you have selected your team, you must ensure you train, instruct and provide them with the equipment to deliver the right results.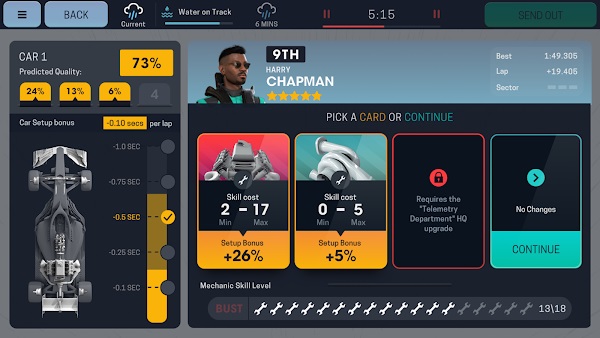 You'll also be able to decide which of your riders should go to each race. Choose the best races your team should join and several other tasks you can decide on. The more you play, the more money you earn, and the easier it is to get your team the latest vehicle upgrades, gears, and equipment to help them perform better.
Game Features
Although the game doesn't offer the action-paced experience you'd hope for in a racing game, here are impressive features you'll enjoy when you play Motorsport Manager Mobile 3:
Graphics
Even though this is not the most visually pleasing online game, you'll still enjoy a decent game environment. The developers created the right environment for someone who needs to manage impressive riders and seal their position as the best manager in the world. You'll have access to the necessary decision-making features that allow you to select the ideal riders for your team, provide them with equipment, train them, and find the best vehicles they can use for their races.
Tactical Element
Your goal as a manager is to ensure your team has everything it takes to win. Winning the championship cup elevates your position and allows you to get considerable rewards to build your team further. The game strategy is also essential if you want to win here.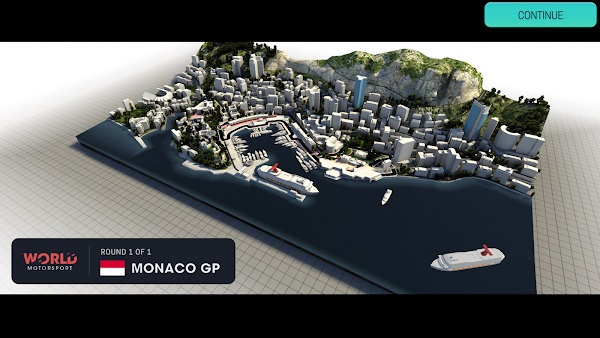 You must properly manage your team of riders and what they gave access to for their races. You'll also be able to follow the real-time updates of the races you play, with extra features to change the game strategy and communicate with your riders.
Since you get more money for every cup you win, you'll have to ensure you continue to win regardless of the adverse effects. Some game elements such as weather effects, collisions, safety, vehicles, power stations, fuel levels, and various features ensure you put your clever tactics and planning to work.
Upgrades
The game offers players the chance to scale and become world-class managers. Although you'll start with the virtual team, you'll be able to improve your team skills and vehicles that you unlock as you win competitions. Various challenges will test you, and if you continue to demonstrate your winning traits, you'll eventually be able to unlock fantastic game features such as new vehicles and better riders that can join your team. Hence, the more games you win, the more money you can make to create the ideal team that's ready to win races for you across multiple events and global competitions.
Events
There are many championship competitions to go into here. The list is also updated frequently to allow more teams to race from around the world. The game has excellent and unique challenges for each competition, and you'll also get to compete with other players, so it's a perfect way to demonstrate your skills. Generally, there are three drivers per car, and the time is limited, so you have to finish as soon as possible to qualify. You can also join invitational race events to gain more points and boost your global rankings.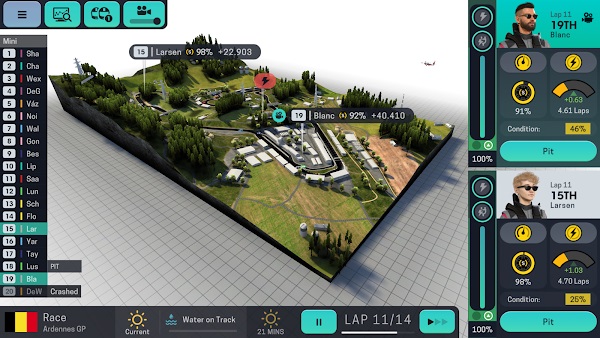 Race Tracks
There are many race tracks in the game. You'll get to race across the most popular venues around the world. These include Casino Square, La Rascasse, Swimming Pool, etc. Since this game has impressive graphics quality and 3D designs, you'll be able to see these venues in AR mode, which makes you feel like you're an actual manager coordinating a true racing team.
Conclusion
The game depends on strategy and tactics, but you need essential racing experience to thrive. Nevertheless, it's a fantastic game with a great concept. Motorsport Manager Mobile 3 is an excellent game t for speed sports lovers and an effective way to relieve your stress while creating your dream team.


Join Telegram Group
Download Motorsport Manager Mobile 3 APK to create a formidable team of top riders. Recruit, assemble, train, and mastermind your team to glory on multiple venues.