Download Idle games APK and enjoy this role-playing action-packed adventure game. Play as a hero, collect different gear, fight wars and upgrade the hero.
Brief Description of Idle Games: RPG Merge Hero
RPG Merge Hero is an action and fantasy themed role-playing game where you play as a hero. You take your hero on multiple adventures, fight enemies and go to different wars.
Idle Tower Defence released RPG Merge Hero on the 26th of August, 2021. It is rated 10+, meaning everyone ages ten and above can enjoy playing this. It contains fantasy violence and mild blood and gore themes. The game has seamless gameplay and easy controls that anyone can use. It has a very straightforward gameplay; you'll need to tap your screen to merge combinations and attack.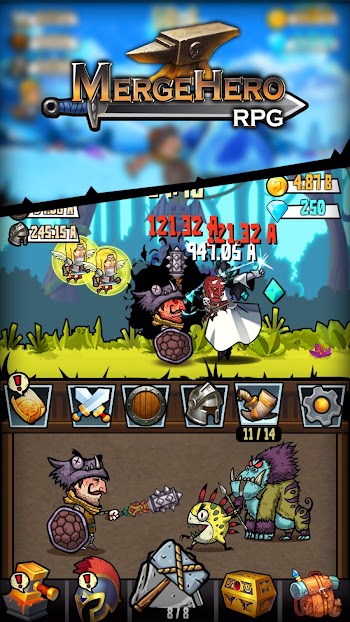 You can beat levels, unlock new areas and move up in the game as you play. As you do that, you get new items, gear, weapons, shields and pets. Remember that these come in limited quantity, so you have to either merge or purchase using your real money if you run out constantly.
RPG Merge Hero is a fun action game with many levels, so you'll have a long way ahead. The dynamic game offers different weapons and characters that keep you engaged as you keep playing. The game also has very vivid graphics.
Fun gameplay and concept
RPG Merge Hero is a role-playing game where you're a hero, and your job is to combine different things to form weapons, shields, items and even heroes. It starts at a decent pace, with a couple of dozen enemies, but as you advance in the game, you will be facing swarms of enemies.
The screen is divided into parts, the first part being the hero's battle journey, while the second is where you collect materials and buy essential items. Enemies are always getting stronger as the game progresses, so you keep combining to form the strongest heroes and the most valuable weapons.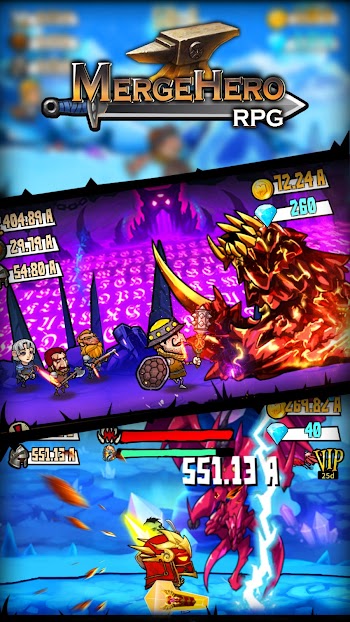 As you travel through different areas in the game, there are tons of enemies, but the highlight is that there are bosses in each location you visit. These bosses are more robust than the usual enemy, so you must discover new combinations to make yourself stronger to defeat them.
The game is endless, meaning there's always a stronger enemy to defeat. Constantly upgrade yourself by discovering new items and materials to merge to create stronger heroes and weapons.
RPG Merge hero also allows you to watch ads and receive items as rewards.
The game features to look out for
As you play Idle games: RPG Merge Hero, you can look out for these fun features that will enhance your gaming experience.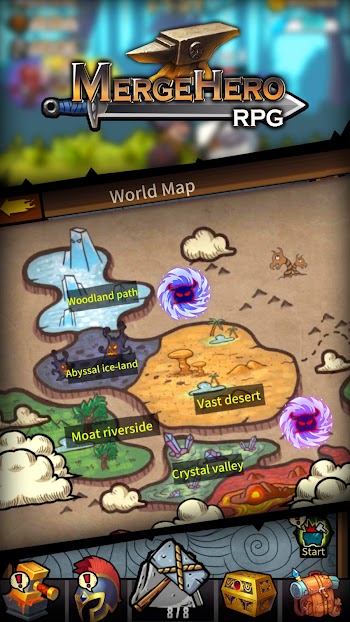 Unique weapon combinations:
Players are allowed to strengthen themselves by creating new weapons. New weapons are made by combining existing weapons and turning them into new, more potent ones. Players constantly combine weapons because there is always a stronger enemy to face.
There are many lands and areas in this game, and to enter new places, you must beat the previous locations' bosses. You enjoy travelling to new areas and the rewards and bonuses that come with defeating bosses
There are tons of weapons, pets and shields that are available in this game. Collect them all and become unstoppable when you face enemies and even bosses.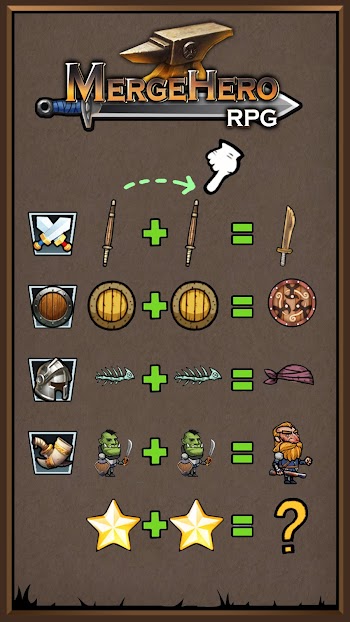 Spend the coins you got from the game on upgrading your hero's abilities. Abilities are the most essential part of any role-playing game; the more you better your abilities, the stronger your character becomes.
The game has very easy controls which are easy to understand. Both children and adults can play this game with ease. Getting the hang of it is easy, and once you keep playing, you become a pro.
Watch ads that will give you multiple rewards, including cash that can be spent on upgrading your hero and buying new items
As you play, the game gets more challenging. The starting levels are relatively easy, but as you advance, the levels get harder and harder with more enemies that appear in swarms appearing to battle and stronger bosses that never stop coming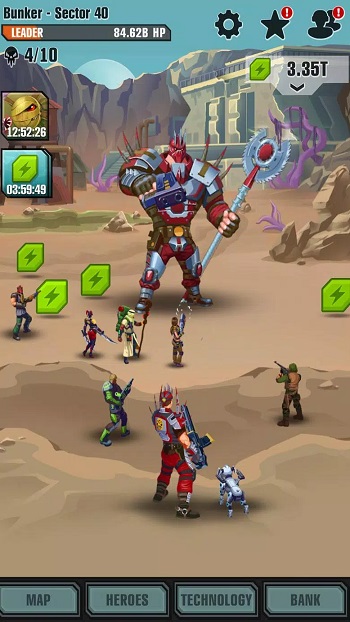 Farming items and experience points
Idle games grind experience points and let you farm items even when you are not playing.
RPG Merge hero has unique graphics with beautiful colours that appeal to the eyes of their players. The graphics can be described as anime like and hand drawn. You can enjoy all these features when you play the game. The ideal game download is available on all platforms regardless of the device you use.
Tips and tricks
Before you start your RPG merge hero adventure, these are some hints and tips that will help you get a better gaming experience. Firstly, focus on your combinations. There will always be a stronger enemy, so you must keep upgrading yourself with new weapons and heroes. Please take advantage of watching ads. It's a faster way to receive coins that can be used in the store to upgrade yourself.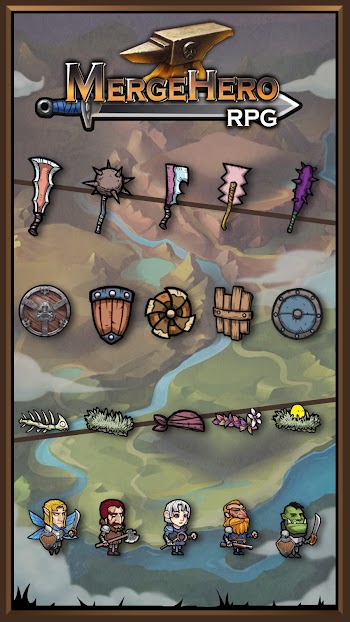 Another tip is that you should make sure you have pets with you at all times. Some pets are attack types which join you to fight during battles. This gives you an extra hand during play. It would be best if you also took advantage of your world map to know which area you are entering.
Conclusion
Idle games: RPG merge hero is an entertaining action role playing game that will keep players engaged. It has endless gameplay with many levels, so there are many upgrades, weapons, heroes and items that you can use to get the best out of the gameplay. You can do more when you use promotions. This game also has beautiful anime-like graphics that appeal to the eyes of anyone who plays. Download idle games: RPG merge hero and enjoy this role-playing game that will keep you on your toes.