Download Harry Potter Magic Awakened APK and begin your magic journey in the school of Hogwarts. Learn magic, collect cards and duel against other wizards!
A Brief Description of Harry Potter Magic Awakened
Your favorite wizarding world is back in this new action-packed adventure game. The Harry Potter fantasy series returns in this new mobile MMO game, where you continue the Harry potter story, which concluded with Voldemort's defeat. Continue the famous tale of Harry potter, but this time a new set of witches and wizards are accepted into the school of magic, Hogwarts. You play the role of these wizards, and together you attend classes, learn and master new magic skills, go on exciting adventures, face different monsters and duel other players in fierce battles.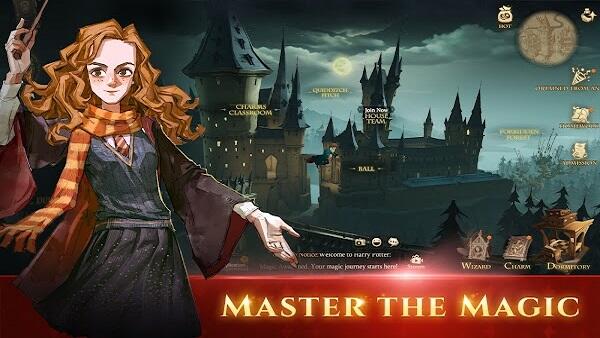 You can choose from multiple characters in this game, whether male or female. Each character has a unique appearance and ability. The character you choose to play with can be improved by developing magic skills and other attributes, but the development depends on the selected character's ability. This game has a fascinating story that differs from the original Harry potter story. Use these new characters and go on a wild but exciting adventure while attending school.
Harry potter's magic awakened release date is set for late 2022, developed by Warner bros and NetEase, both under Portkey games. It is rated 10+, meaning that anyone above the age of ten years can enjoy playing this game as it contains fantasy violence and crude humour. The game has seamless gameplay and controls that are easy to use. The operations are pretty straightforward as all that's required is you tapping the screen and dragging across it to move and selecting options on the screen to perform different actions such as selecting magic attacks during battle or opening a door when roaming around. It is straightforward to understand, so the game is simple.
The more you advance in the game, the more experience you gain and the more challenges you face. Due to this, you constantly have to upgrade your characters by learning new spells, using all your skills and purchasing new items.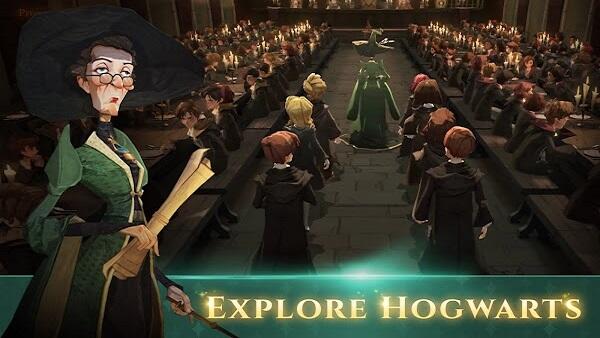 Harry Potter Magic Awakened is a fun MMO where you experience a whole new Harry Potter story. Enjoy the thrill of playing with different characters and duelling against other players with fierce magic. Download Harry Potter Magic Awakened and enjoy this game.
Fun Gameplay And Concept
Harry Potter Magic Awakened is a card collecting game and a massively multiplayer online game where you can play multiple characters, either witches or wizards. You take them on the journey to become develop their magic and become notable witches and wizards by participating in the school that teaches you different skills and magic techniques that develop you. You will face many challenges and need to use the skills and tricks you've learned to defeat enemies.
Collecting different cards benefits you as each card increases skills and magical power to each character when they are used. The cards are used in battle, which makes this game the perfect mix of role-play storytelling and card combat. As you advance, you will need to use these cards as you encounter many enemies, either fellow players like you or evil monsters.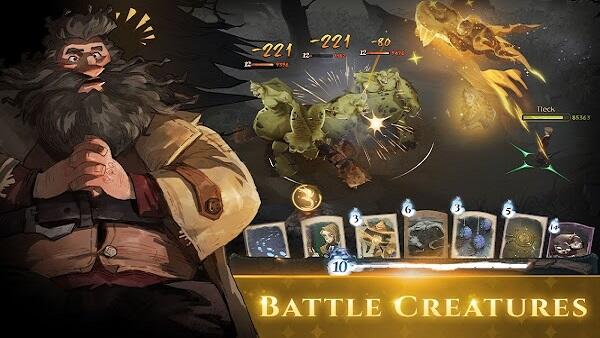 During the battle, there are different spells in the form of cards from the original Harry Potter story that you can use to fight. Some of these spells include Acromantula venom and Expecto Patronum. Using these spells allows you to feel that sense of nostalgia as they were common in the Harry Potter franchise. Using the spell cards appropriately will ensure that your battle experience will be more convenient.
Usage of cards requires particular amounts of mana. Having a low dose of mana won't allow you to use the cards you want to play strategically by using your mana wisely is only to your benefit. Note that the players' use cards are not stable as they appear randomly.
Apart from battles, you can also enjoy the nostalgic feel of exploring the Hogwarts school of magic. You can move around different halls and fly around the school with brooms just like in the Harry Potter movies. In Hogwarts, you attend classes that help you develop your witches and wizards by learning new charms, practising divination and testing your skills against dark arts and your knowledge of the history of magic.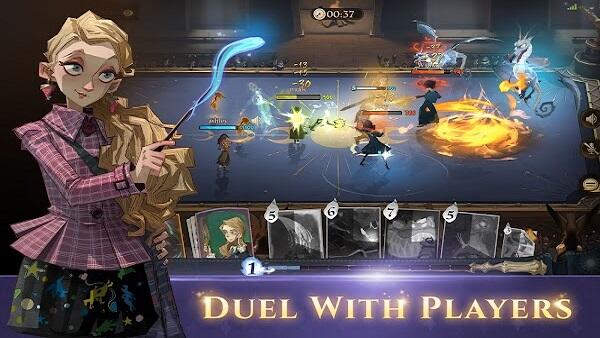 Potion mixing is also thought. Developing your magic skills is very important, but you should know the science and art of preparing potions as a wizard or a witch. There are different kinds of brews. For example, there is one that replenishes your life, and there is also the kind that strengthens your senses. This game allows you to enjoy the fun of searching and gathering rare ingredients to make these potions.
The beautiful game of quidditch is also back. Team up with other players and cooperate as partners to score and win fierce matches. Fly through the pitch on your brooms and dodge your opponents before aiming to score points.
Harry Potter Magic Awakened allows you to join a house that you feel best suits you. Participate in inter-house activities, including the house cup, where different places go up against each other for the top spot! There is a common room where you and other players in your house relate and socialize.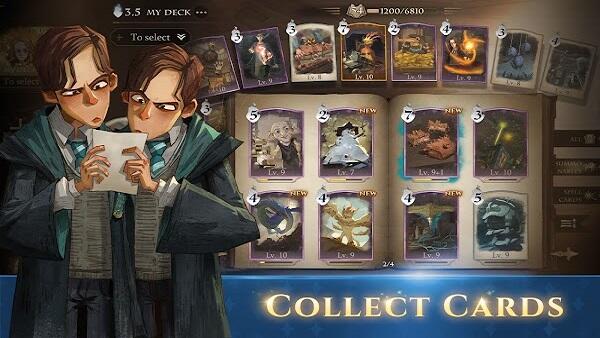 Harry Potter Magic Awakened is an entertaining game with intriguing gameplay that will keep players interested as long as they play it. The game also has gorgeous graphics.
The Game Features To Look Out For
As you play Harry Potter Magic Awakened, look out for these fun features that will give you a better gaming experience.
Collect different magic cards that can be used during battle to make your wizard or witch stronger during battle
You are allowed to explore the beautiful school of magic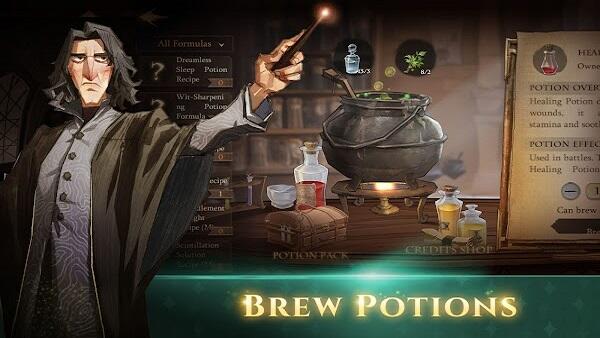 Learning and mastering magic:
Learn new skills, spells and magic by participating in classes at Hogwarts and use them in fierce battles
This game is an online multiplayer game, so there are different players you can play against.
Participate in the exciting game of quidditch
Conclusion
Harry Potter Magic Awakened is an exciting online multiplayer game that lets you relive the harry potter tale and also experience a whole new story. Users will be kept engaged with exciting gameplay and beautiful graphics.