Download Flip Diving APK and enjoy jumping off a very high cliff! Pull off backflips, front flips and other extraordinary skills or tricks as you jump off a very high cliff.
Brief Description of Flip Diving
Flip Diving is a fun recreational, and sports game where you play as a diver. It is a simulator that features divers jumping off a cliff and performing various skills and tricks in different locations. The game uses ragdoll physics, so the movement of the divers, the reactions and the painful looks they give when they belly flop or hit their head on diving boards or stones.
Flip Diving was released on the 17th of August, 2016, by MotionVolt Games Limited. It is rated 13+ because it lacks any form of violence, blood, and gore themes, but it is not suitable for users under 13. The game has seamless gameplay and easy controls that anyone can use. On the screen, use your fingers to see the angle at which you want to dive.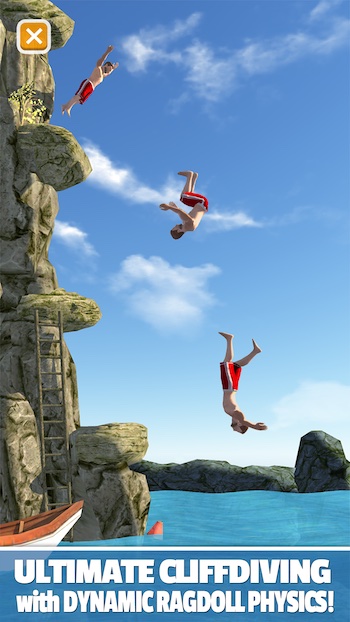 Once you get the angle, release your finger to dive and hold the screen after to perform tucks and rolls and release to straighten out your body as you prepare to land in the water. As you descend, you can gain gold coins used to purchase additional tricks, divers, and different locations. You can also use your real money to buy other items or watch ads to earn gold coins. As you keep playing, you move up in levels and develop the diver.
Flip Diving is a fun sporting game with many levels, so you'll have a long way ahead. The dynamic game offers different divers and equipment that keep you engaged as you complete the many levels. The game also has vivid graphics.
Fun Gameplay and Concept
Flip Diving is a diving sports game where you are the sole diver, and your only job is to dive and score as many points as possible. It starts small as your initial dive is closer to the water than everything. As you keep playing, the higher the cliff you go. The simple strategy to get a higher score is to dive appropriately and at the right angle, do as many flips and tricks as possible and correctly land inside the water. Your dive is judged on how well you jump, your skills, and how well you land. A jump is automatically cancelled if you land directly on your stomach (called a bellyflop) or land too close to the rocks and hit your head.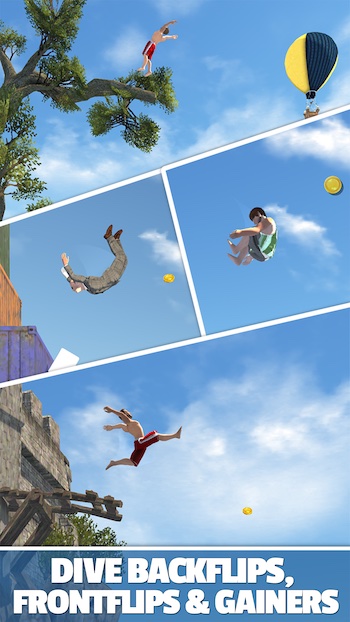 Flip Diving offers a variety of tricks that can be purchased, with each skill having a different way they are performed. Knowing how to perform each trick you own will make it easier and gain you a higher score. For instance, performing backflips is done in a different way than a regular tuck and roll, so it gives you a higher score.
Flip Diving also allows you to watch ads and get gold coins as a reward. You can swap the coins for different equipment to upgrade your diver. Aside from this, there are other ways to get gold coins, like performing better dives and purchasing with your own money.
Game Features to Look Out For
As you play Flip Diving, you can look out for different fun features that will enhance your gaming experience.
Custom physics engine with animated ragdoll physics:
The physics engine and ragdoll in the game make the diving experience very realistic, making the user experience more satisfactory.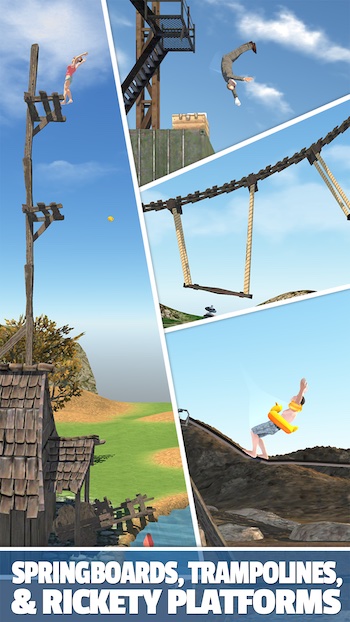 Different diving skills and tricks:
There are various tricks like backflips, front flips, reverses, pikes and layouts that are dynamically animated
Different characters that can be used to dive:
You can use different divers, including bodybuilders, a businessman or someone in a penguin costume! Each character has other abilities and body sizes, and more characters will be made available on Flip Diving's latest version.
Record and share with friends:
Record your best dives or your biggest fails and share them with your friends on social media platforms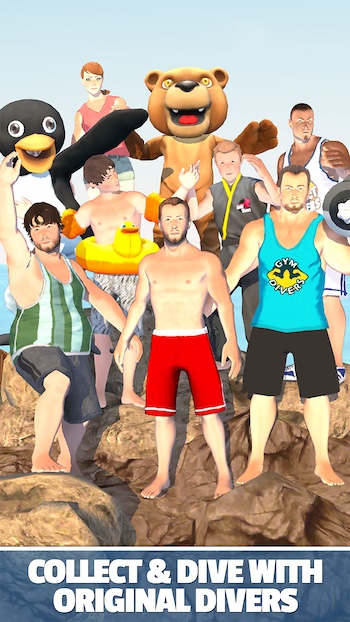 Springboards, Trampolines and rickety platforms:
You can jump off different platforms, which makes playing the game more dynamic
Tips and Tricks to Score Better on Flip Diving
Before playing Flip Diving, different tips and tricks can help you score better. For one, you should focus on your landing. It would help if you aimed at landing in the water with little or no splash, as it gives you a higher score. Landing badly that results in a bellyflop will make you lose and lead to the ending of your streak. The best way is to land feet or head first within the target zone to get more points and a higher score.
The best strategy to get the perfect dive and landing is perfecting your angles. Please pay attention to the arrow above the character's head, as it will give a better idea of how to launch into the dive. The arrow can lead you into crashing into objects below, but if done right, it can lead to a ranged dive. Another tip to improve your experience is watching ads to obtain free gold coins.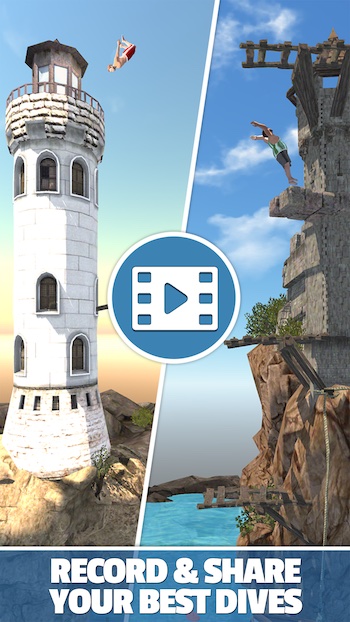 The number of gold coins you receive from each video you watch increases as you progress in the game. Using the randomly generated wheel spin allows you to take a spin and unlock various things such as new characters, maps and dives. You use gold coins to spin, and the number of coins needed to turn increases each time you do it. Note that the bomb dive is the most advisable technique as it is easy to perform and great for no-frills diving to clear the round.
There are many more ways to make playing the game more accessible, but to enjoy the best of your gaming experience, purchasing the flip diving full version is advisable, which gives you access to more features.
Conclusion
Flip Diving is a fun sports game that will keep players engaged. Different upgrades, skills and characters can be used to get the most out of the gameplay. Enjoy the Flip Diving free download on any smartphone you own.