Download Fishing And Life APK, and fish your worries away. This relaxing fishing game is equipped to give you the feel of calm of peace you seek. Try it now!
About Fishing And Life
Fishing and Life is a straightforward fishing game. It offers an immersive gaming experience with a real story attached. It is a simple game with features that are just as simple. It provides a wide range of fish options, and you can choose a boat for your fishing activities.
Fishing and Life is a relaxing game about a man who decides to take up fishing after getting fired from his office job. It was released on Android on April 15, 2019. An iOS version was later released on May 18.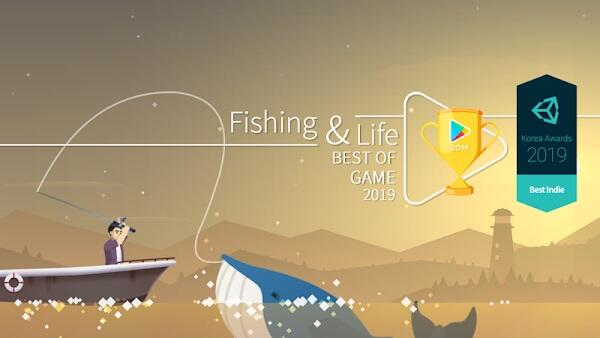 The game is excellent for getting away from the stress of everyday life. It is a place to recharge and rest your mind after a long day of errands and responsibilities. It also has a calm, scrolling game control feature that helps you play the game without too much interaction with your screen. That's just one of the amazing features!
The Gameplay Story Of Fishing And Life
Fishing and Life is about a guy who is tired of life. He gets fired and decides to start a life of fishing. With only a boat, fishing rod and his childhood fishing memories, he journeys through the waters, reeling in fish and, eventually, coins.
The game begins with a tutorial section. The information helps you learn the basics of the game. Pay attention to it as it is key to getting the hang of the game. Here's how the game works. You're in a small boat near a lighthouse. Scroll from side to side to move around. To cast your rod, tap the white, round button on the right. As you cast, the word 'Casting' appears on the button.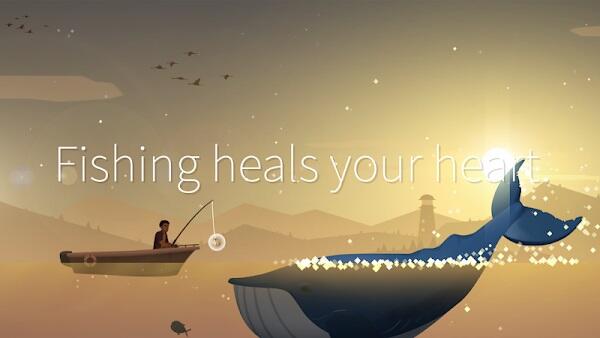 After a while, you catch a fish, and the word 'Success' pops up where the fish is. Then, you decide if you want to sell it in town or keep it in the aquarium. You can also use small fish as bait for bigger fish. The aquarium does not affect your game in any way. It's just there for a pretty aesthetic. The coins you make from selling fish can be used to upgrade your fishing equipment.
You can cast your line further into the sea with a better fishing rod. You can also work on the strength of your fishing line. A stronger fishing line will help you reel in big fish. An improved boat will enable you to go to better sea parts to find and catch bigger fish.
That's the aim of the game, after all. Catch better fish, make better money, and have a great game. You can also change your character's clothes. It does not affect your game, but it is fun to have variety in different aspects of the game.
Calming Features Of The Fishing Game
Fishing and Life offers a game where you can have all the fish you want with simple controls. Like the game says, fishing is to heal your heart. So let the sound of the waves do this. The game also offers: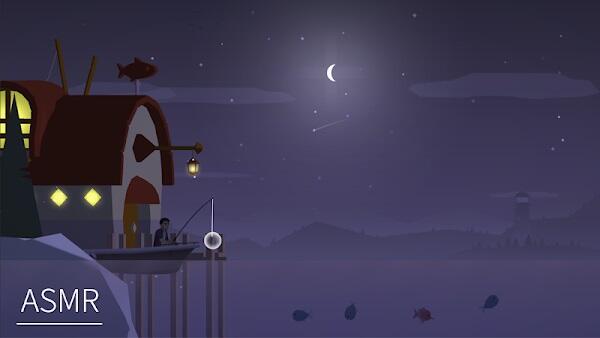 Free Game: Fishing and Life offers a calming game that is free to play. However, the free version is often riddled with ads which have the power to distract the player. The ad-free version can be bought for $7.99. If the ads don't bother you, you can stick with the normal version to save cost.
Graphics And Sound: All the features aim to provide a sense of calm, but the graphics and sound do the most. They are perfectly aligned with the game's relaxation aim. You have access to a clear sky view from the rising sun moment to the setting and when the moon appears. Listen to the whispers of the ocean's waves, the fish swimming and the bigger fish snapping up the smaller ones when they are baited. The game makes use of ASMR sounds for every part. It's perfect when you need some serenity.
Upgrades: Make upgrades to your fishing rod and boat to increase your chances of catching bigger and better fish.
Aquarium: Fill up your aquarium with fish you catch. It won't earn you extra money, but you can look at your collection whenever possible. Watching your fish swim around is another calming activity. You can decide to pick fish from your aquarium when you need urgent money too.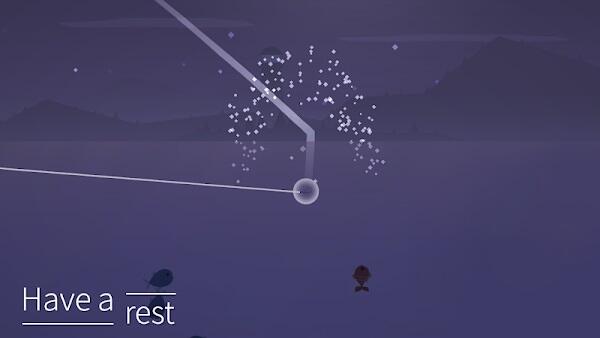 Various boats take you to different parts of the sea. If you want to diversify your fish, you must keep changing boats. In Fishing and Life, you're constantly catching, selling and upgrading. Catch fish, sell it and use the coins to upgrade your equipment. Then, with better equipment, catch more fish and continue the cycle.
Meet Nexelon, The Home Of Fishing And Life
Nexelon Inc is a video game publisher based in the Republic of Korea. It was established on November 13, 2017. Famous for creating calming games, this company seems to have a thing for the fishing theme.
It is home to a 3D fishing game, Fishing Season: River To Ocean. As the name implies, this is a game that takes you from fishing in the Amazon River to the pacific Ocean. There's a variety of fish, equipment upgrades and scenes.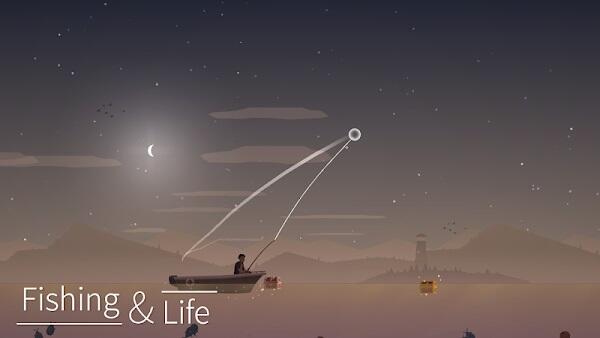 Nexelon is also the creator of Monster Fishing, 2048 Fishing, Bowling Club: Championship, Poly Star: Prince Story, Real Archery and Space Rider. If you've ever played any of these games, you know you can expect quality gameplay regarding Nexelon.
Conclusion
Have a restful time playing Fishing and Life. Escape from the bustle of daily life by immersing yourself in your character's role. Experience the joy of fishing by living life on your device's screen. If it inspires you to take up your rod in real life, do it!
Fishing is one of the best ways to unwind. However, fishing and Life offers a slow pace game which may not be enjoyable for energetic people. You might not be a fan if you're a lover of fast games that keep you on your toes.